Anyone who likes to ride fast and far needs to invest in a pair of bibs. For quite awhile I thought that bibs were solely the province of roadies – what would a self-respecting mountain biker have to do with excess straps and spandex? The less spandex the better, I always said. Well, I was wrong – there's nothing better than a pair of bibs on long, hard days. Sugoi's RSX Suspension is a very high-tech bib short.
Sugoi RSX Suspension Short Features:
Lightweight stretch woven outer shell provides ergonomic comfort during dynamic pedaling movement
Bonded mesh paneling for enhanced airflow and breathability
Bib features mesh zone construction and a fly for calls of nature on epic rides
Bib/shell interface loops at multiple heights allow for a custom fit
MSRP: $200
High-tech shorts win the day
I vividly remember an outer space movie that I saw when I was a kid. One of the seasons that stuck with me, oddly enough, was a dramatic sequence where the astronaut was getting suited up in his high-tech spacesuit. When I pulled on the RSX Suspension short for the first time and fastened the Boa closures around my waist, I think I had an inkling of what it's like to pull on an extremely high-tech garment.
The Suspension short is essentially a bib with mesh and nylon construction coupled with an outer woven shell short that interfaces with the bib. The idea that Sugoi is going for is a comfortable bib layer that provides excellent support over long rides coupled with a protective, breathable performance short.
We'll start off by taking a close look at the short. Its big-ticket feature is the use of a Boa closure system at the waist. There are two knobs, one on each hip, which can be engaged to tighten up the wires within the waistband. Simply pull the knobs to release the tension. On the whole, this closure system works remarkably well. I'm the sort of person who tends to plump up in the winter time, and I'm now almost back to my normal waist size for summer activity. The Boa system offers tremendous versatility and a great degree of adjustability, making it ideal for slight changes in my waist as the weeks go by. It offers very precise fitting, which is ideal.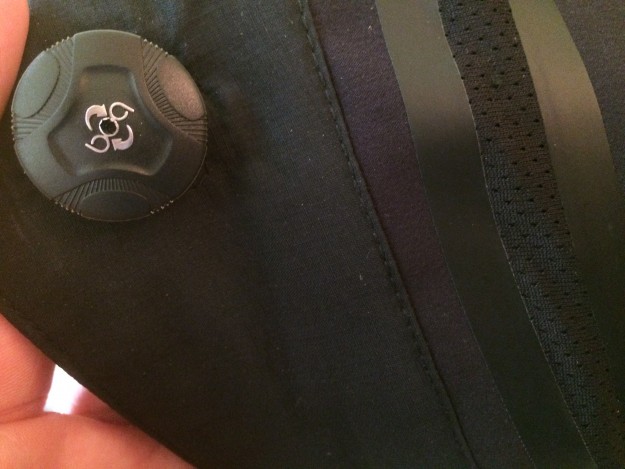 The shorts have just one pocket, which is located on the back of the pants and is welded into the main body of the shorts. The zipper pull is big, making it easy to grab with MTB gloves on, but I've never been a fan of pockets in this position because their contents are liable to get wet from the rear tire slinging up muck on rainy days. The shorts feature a number of mesh panels which, again, are welded into the main body. The purpose is ventilation, and they do a reasonably good job at enhancing the airflow in the short. It's not a huge leap forward, but it's an improvement on shorts with no ventilation.
Now on to the bibs. I'm 5'11" and weight 185lbs. I personally found that the bib straps on the size Large I tested were a trifle too short for me, so bear that in mind. The biggest selling point of the bibs is their excellent Formula FX chamois, featuring a number of details which are proprietary to Sugoi. It's evident that Sugoi has spent altogether too much time thinking about how precisely to make one's nether regions comfortable on a bicycle seat, but I'm not complaining because we all benefit from it.
First of all, the chamois has four four-way stretch panels to ensure that it moves well with your body when you're getting up out of the saddle or twisting your body around a turn. There's also a central perforated 'pressure relief' channel that helps keep the load off of your softer parts. Instead, that load is transferred to your sit bones through high-density foam which, I must say, does an excellent job at offering support over long rides. Softer foams tend to be a trifle more comfortable at the outset, but they soon pack down and no longer offer support.
A rather special feature is that the bibs feature an integrated 'fly.' This is no metal fly, but rather there's a panel of fabric that can be stretched out of the way for men to answer nature's call. It works very well, is easy to get in and out of and otherwise go unnoticed, which I think is what we're all looking for in a fly. It also interfaces perfectly with the (actual) fly on the shorts, so you won't have to do any gymnastics to relieve yourself.
The Good
Boa system works exceptionally well
Shorts are durable, shed the elements but still offer good airflow
Chamois is excellent, offers good support
Fly on the bib works very well for its intended purpose
The Bad
Bib straps were a trifle short on my 5'11" frame
The Bottom Line: Sugoi RSX Shorts
Sugoi knows their way around both bicycles and human anatomy, and the Suspension short is just another testimony to this fact. It's great to see such a high-tech, high-performance mindset being applied well to MTB gear; just as much care as been lavished on the Suspension short as has been given to Sugoi's premiere road kit. On the whole, an excellent product and a reasonable value for a two-in-one purchase.
Buy Now: Available from Competitivecyclist.com