The best way to personalize and customize your mountain bike is with a new cockpit: bars, stem and seatpost. As a rider with discerning tastes in upsweep, backsweep and rise, I find my handlebar and stem combo to be one of the most critical to the overall feel of the bike. I've recently loaded up my Niner RIP 9 with a full Syncros cockpit consisting of the FL 7075 riser bars, FL stem and FL Micro-adjust 7075 seatpost.
Syncros Freakin' Light (FL) Cockpit Features:
Bars: Double-butted 7075 AL, 25mm low rise, 660mm width, 5-degree sweep, MSRP: $91.95
Stem: Forged and CNC machined 2014 alloy, bi-oval design, carbon steerer and bar compatible, +/- 6 degree rise, MSRP: $91.95
Seatpost: 3D net forged 7075 alloy, zero setback, MSRP: $83.95
Syncros FL Bars, Stem and Seatpost Review
It's difficult to really review some of these components since they are highly-dependent upon your personal tastes in bar rise/sweep and stem length/rise, but as my first full Syncros cockpit, I've been impressed. I'm a big fan of shorter stems and wider bars. For me, it provides better positioning and more predictable, confidence-inspiring handling. Many times I've had friends comment on my short stems, but after the laughter dies down they are typically long-stemmers in denial. Go shorter and you'll soon see why.
Starting with the bars, they provide a comfortable upsweep and backsweep for the 25mm low rise. For most applications, low rise bars are my preferred setup. They keep your body position low enough, yet still provide the added benefits of risers such as: improved upsweep/backsweep and a slightly more upright stance. The profile of the rise is such that the rise happens early — thus giving you a wider spread of usable bar space to spread the brakes, shifters and lockouts around.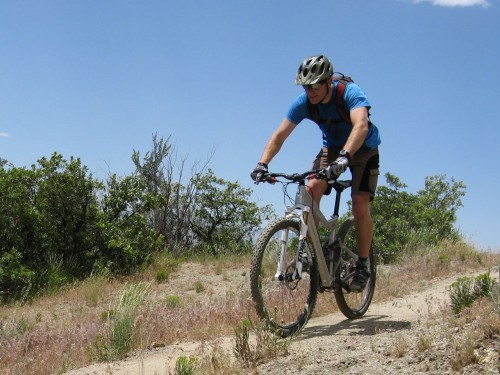 Steering has been comfortable and precise and the overall bike feel is great. While I typically ride a 680/685 width bar, these have been just great, but I will slap on some wider bars for comparison. No real complaints on the bars. They look nice and have performed well. Aside from the slightly narrower width, the only thing worth mentioning is the HP Grunge graphics do scrape off relatively easily.
Shifting to the stem, I appreciate that Syncros goes both ways with the FL Stem. Like all stems, you can go with either positive or negative rise. What's good here is that the graphical treatment is just as good whether you go with the positive or negative setup. Sometimes you have to be OK with an upside-down logo or two, but not with this one as it goes both ways. With the negative 6-degree rise, I've been able to settle into a good balance on my RIP 9 29er in combination with the FL 7075 bars. I went with an 80mm stem length, which is about as long as I typically go. It's available in 70, 80, 90, 100 and 110mm lengths.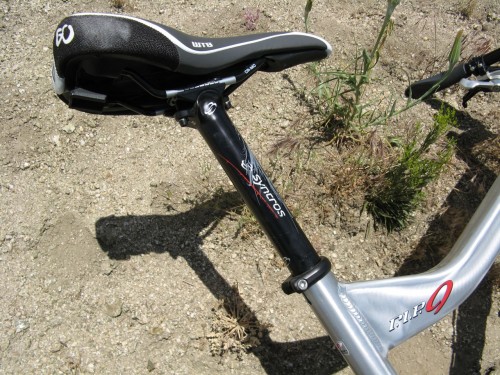 The seatpost is a great as well. For 2010, Syncros lightened things up considerably with the FL Micro-adjust 7075 seatpost. Comparing it to the venerable Easton EA70 product line, it comes in just slightly heavier, but boasts Syncros' typical durability and quality on the trail. Again, no issues here except for cosmetic ones as the adjustment lines are quickly wearing off with every raise and lower of the post. Adjusting the saddle position is quick and easy on this badboy.
Good Syncros FL 7075 Cockpit:
Lightweight yet durable
Love the gloss black finish
Stiff and responsive
Saddle adjustments are quick and easy
Positive/negative rise stem graphics
Bars have a natural feel out of the box
Rise design gives extra room to spread out
Bad Syncros FL 7075 Cockpit:
HP Grunge graphics can scratch off
Adjustment lines on the seatpost are wearing off
685mm width bar option would be nice
Bottom Line: Syncros FL Bars, Stem and Seatpost
The entire Syncros FL 7075 package performs admirably and looks great on the bike. The gloss black finish with the HP Grunge accents stands out in a sea of matte black. The bars are comfortable and the stem can go both positive and negative without tipping off the Fashion Police and the new FL Micro-adjust seatpost is a simple and effective post in a lightweight package.
Buy Now: Visit Syncros.com