Let it be known that the regular old cotton t-shirt should be banished from everything but lounging around the house. They are uncomfortable, clammy and awkward when wet. With the myriad of wonder fabrics on the market, let me kindly suggest something more appropriate for outdoor activity. Might I suggest The North Face Flex Crew shirt with its moisture-wicking performance in a lightweight, breathable package? Oh, and it's one of the most affordable shirts in this category, mind you, so you'll want to read more.
The North Face Flex Crew Shirt Features:
Relaxed fit
Soft, textured knit fabric
Breathable side panels
Set-in sleeve construction
Drop-tail hem
Flat-locked seams
Sanitized® Silver salt treatment
Ultraviolet Protection Factor (UPF) 30
Colors: Scottish Moss Green, Black, Asphalt Grey, Jake Blue (tested), TNF Red, Mountain Blue, White/Silver, TNF Red/Grey, Grey/Silver, Mountain Blue/Bomber Blue
MSRP: $25
The North Face Flex Crew Shirt Review
It's a shirt. Yes, indeed my friends… it is a shirt. It's an athletic, moisture-wicking, comfortable-under-pressure shirt with magical powers to keep you comfortable all at a killer pricepoint. At $25, this shirt is an absolute bargain. The Flex performs as well as shirts costing twice it's price, which allows you to buy a couple of them so you don't have to depend on the Sanitized Silver treatment so much.
The cut of The North Face Flex Shirt is appropriately "relaxed" (as shown above). I'm 5'11", 170 lbs and the Medium fit me absolutely perfect. It was just the right length everywhere and the body was streamlined but not snug.
I've now worn the Flex Crew Shirt under a variety of conditions while mountain biking, trail running, hanging around and road running. It is one of the first shirts I reach for when I want a nice-looking yet functional shirt. While the knit VaporWick fabric may not be the absolute best at breathability, it's no slouch either as the fabric performs as advertised. A long, sweaty run will result in quite a wet shirt front and back, but give it 15-20 minutes and that moisture dissipates.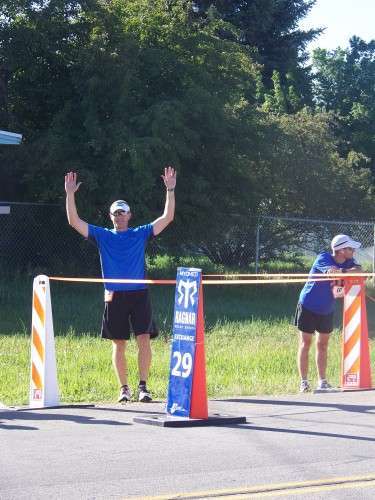 Without hesitation, I say I completely recommend this shirt, but it does have a small flaw — the fabric can snag and pull if you're not careful. I was lifting our Kelty Swivel-Deuce stroller into the van when a metal edge caught the shirt right in the front. Now I've got about a 1/4″ pull that distracts from the otherwise-pristine look of the Flex Crew Shirt. Other than that, the price is phenomenal and this shirt performs as well as shirts twice its price.
Good Flex Crew
Excellent price point
Very comfortable (flatlock seams are nice) on the trail or around town
Just the right fit
Looks great
Sleeve length is great… not too short or long
Can be used a couple of times before washing (if you're OK with that sort of thing)
Bad Flex Crew
Not quite as breathable as some
Fabric can pull (like any knit shirt of this type)
Bottom Line: The North Face Flex Crew
You could spend more on a technical t-shirt for running and mountain biking, but why? At $25, The North Face Flex Crew shirt is crushing it with value. It's breathable and comfortable and easy on your wallet.
Buy Now: Find The North Face Shirts at Backcountry.com