After much anticipation, we are all finally going to #BearWitness to three new bikes from the folks at Trek: Madone, Procaliber SL and Top Fuel. Each one is race-bred and built to excel on twisty singletrack or endless switchbacks.
2016 Trek Madone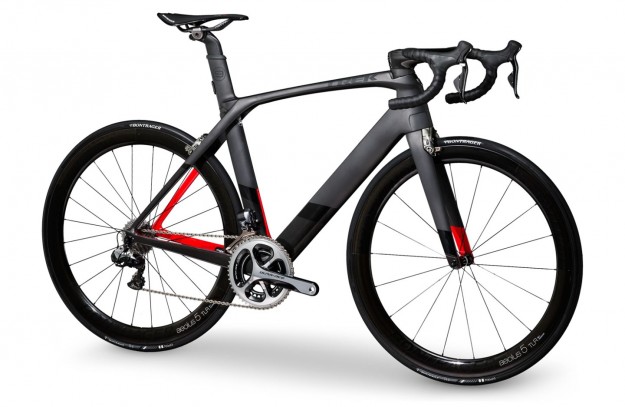 The new Madone takes the aero road ball and runs with it full steam ahead. For Trek, they have undertaken their most ambitious road bike project to date and delivered an all-new aero racing bike that intends to deliver rider comfort, aerodynamics and solid handling. The current Madone is not that old (launched in 2013), but the 2016 Madone is an entirely new beast in every way.
2016 Trek Madone Highlights:
KVF (Kamm Virtual Foil) tube shapes
IsoSpeed Decoupler for improved ride
Nearly-invisible internal cable routing
Complete electronic integration
Claimed as the most aero road bike overall
Proprietary center-pull brakes
Fits up to 28mm rubber
Integrated bar/stem for improved aerodynamics
Claimed 19w savings at 40kph (over Emonda)
Weight: 950 grams (56cm H1)
Price: $6299 – $13,649 complete ($4729 – $5779 frameset)
2016 Trek Procaliber SL
The all-new Procaliber SL brings the IsoSpeed Decoupler to dirt for an improved ride on the roughest terrain. Hardtails are never as smooth as full-suspension designs, but the Procaliber SL will certainly take the edge off the rough stuff while providing a solid pedaling platform for even the most demanding races. With smart wheel sizes, the small frame gets 27.5″ wheels. And, the frame utilizes the latest Boost 148/110 hub spacing.
2016 Trek Procaliber SL Highlights:
IsoSpeed decoupler for faster, smoother riding
Boost 148/110 hub spacing for stronger, stiffer wheels and increased clearance
G2 Geometry for precision and stability
Smart wheel sizing (15.5″ gets 27.5″ wheels)
Available in OCLV carbon frames only
Price: $3679 – $8399
2016 Trek Top Fuel
Back and better than ever, the all-new Top Fuel is intented to be the ultimate race weapon when the course or trail is best-suited to a full-suspension bike. Utilizing the latest slate of suspension goodness (ABP, EVO Link and Full Floater), this bike is race-tuned and utilizes the latest Boost 148/110 spacing. And, as with other bikes, this one will have smart wheel sizes based on the frame (15.5″ frame gets 27.5″ wheels).
2016 Trek Top Fuel Highlights:
G2 Geometry for precise handling
ABP, Full Floater and EVO Link suspension technologies
100mm travel front and rear
Mino Link adjustable geometry
Control Freak internal cable routing
Boost 148/110 hub spacing
Short chainstays (right at 17-inches)
Available in OCLV carbon and aluminum models
Price: $2729 – $9499 complete ($3469 frameset)
More Info: Visit TrekBikes.com