Showing off some eye candy, Yeti Cycles is displaying two prototype bikes to the public to generate some buzz. Well, it certainly worked for me because these bikes look amazing! No, they aren't for everyday riding on the local trails, but as far as big hit, park and slopestyle riding, these new bikes look to expand on Yeti's innovative Zero Loss rail system used for several years now in the current 303 DH.
Full specs are forthcoming as these are purely prototype bikes. But, they look pretty darn refined for prototypes. I'm guessing they are tweaking angles here and there to get things just right.
Looking at the function of the Zero Loss Technology and imagining the wheelpath, it all makes perfect sense. Since the seatstays and shock maintain their straight back-and-forth stroke, both pedal feedback and brake jack are eliminated. This rail design forces the travel to maintain that same back-and-forth path. Looking at some of the FAQ's for the current Yeti 303 DH, the engineering behind this design are completely apparent. I'm interested to see if there could be other applications of this technology further down the stack on more long-travel trail bikes. The only downside of this system is the maintenance. You've got to lube the rails after every ride, but the built-in grease ports make that easy.
The folks at Yeti Cycles are some of the most down-to-earth and their bikes are definitely some of the finest on the market today. I'm looking forward to seeing these at Interbike 2008 this fall. For now, we'll all have to be satisfied with the following images.
Yeti 303R SS Prototype
The Yeti 303R SS will be aimed at the 4x and slopestyle crowds or those who ride aggressive all-mountain terrain or terrain parks. Here are a few specs:
Travel: 5.4 inches
Weight: 7.5 lbs w/Fox DHX Air (Approximate)
Head Angle: 68 deg. (140mm Fox 32) / 66 deg. (160mm Fox 36)
Projected Price: TBD
Yeti 303R DH Prototype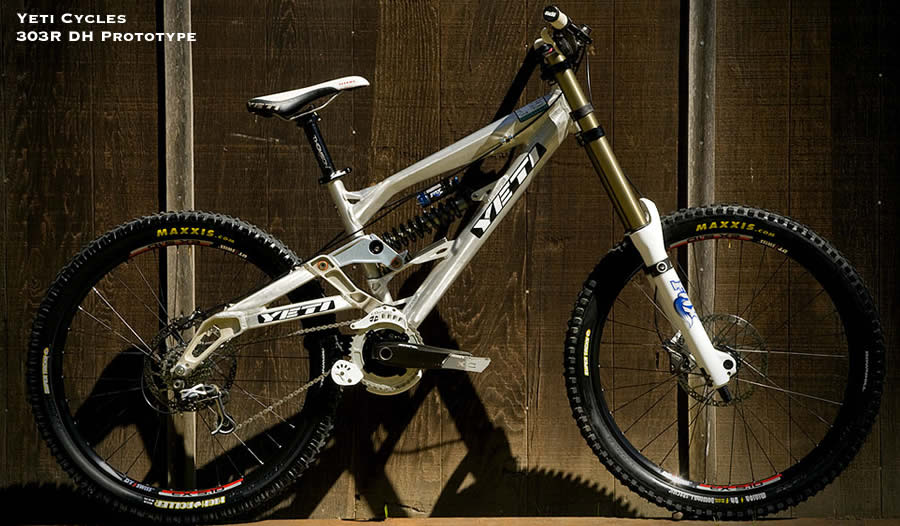 The Yeti 303R DH will be the "budget" DH rig for Yeti with a lower pricepoint than the current Yeti 303 DH and still all of the benefits of the Zero Loss suspension design. Here are a few specs:
Travel: 8.5 inches
Weight: 10 lbs. (approximate)
Head Angle: 64.5 – 65.5 deg.
Projected Price: $2499
More Info: Visit YetiCycles.com to See For Yourself