While Yeti has a decent heritage of XC racing, most people know them for their killer downhill and trail bikes. The venerable Yeti 575 and the trail-perfect ASR 5C remain as some of the finest trailbikes on the market. With Yeti's first foray into 29ers, it's natural that they would make one with a trail-friendly feel.
Yeti Big Top 29er Features:
7005 series aluminum front triangle
High modulus carbon fiber rear triangle
Removable ISCG mount (not tested)
Direct-mount front derailleur
Adjustable single-speed dropout
Tapered head tube
135 or 142mm rear axle option
Frame Weight: 4.0 lbs
Sizes: Medium (tested), Large, XL
MSRP: $1100 (frame), $1800 (frame/fork), $2750 (enduro complete kit, other kits are available)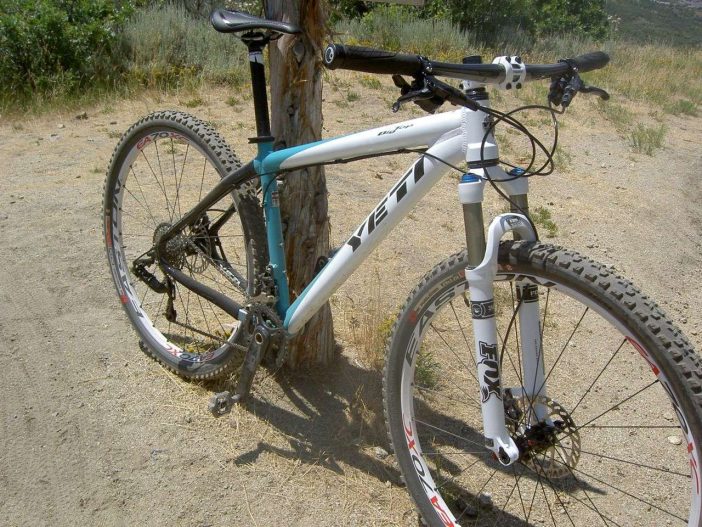 Yeti Big Top 29er Review
I've been swapping parts all over the place this Summer and I've now found a great home for my SRAM X0 2×10 kit. Before I dive into some of the great details of this bike, I wanted to set the table a bit. I've not ridden many hardtails in years. Last year, I rode the Specialized Stumpjumper Expert Carbon 29 and loved it, but was glad to slip back onto my Niner RIP 9 for trail riding duty.
This year, I've hopped onto the Yeti Big Top 29er after riding several full-suspension 29ers and I'll say this… the Big Top is one fine trail slayer. As I spoke with my friends at Yeti, the Big Top was described to me as a "hard-tail 575." While I wouldn't say it's as plush as a 575, it's definitely equally-capable and fun, so lets dive in a bit.
I chose to outfit the Big Top with a full SRAM X0 2×10 drivetrain, which has been superb in every way. For wheels, I installed the Easton EA70 XC wheels and mated them to Specialized Purgatory 2.2 tires. My cockpit is Truvativ with a Specialized Henge saddle. The entire package tips the scales at 25.8 lbs. and gives the Big Top a solid and capable feel — not ultralight, but just about right.
As a friend of mine looked over the complete bike, he admired the classic Yeti quality from the headbadge onto the trademark curved dropouts. This bike definitely fits into the Yeti family and stands out from the other 29er hardtails on the market.
My first break-in rides on the Big Top were essential — not for the bike, but for me. Getting back aboard a hardtail is always good for your riding skills, but it always takes a few rides to feel completely dialed-in. Oftentimes we get spoiled riding a full-suspension and forget our roots. One through that break-in period, this bike has been a ton of fun.
Since the Big Top is trail-tuned, climbing on it is not quite as lightning-fast as other hardtail 29ers. Don't get me wrong, the Big Top ascends admirably and quickly, but it's not quite the rocket like other lightweight 29ers will be. Still, seated climbs were always rewarded with ample traction and quick acceleration. Over rocky, loose terrain, the Big Top would hook up well — much of that is due to the meaty Specialized Purgatory 2.2's, but much of that can be attributed to the bike itself. Standing climbs, when necessary, were good, but traction can suffer rather quickly in the wrong terrain out of the saddle.
In tight, twisty singletrack, the Big Top did have a slight tendency to make turns feel less fluid. Low and medium-speed turns in ultra-tight trees weren't bad by any means, but were just a tad less fluid than I'd like them to be. Some of this could be due to the ultra-wide Truvativ NOIR 10S bars. Tracking was smoothest with a 100mm fork (versus 120mm). Again, not anything to be concerned about, but it was worth noting.
With its trail-tuned geometry, the Big Top rewards you in spades on the way down. Fast, flowing singletrack becomes an absolute dream as you lay it out and push the bike harder and harder. Pumping through rollers and banked turns are all super-fun on this bike. You do have to pick your lines, but the carbon rear triangle certainly does reduce trail chatter while also making it feel snappier.
Off drops, rocks and jumps, the Big Top remains composed and comfortable. I really had a great time descending on this bike on a variety of trails. As mentioned above, my hardtail break-in period included me finding the sweet-spot on descents. Instead of standing straight up, I found that moving my body back on descents allowed my legs to act as better shock absorbers, thus increasing downhill comfort and improving my overall trail feel. One you find that sweet spot, you'll be amazed how capable a 29er hardtail can be.
NOTE: I tried riding the Big Top with both 120mm and 100mm forks and I actually preferred the 100mm Fox F29 RLC as it gave the bike a more nimble feel overall.
The Good
One of the few true trail-friendly 29er hardtails
Signature Yeti construction and details
Carves up flowy singletrack
You can really lay into this bike and it rewards you
Erases small trail chatter
Flexible build-kit options
The Bad
Tight, twisty singletrack can feel less fluid than I'd like
Standover clearance is tight
A zero-stack headset would be sweet to reduce front-end height
No size small
The Bottom Line: Yeti Big Top
I can honestly say that the Yeti Big Top has been one of the most fun bikes I've ridden all Summer. I like how it feels trail-tuned… poised and comfortable instead of racy and twitchy. Yeti has done a good job cutting their teeth on this one… it's not 100% perfect (what bike is?), but it sure is a hoot to ride.
Buy Now: Find one at CompetitiveCyclist.com