For the final update on Black Diamond's new gear for 08/09, I turn to their expanded line of backcountry ski packs with integrated AvaLung's. I'm a believer in wearing an AvaLung in the backcountry and I've been impressed with BD's pack/AvaLung combos thus far (read my Covert AvaLung review). Combining the two is a no-brainer and reduces the bulk and complexity of wearing multiple items.
The entire line of backcountry ski packs will be greatly expanded for Fall 2008. The new line includes a sidecountry pack (Bandit), a ski-mountaineering pack (Alias) and even a snowboard-capable pack (Outlaw). Look for more information on these soon. Here are a few pictures and basic info.
Black Diamond Outlaw AvaLung Pack
This pack includes both ski and snowboard carrying functionality. This will be a functional backcountry pack for all-day tours. A great feature of the Outlaw is the zippered back-panel access, which makes getting to the bottom of the pack much easier. MSRP is $229.
Black Diamond Bandit AvaLung Ski Pack
Built for fast-and-light touring or sidecountry trips, the Bandit pack's volume is only 11 liters, so a few energy bars and a shell is all you can pack. But, if you're going for light touring, cat skiing, heli skiing or hitting sidecountry stashes, this is a great pack. The price is awesome at $169 (AvaLung alone is $99).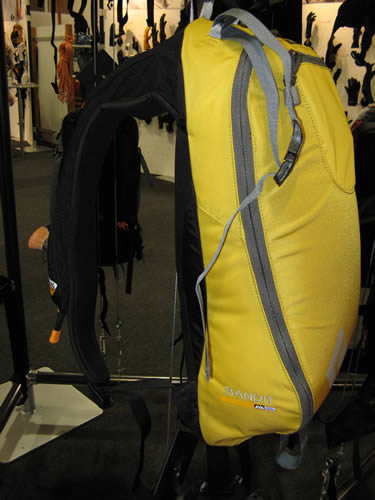 Black Diamond Alias AvaLung Ski Mountaineering Pack
This pack sports a much more narrow profile to distribute the load a bit higher on your back. It is also built of more lightweight 210 denier nylon and is a perfect 30 L. size. This top-loading design has built-in diagonal or A-frame ski carrying options and also has an integrated hydration sleeve and zippered pocket on the strap.The Alias is ideal for deep backcountry days or even efficient overnight trips, making it great for ski mountaineering-types. This is a great technical addition to the AvaLung pack line.
Visit www.BDel.com for more info on the AvaLung pack line.
Buy Now: See the Latest Black Diamond Ski Packs at REI