I can't believe it's that time again. The time when I ponder the gear I've reviewed this year and highlight the stars. Looking back, I can't believe all the gear that has passed through my door — most of it worthy of the nod from me. Lets dive in so you can make your shortlist for this Holiday season. Top 10 purists will be quick to point out that I don't know how to count and the list is really 11. But the Top 11 doesn't quite have the same ring to it, so Top 10 it is.
Brooks Cascadia 5 Trail Running Shoes
By far my favorite trail runners of all time. In May, I signed up for the Park City Midmountain Marathon and the search ensued for the perfect pair of trail runners to take me to the finish. The Cascadia 5's had me at hello as I was immediately in love. Run after run, these shoes just get better and better. With their rockered sole, excellent traction and solid stability, I have a hard time grabbing any other pair of shoes when I hit the trails.
Read Now: Brooks Cascadia 5 Trail Running Shoes Review
RockShox Reba RLT Ti 29er Fork
I've been pleasantly surprised with the performance of this Reba 29er fork. The tapered steerer, 32mm stanchions and 20mm Maxle Lite makes for precise steering and the BlackBox Motion Control delivers smooth, controlled travel. This is a solid performer that matches up well with today's 29er trailbikes.
Read Now: RockShox Reba RLT Ti 29er Fork Review
Specialized The Captain Control 2.2 29er Tires
Once I got some miles on the Captain's I had a hard time swapping them out for anything else. With a wide 2.2 design and a capable tread pattern, these tires are smooth-rolling, but hook up like Velcro in all conditions. No question, Specialized knows how to make a great 29er trailbike tire.
Read Now: Specialized The Captain Control 2.2 29er Tires Review
Pivot Mach 5.7 Mountain Bike
This one is a bit surprising since all I had was an hour or so aboard. But, that hour was impressive as I climbed with ease and descended with comfort and confidence. The DW-Link is nothing short of magical on the all-new Pivot Mach 5.7 trailbike. Look for this one to make an immediate name for itself among those in the know.
Read Now: Pivot Mach 5.7 Mountain Bike Review
Niner Bikes RIP 9 29er Mountain Bike
I loved the original RIP, then I was immediately taken by a prototype of the current design, so actually hopping aboard the production RIP 9 was an easy sell. As my personal steed for the Summer, the RIP 9 has served as a test mule for a variety of wheels, forks and other components. With each change, one thing remained the same — the RIP 9 consistently performed with the best trailbikes I've ridden. My last ride of the season last Friday and I once again fell in love with the RIP. This bike is hard to beat.
Read Now: Niner Bikes RIP 9 29er Mountain Bike Review
Ridley Noah RS Road Bike
Of all the bikes I tested at DealerCamp in August, I keep coming back to the Ridley Noah RS as something special. Mixing in some of the best of their aerodynamic technology into a daily driver package, the Noah RS delivers high-performance at a still-reasonable price. That overall package is what puts it on my list.
Read Now: Ridley Noah RS Road Bike Review

Somnio Pacemaker Running Shoes
In my hundreds of miles ran this year, I would have opted for much fewer pavement miles had I not found the Somnio Pacemaker's. These shoes offer a semi-custom fit and an ultra-smooth stride. I pounded hundreds of miles of pavement and these have been the most comfortable road running shoes I've ever worn.
Read Now: Somnio Pacemaker Running Shoes Review
The North Face Flex Crew Short-sleeved Shirt
In a market crowded with $50+ athletic shirts, the Flex Crew shirt from The North Face is a breath of fresh air. At a mere $25, this shirt is a no-brainer. Pick up 2-3 of these shirts and you're set. It's breathable and capable for running, biking and hiking with enough style to sport around town.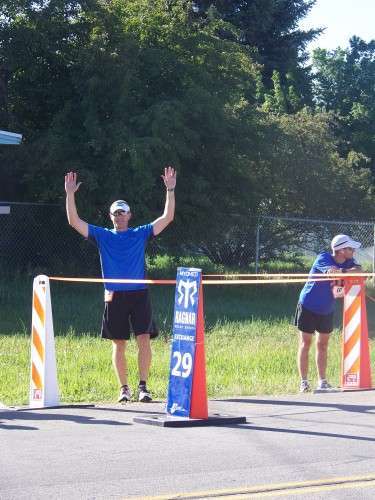 Read Now: The North Face Flex Crew Shirt Review
Outdoor Research Helium Jacket
The Helium jacket is simple, but built bomber and capable for daily use or as an emergency jacket for inclement weather on a summit push. I love how ultralight this jacket is and just how packable it is. Slap it on top of a down jacket in Winter or atop a short-sleeve shirt in the Summer and you've got yourself 4-season protection.
Read Now: Outdoor Research Helium Jacket Review
Surface Live Life 181 Skis
Surface Skis has grown from a local cult brand to near-mainstream in a few short years. The Live Life's have been outstanding powder and backcountry touring skis. Their light weight and extra width combined with a rockered chassis makes for easy turning and easy touring.
Read Now: Surface Live Life Skis Review
Dynafit Titan TF-X Backcountry Ski Boots
Burly indeed, the Titan's may not make the cut for backcountry purists, but I'm a huge fan. With their swappable soles and burly alpine-esque performance, these should be your only boots if you ski inbounds one day and out-of-bounds the next.
Read Now: Dynafit Titan TF-X Ski Boots Review