As a first-timer at NAHBS, I wandered around like a kid in a candy store. At every turn, I was blown away by the level of craftsmanship on display. No kidding, I would simply stop and stare wondering how I could possibly make one mine someday. Who knows when that someday will come, but drooling doesn't cost a dime, so here's my wishlist from 2017 NAHBS.
Mosaic Bespoke Bicycles
Winners of best gravel bike at the show, Boulder-based Mosaic Bespoke Bicycles is turning out titanium dream machines with stunning paint jobs to match. While most of the bikes leaving their offices are titanium, they do also make steel frames. Their top-shelf gravel model is the GT-1 and I couldn't keep my eyes off every one that was on display throughout the event. This one was shown at the ENVE headquarters open house just prior to the show.
Mosaic's game is on-point with a variety of frame options and stylish colors to match. I love white bikes and the simple and modern look of this one has me perked up.  Kudos to the passionate crew at Mosaic for taking home an award at this year's show.
Learn More: Visit MosaicCycles.com
Stinner Frameworks
The crew at Stinner has an obvious Southern California flare with unique paint work that will make Banksy stop in admiration. Available in either steel or titanium, Stinner bikes are unique and downright sexy. Add on top of that a down-to-earth crew and you've got a great option for your next bike.
The Refugio all-road bike (following two photos) is a real head-turner and is built to tackle anything you can throw its way. And, the Refugio is available in steel, titanium or stainless steel in three different builds. Get this, they also make it in 12 sizes (50-62cm).
Learn More: Visit StinnerFrameworks.com
Low Bicycles
Andrew Low crafts his beautiful frames out of aluminum, but don't let that stand in your way. Low frames are generally racy and certainly gorgeous. At the 2017 show, the Low Pursuit took home "Best Track Bike" honors, but the full lineup is worth a solid look. Pictured here is the MKI road bike in a random geometric sanded pattern. I'm told the process involves a crap-ton of masking and directional sanding to achieve that result.
The MKI will soon be available in plus sizes (taller head tubes) for a little more comfortable fit. As it stands right now, this bike is built to be ridden aggressively and now features noticeably-flattened chainstays to increase rider comfort.
Learn More: LowBicycles.com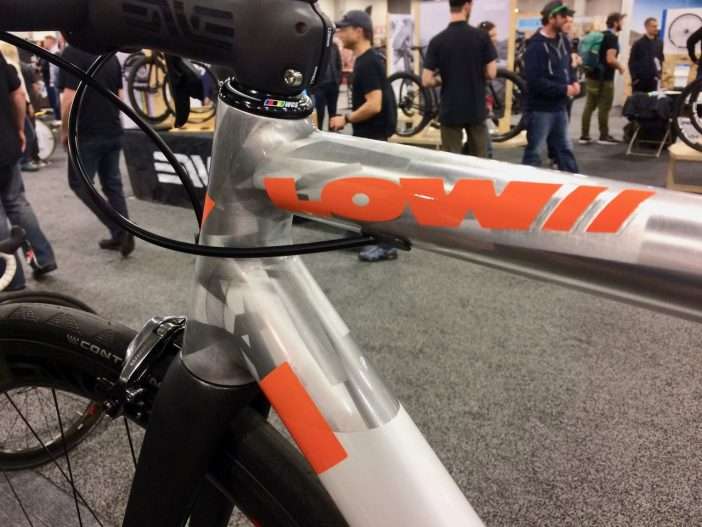 Métier Vélo
This Salt Lake City-based frame builder is doing things quite differently. In a world of monocoque carbon and invisible seams, lugged bikes still stand out. Colnago still draws plenty of attention with theirs and Metier Velo hopes you'll feel the same about the 3D-printed titanium lugs they are using.
Each bike is meticulously handcrafted with a high-touch process. Frames start at $8500.
Learn More: Visit Métier Vélo 
Argonaut Cycles
Catching up with Ben from Argonaut was awesome. The guy has his frame game dialed and the crew at Argonaut are ready to keep you smiling for years aboard your new dream machine. As opposed to many manufacturers at NAHBS, Argonaut works exclusively in carbon fiber.
And, every inch of every frame is custom-tailored to you for a glove-like fit. They do a rider profile and from that, they go to work on your frame. To keep all frames on-brand, colors and logos are set, but everything else is completely built around the rider.
Learn More: Visit ArgonautCycles.com
Eriksen Cycles
As on of the pioneers of titanium bikes, Kent Eriksen is ready to step out of the driver's seat and let his long-time apprentice, Brad Bingham take over. While Brad is certain to keep everything true to the brand's heritage, look for some cool stuff coming soon. This is a full build of the Eriksen gravel bike, which is just one year removed from winning "Best Gravel Bike" at NAHBS 2016.
This bike is fitted with the Easton EC90 SL crankset and a front derailleur. Say what? Yup, they have milled their own spider that allows for double chainrings aboard the EC90 SL. Frames start at $3700
Learn More: Visit KentEriksen.com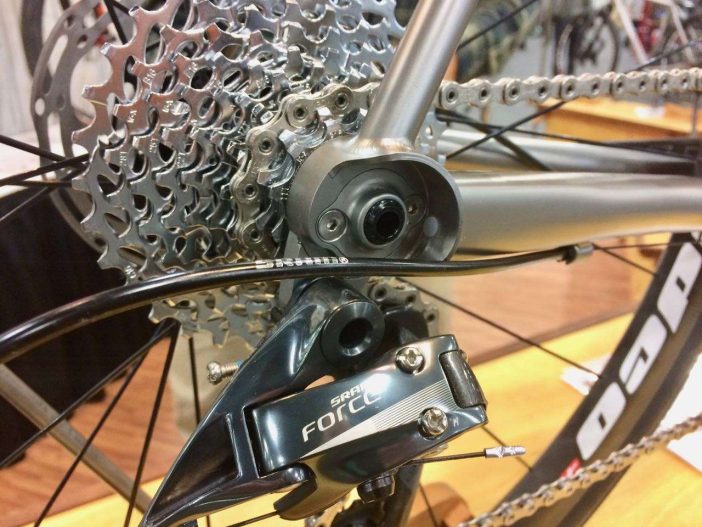 To learn more about the North American Handmade Bicycle Show, please visit their Web site and be sure to mark your calendars for next year's event.
Learn More: Visit NAHBS.com