Long a staple in sailing, Neil Pryde has also been making high-performance road bikes for many years — but their presence hasn't been super strong in the States. In an effort to begin to change that, we were introduced to their latest Nazare and Bura SL road bikes at Bike PressCamp. With over 40 years of experience working with composite materials, their bike offering is backed by a serious understanding of how to work with the wind and how to use the right materials to maximize performance.
Nazare and Nazare SL Aero Road
Now in it's 3rd-generation, the Nazare is a sexy and swift aero road bike that's great for all-round road and triathlon duties. With an integrated cockpit and truncated aero profiles, the racing red Nazare on display was downright beautiful. The frame is capable of accepting 28mm tires and also features a reversible aero seatpost for 0 or 20mm setback. It also features direct-mount brakes and the rear brake has returned to the seatstays after a brief stint under the chainstays.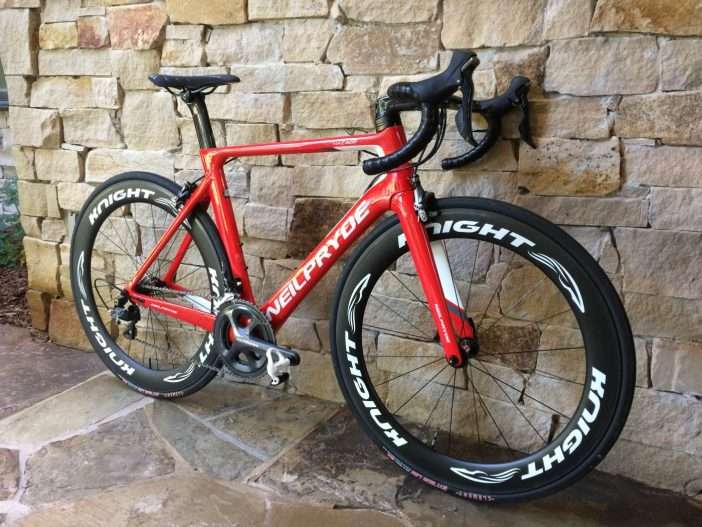 The Nazare SL frame comes in at 940 grams, which is quite respectable for an aero road bike. It also features Di2 compatibility and is available in four models: Nazare 105 ($2100), Nazare Ultegra ($2800), Nazare SL Ultegra ($3600) and Nazare SL Dura-Ace ($6200).
Bura and Bura SL All-rounder
The 2nd-generation Bura SL is their lightweight climbing bike and the frame comes in at 750 grams — quite light. Based on feedback from the previous design, the bike now features improved compliance at both ends with an entirely-new fork with added comfort in mind. Adding to that comfort is the internal seatpost binder, thus allowing the seatpost to flex just a smidgeon more.
The standard-modulus Bura frame is no slouch, but adds 200 grams and comes in at more affordable price points. Just like the Nazare, the Bura comes in four models: Bura 105 ($2100), Bura Ultegra ($2800), Bura SL Ultegra ($3600) and Bura SL Dura-Ace ($5400).
More Info: Visit NeilPrydeBikes.com