As one of the most accomplished professional cyclists of our generation, Fabian Cancellara knows a thing or two about winning. And, he also has been a big part of the product development process for Zipp Firecrest wheels, Cervelo bikes, Specialized Shiv, Trek Speed Concept, Trek Domane SLR and a myriad of other products throughout his fabled career. Now, as a retired pro cyclist, he remains active in the sport and one capacity is the global ambassador for Gore Wear (the product development division of W. L. Gore & Associates).
I had the opportunity to rub shoulders with the Gore Wear product development team and Cancellara in Park City, Utah April 7-8, 2018 for a global product launch. The purpose? Launch some new innovations, hang out with a legend (and hear how he's helping drive the products) and then watch the 2018 Paris-Roubaix together.
Evolution of Gore Wear
We're all very familiar with the current 3-layer Gore-Tex fabrics. They are bombproof in extreme conditions, but they are hardshells, don't pack well, don't breathe as well as we'd like them to and aren't practical for the demands of high-level cyclists. Along the path to delivering lighter and more breathable materials, Gore released Windstopper, which has long been the gold standard in lightweight weather protection on the bike (but it's not waterproof).
Windstopper is used by many cycling apparel manufacturers and, most notably, Castelli, who made it famous with their Gabba line and now the Perfetto line (which we reviewed earlier this year). But, while Windstopper is great, it doesn't carry the "Guaranteed to Keep You Dry" hangtag because it simply doesn't meet Gore's standards for waterproof protection.
Gore Wear (formerly Gore Bike Wear and Gore Running Wear) aims to develop the lightest, most protective cycling clothing on the market using the latest innovations from their labs. In that quest, they started tinkering with the current 3-layer fabrics. Using their in-house labs (which are pretty incredible, by the way) they can iterate quickly. And, eventually, they realized how 3-layer designs could be reduced to just 2 layers — a light wicking backer and the Gore-Tex membrane itself. The result was Gore Shakedry (read our Gore C5 Shakedry 1985 Jacket review), which was only recently announced. You can see a Shakedry panel above, keeping water at bay.
Gore-Tex Shakedry is just the Gore-Tex membrane itself with a lightweight wicking backer — that's it. It does have some limitations: it's difficult to dye, it isn't durable enough for high-abrasion activities and it still doesn't stretch (spoiler alert: yet).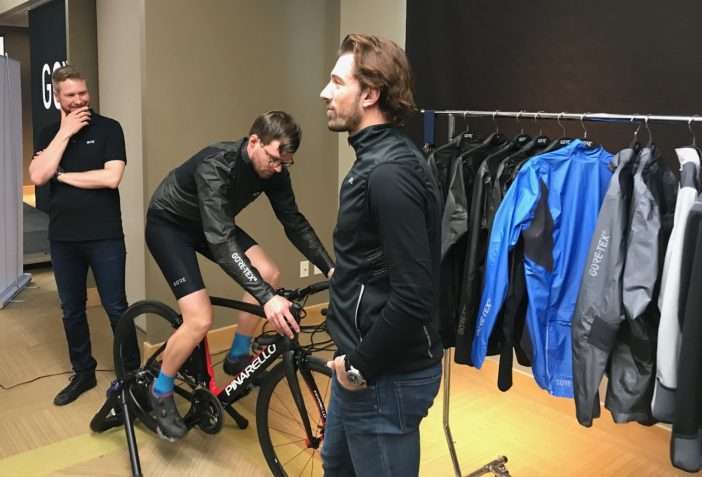 Getting Shakedry to Stretch
As Cancellara continued working with the Gore Wear team, Shakedry evolved even further with the infusion of a stretchy version of Gore-Tex fabric developed for the US Military.  These light, stretchy panels were then inserted into a Shakedry jacket and tested again and again and again — making slight changes in placement with each prototype until the stretch was just right. These quick iterations turned into the jacket that was announced at the event, the Gore C7 Shakedry Stretch Jacket.
Here, Cancellara talks about the importance of the stretch panels for breathability and comfort on the bike. He touches on the importance of accommodating various body types as well and his needs as a professional cyclist.
We are one of the 1000 people lucky enough to get the new Gore-Tex Shakedry Stretch Jacket and will be testing it over the coming weeks and months (so, hang tight). Initial impressions on the jacket are extremely-positive as it delivers excellent freedom-of-movement while still remaining extremely-light (175 grams, size large). And, it keeps the "Guaranteed to Keep You Dry" hangtag. Impressive stuff. Competitivecyclist.com is the exclusive retailer through 2018 and quantities are limited.
Buy Now: Available from Competitivecyclist.com