At Outdoor Retailer, I ran into my friend and mentor, Steve Casimiro (former Powder editor and owner of Adventure-Journal.com). It's only been a year since we were formally introduced and since that time we've talked on the phone, exchanged emails and comments on our posts. Steve's accomplishments, experience and stature in the outdoor industry speak for themselves. But, as we talk, we talk of family, of passions and of our hearts — not so much about gear and adventure.
You see… Steve has been a part of an industry that chews people up and spits them out — all the while putting on a "hard core" facade. Many publications simply ignore it and ride on a phony front of hard core ski bums, hard core freeriders, pure mountaineers and the like. No way, now how would they dare come across as a family man or a weekend warrior or a "touron" (a mix between a tourist and moron, often said of outside visitors who come to ski here in Utah). To them, that would be the death knell or come across as a sellout.
After that brief conversation on the show floor, I've been thinking about life, about myself, my family, my passions, my life experiences and what I envision my future to look like. It's time to set some things straight and come out clean and in the process make a bit of a statement to the heralded industry publications.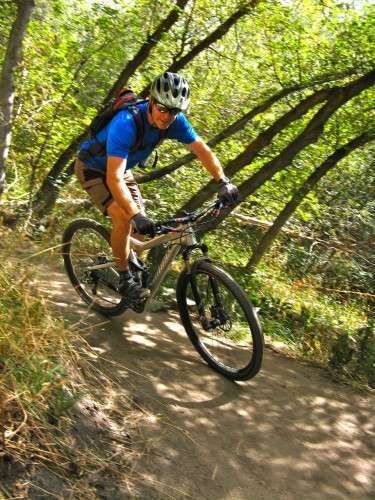 Who is Jason Mitchell, the man behind FeedTheHabit.com?
I'm a family man, a religious man, a 9-5 corporate desk jockey… and, I'm passionate about the outdoors. Those can all co-exist, right? To sum it up, I'm a lot like you are or what you will become. I'm like the millions of people who work hard and play hard on this earth. I'm not an industry dirtbag who lives paycheck to paycheck on my best friend's couch. I'm a corporate stiff who has miraculously been fortunate enough to find balance between family, work, play and passions.
While I say I've found that balance, I'll re-phrase that… I'm FINDING that balance. Just as each of us tries to balance everything we can, at times something has to give. You have to sit back and re-prioritize: good, better and best. While we all can easily choose between good and bad, it's the decisions between good and best that take time and yield the highest reward in life.
I'm going on 11+ years at the helm of FeedTheHabit.com. It all started my final year of school at Brigham Young University in 1999. I had spent the previous three Winter's teaching skiing at The Canyons Resort where I made some life-long friends and got some great experience, which landed me my first real gig — a search engine marketing consultant at Utah.com. While I was there, I realized that the outdoor industry was great and all, but it would be a hard place to raise a family and make a good living. It was my 8 months at that job as I finished school that led me to starting this Web site.
In November 1999, I sent an email to one of my closest friends, Kendall Card, saying I had just purchased the domain name and asked his thoughts. He was stoked and so was I. It was my way of saying to the outdoor industry, "I'll keep a light on, but my future family and my career will take me elsewhere."
So, FeedTheHabit.com began slowly as a hobby in 1999 while I hopped into the .com frenzy. I first landed as a Product Manager at About.com from Jan 2000 until Nov 2002. From there, I went to a little software startup called WingateWeb.com where I served as the Director of Marketing. That lasted another three years before I briefly jumped ship to manage the eCommerce side of FranklinCovey. After re-building their eCommerce platform, I was easily wooed down to Arizona to work for some great friends of mine as they were growing a small business marketing automation company called Infusionsoft.
After realizing that we weren't happy living in Arizona, we pushed the reset button and came back to a comfortable spot at WingateWeb.com, which was then quickly acquired by The Active Network. I have now recently jumped ship from Active and am now working at 1800Contacts on a new business that will be launching this Spring (stay tuned on that one). Oh yeah, I've also been a co-owner of GEAR.com since 2007.
During that timeline, I went from a single guy living it up to a happily married father of four with the most beautiful family anyone could ever hope for. They are my most important possessions… they are my everything.
So, to sum it all up… I'm hard core. I'm a hard core father, husband, employee and upstanding member of society. I've moved past the bro brah scene long ago. Does that make me less expert in the outdoor industry? Perhaps to some. But, to the majority of you all, I think you can relate.
I guess my point in all of this is to let my readers know that A) most outdoor industry publications put on a "hard core" facade that immediately makes them out of touch with reality and that B) my core priorities of faith, family and livelihood will sometimes prevent me from spending as much time on FeedTheHabit.com as I once have or would like to spend. But, as long as I'm comfortably able to intelligently share my thoughts on new products and the outdoor industry I will.
At some point the crossroads of life will make me choose between good, better and best and at that time, make no mistake… I'm a hard core husband and father first and foremost. Everything else (including my passion for the outdoors) takes a backseat from time-to-time. You see… I am a lot like you, but I happen to have also started one of the fist outdoor gear blogs in the industry and it's pretty darn cool, isn't it? Thanks for your continued support all these years! Giddy up!