Just a few more items to cover from this year's Outdoor Retailer, so lets round out the hardgoods coverage with a little from Black Diamond, Fritschi and Dynafit.
Black Diamond Drift Skis
As part of the new Black Diamond Efficient Series of skis and boots, the Drift looks to be the money ski in the line–at least for us living in the Wasatch. The entire series consists of 4 boots and 6 skis with the Drift being the fattest of the quiver. Aimed at lightweight backcountry slashing, the Drift is 100mm underfoot and available in either a 176cm or 186cm length. The full curve profile is 136/100/123.
So, you get a good sidecut for carving turns (yes, some of us still like to carve turns) and a nice rockered tip for extra flotation and crud-busting. The entire package tips the scales at a respectable 7 lbs. 4 oz. per pair. Retail price will be $699 with availability in the Fall. Visit www.SkiBD.com.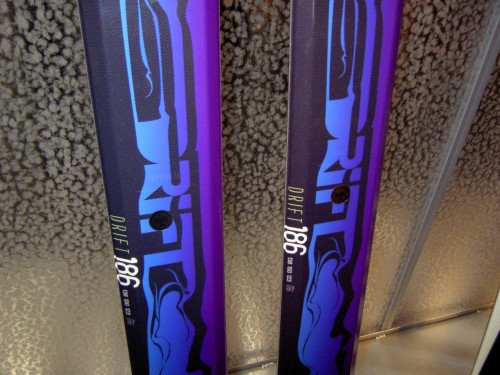 Fritschi Freeride Pro
Taking the lessons learned from the Fritschi Eagle and applying them to the more powerful Freeride platform, the new Fritschi Freeride Pro bindings are for hard-charging skiers who still want efficiency in the skintrack. With a wide new mounting platform (narrow skis need not apply), new toepiece and a more natural pivot point, the Freeride Pro is hitting the market just in time to combat the new Marker Tour. I've yet to hear a price on this new binder, but I'd guess in the $450 range… stay tuned.
Dynafit Stoke Skis
Revelstoke, super-stoked, stoking the fire… whatever you say, this ski is getting a ton of attention. The new Dynafit Stoke is a lightweight backcountry ski with ample girth to get you through the rough stuff. Tipping the scales right around 7 lbs. 4 oz. in the 182cm length, this ski has a great profile for all-around backcountry use at 130/106/120. As expected, the Stoke is equipped with an early-rise tip for breaking trail and floating in all conditions as well as metal tip/tail reinforcements for skins attachment. The Stoke is ready for backcountry adventure–so long as you're a Dynafit disciple since it comes pre-mounted for Dynafit bindings. Coming in at $799, these skis are available now at Backcountry.com.