Athletic tee shirt designs have come a long way from the old cotton shirts we all used to wear. Wet and soggy is now replaced by dry and comfortable.  Thanks to advances in both synthetic and natural fibers, there are no longer excuses for wearing that old tee shirt while mountain biking, trail running, backpacking or hiking.
Arc'teryx is one of the premiere manufacturers of outdoor apparel and equipment.  They have a wide variety of base layers, mid layers and outerwear for just about any active outdoor pursuit. Committed to the core outdoor enthusiast, Arc'teryx knows how to make a great product. I got my hands on the new Arc'teryx Velox Comp Crew shirt a few months back and have been flogging it on the trail. Just what makes this shirt tick?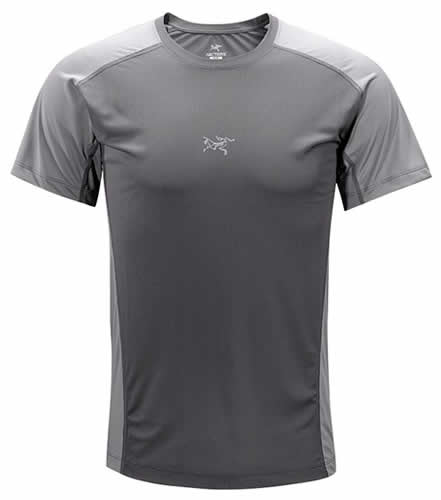 About the Arc'teryx Velox Comp Crew Shirt
This shirt is aimed at outdoor activities in warm weather or where the wearer is going to sweat a lot. Hmmm… sounds like mountain biking or trail running in Utah! Built with Libro fabric on the main body to maximize airflow and breathability and lightweight Vivital™ on the shoulders and side panels for moisture wicking superiority, this shirt is dialed for outdoor activity.
Features of the Arc'teryx Velox Comp:
Lightweight and breathable
Athletic fit
Gusseted underarms
Flat-locked seams
Crew neck
Heat transfer label at interior neck line
Reflective logo centre front
Weight: 108 grams
Colors: Amazon (tested), Black Pearl, Deep Blue, Picasso Red
MSRP: $58.95
Arc'teryx Velox Comp Shirt Review
After several months of flogging, this shirt remains my top choice for trail rides. Even though I'm not a huge fan of the Amazon green sleeve color, I can't deny how comfortable this shirt is on hot, sweaty mountain bike rides. The fabric is so lightweight and comfortable, you almost feel like you don't have a shirt on at all. The mesh body fabric breathes better than any shirt I've worn.
The smooth fabric on the sleeves feels great under a hydration pack and, unlike other fabrics, never grabs the straps as you're taking your pack on/off.
Even after pounding up a 1000 ft. climb in 95-degree heat, I can take the hydration pack off and my back is nearly dry.  Give it about a minute and what little moisture that was trapped in the fabric has now dissipated.
The shirt has proven to be extremely durable with no snags and obviously no rips or tears. I think I could have gone with a size medium, but the athletic fit reduces unnecessary fabric and bulk.
Good Velox Comp
Very soft and comfortable
Best breathing shirt I've worn
Top-notch quality
Flexible enough to be used for various activities
Bad Velox Comp
Price… this is an expensive shirt, but MTB jerseys can cost much more
Green sleeve color (I tested the Amazon) is a little ugly, but that's my personal preference
The Bottom Line: Arc'teryx Velox Comp Shirt
Arc'teryx does it again. Their legendary quality and use of innovative fabrics puts the Velox Comp shirt on the top of the list for lightweight, breathable shirts. The next time you grab your MTB jersey, just remember that the Arc'teryx Velox Comp shirt is likely half the weight and will breathe twice as well. This shirt is an outstanding performer in hot weather when the sweat is pouring out of you like a sieve. It dries extremely quickly and stays comfortable.
Buy Now: Find the Latest Arc'teryx Shirts at REI