It's tricky to strike the right balance between light weight and overnight comfort when heading into the backcountry – but with a few pieces of Big Agnes gear, that's exactly what we tried.
Q-Core SL Sleeping Pad:
Version tested: 20″ x 78″ x 3.5″
Weight: 19 oz
Thickness: 3.5" on edges, 3" in center
X-Static synthetic insulation
Estimated R value: 4.5
Alternating I-Beam construction
Larger outside air chambers to keep you positioned in center of pad
Durable light-weight nylon rip-stop top and bottom
Internal polyurethane coating
EZ Flate valve (non-self-inflating)
Stuff sack and repair kit included
MSRP $170
Q-Core SL Pillow:
Inflated size 12″ x 16″ x 3″
Packed size: 2″ x 6″
Weight: 3oz
Material construction: 30D nylon
I-beam interior
MSRP $35
Lost Ranger 15 Sleeping Bag:
Version tested: 20" x 78"
Weight: 3lb 1oz
Fill Type: 650 fill DownTek™ water repellent down insulation
Fill Weight: 5oz
Down proof nylon microfiber ripstop shell fabric with water repellent treatment
Down proof nylon microfiber lining with stain resistant finish
Nylon ripstop pad sleeve fabric with water repellent finish
Shoulder Girth: 73″
Hip Girth: 69″
Foot Girth: 55″
Stuff Sack Size: 8″ x 17.5″
Compressed Bag Size: 8″ x 8.5″
Integrated full pad sleeve
Built in pillow pocket
Interior fabric loops for sleeping bag liners
No-draft collar seals around neck
No-draft zipper tube
Mesh storage sack & nylon stuff sack included
MSRP $210 (for 2014 version, tested; 2015 version is $299)
Complete Sleep System: $415 (as tested)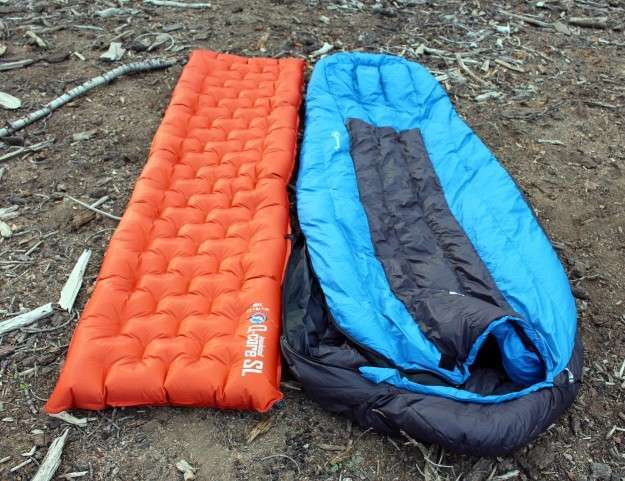 I've Bought Into "The Sleep System"
Big Agnes helped redefine the sleeping bag market more than a decade ago, as one of the first companies to produce "system" setups of compatible sleeping bag, pad, and pillow.   Their system bags come in a variety of sizes and shapes, and feature an integrated pad sleeve that can accommodate any type of sleeping pad with a matching shape.  Ideally, the system bags are best utilized with one of Big Agnes's matching sleep pads and pillows so that size and shape are a perfect match.
This fall we tested the Lost Ranger 15 sleeping bag*, part of the Big Agnes Classic Series of semi-rectangular bags.  Classic Series bags have more room than traditional mummy bags, which make a more comfortable sleeping experience for those not accustomed to being bundled up tightly.   At just over 3 pounds, the Lost Ranger isn't technically an ultralight bag – which Big Agnes refers to as Super Light or SL – but it's a nice hybrid of light and versatile and affordable.  It's convenient and easy to use for tent camping or car camping, but is still light enough for backpacking or even fast packing.  On the cost side, the Classic model we tested is about 14 oz heavier than a comparable Classic SL model of the same dimensions, but costs about $100 less.
(*Note that the version we tested was the 2014 model; as of this month, it has been updated with a 2015 version.  The 2014 version is still available for 25% off from the Big Agnes website.)
Our Lost Ranger is the long (78") version, which we combined with a 78" rectangular Q-Core SL sleeping pad.  This pad is a lightweight version of the well-established Big Agnes Q-Core, and in this case, the SL version isn't cost prohibitive at all: the Q-Core SL costs only 20 dollars more than the regular Q-Core, and weighs over 30% less.  All of the features of the original Q-Core are preserved, such as alternating I-beam air channels that give the pad a quilted look and evenly distribute your weight across the entire pad.  Larger air channels on either side help keep you centered on the pad even if you're not laying in a sleeping bag.  X-Static synthetic insulation is woven into the pad, and helps preserve warmth by reflecting your body heat back to you while you sleep.  Another nice feature is the use of silver filaments to provide anti-microbial and anti-odor properties, which reduces the funk factor on the drive home.
The Q-Core SL pillow is a must have even for minimalists: at a mere 3 oz, you won't even notice it in your pack, and it packs down enough to stash anywhere.  Its packed dimensions are roughly the same size as a small smartphone, and I just tucked it into the same drawstring bag as the SL pad.
Both the Lost Ranger and the Q-Core SL are highly compactible, and were easy to stow in my Ultimate Direction FastPack 20 for two days on the High Sierra Trail this fall, with plenty of space remaining for all the food and clothes that were necessary.  The stuff sack for the sleeping bag is 8" x 17", and can be further compressed to a mere 8" x 9" with a set of Big Agnes compression straps that are sold separately for $18 (and which we didn't test).  If you're packing for two nights or more, the compression straps are definitely recommended, but for our single-night outings it's not a critical detail.
So here's how the system works: the pad is inflated separately (the old fashioned way, with your mouth) and then you slide it into the sleeve on the backside of the sleeping bag, which is otherwise unpadded.
The sleeve shuts with a Velcro closure, and there are two notches where the corners of the pad poke through, securing it in place and giving you access to the valve without removing the pad back out of the sleeve.
The Q-Core SL pillow inflates in about 30 seconds, and slips into the pillow sleeve …
… before flipping back over into a perfect position in the hood of the bag.  All that's left to do is climb inside and enjoy a soft, warm night's sleep.
The Lost Ranger has a semi-rectangular cut, which provides more room for restless legs or position changes during the night, both of which we experience frequently.   Because the pad is integrated into the bag, there's no chance of rolling off the pad in the middle of the night.
And since the O-Core SL pillow uses the same I-beam configuration that is used in the Q-Core pad, it does a great job of holding your head in place without rolling off to one side or the other.
The interior lining of the bag is very comfortable against the skin, and the Lost Ranger is rated for temperatures as low as 15 degrees.  DownTek water repellent insulation absorbs less water and dries faster than untreated down, which offers some assurance when sleeping without a tent.  The external construction utilizes Insotect Flow, which is a baffle design that distributes the down evenly to maintain uniform heat distribution and natural body contouring.  There are flow gates built throughout the bag to prevent vertical or lateral shifting of the down over long periods of time.
Once you're in the tent, you're fully protected from external air, with no-draft seals around the collar as well as the entire length of the zipper.  The vertical flow chambers mentioned above take the place of traditional side seams, so there are no cold spots along the seams.  An insulated hood keeps the top of your head warm, and the built-in pillow sleeve is comfortable against your skin throughout the night.  The size of this pocket will accommodate other pillows in the Big Agnes line, a regular camp pillow, or just a rolled up fleece in a pinch.
The Good
Interior lining of the Lost Ranger is soft and comfortable
DownTek insulation maintains warmth when wet
Very lightweight Q Core SL pad
Easily compressible and packable — all things considered
Channeled pad construction keeps you centered
The pillow packs down to nothing
The Bad
We wish it were more compressible without needing to buy straps separately
Wish the pad self-inflated
Keep that pillow in its pocket or it's slick
Bottom Line: Big Agnes Lost Ranger Sleep System
Big Agnes's Q-Core SL gear and Lost Ranger 15 provide a nice balance of light weight and overnight comfort.  For the size and weight that they occupy in your pack, it's hard to imagine getting a more comfortable night's sleep in the backcountry.
Buy Now: Available at CampSaver.com