The Camelbak Transformer is a bit like the Swiss Army knife of packs. It's versatile to a fault, sturdily built, and probably has a good chance of outliving its owner. I've been using it for about eight months throughout the fall as well as a mild winter with lots of hiking and biking, and now during a beautiful Nevada Spring. It's a good "do-everything" pack, but it's a bit on the heavy side.
Camelbak Transformer Features:
Hydration Capacity: 102 oz (3.1 L)
Cargo Volume: 793.3 cu in (13 L)
Total Volume: 982.4 cu in (16.1 L)
Includes the 102 oz (3.1 L) Low-Profile OMEGA® Water Beast™ Reservoir.
Pack Weight: 5.0 lbs (2.3 kg) with empty reservoir
Pack Dimensions: 15.5 in x 13 in x 12 in (395 mm x 330 mm x 305 mm)
MSRP: $174
Camelbak Transformer Hydration Pack Review
The pack sits comfortably in the middle of Camelbak's 'Maximum Gear' line of military packs: in the 'hydration plus cargo' family, the biggest is the BFM which has more than 45 liters of storage, while the smallest 'M.U.L.E.' is the size of a bladder plus change.  The Transfomer is also in the middle of the price range, at $175.  That's a lot for a daypack, but the Military/Tactical Maximum Gear line is built with quality in mind.
The pack's design is fairly straightforward: there are three different sections that can detach from each other, which means users can customize it to whatever their current adventure requires. The first compartment is built for a Camelback bladder and has a pocket, which Camelbak touts as a great place for clips and ammunition; I just stuck my knife and bike tool back there. The angle is too sharp for me to reach while I'm wearing the pack, so don't think of it as a quick-access place unless you're a lot more flexible than I am.
The next compartment is split into two pouches with a pocket to hold some toys. It's pretty roomy, so I put my first aid kit and some survival gear for solo hikes. The last compartment is definitely meant for snacks, a phone, or any knick-knacks that need to tag along. It's still big enough for my personal first aid kit if I was hiking without the middle section though, which brings me to the next feature of this pack, and why it's called the Transformer.
The Transformer is pretty unique in that wearers can mix and match the three sections based on what the trip of the day calls for. For instance, my biking pack usually consists of the bladder portion and the small third section – mind you, the bladder portion is the part with the shoulder straps so it's present in any combination. I use all three sections for my day hikes, simply because I usually hike alone so I take certain survival gear.
The pack is built in a way that lets it carry gear in between the three sections. This is perfect for stuffing a jacket or a poncho, or even a pair of hiking shoes in case I need to pull off my clipless biking shoes. I appreciate this design because I don't have to muck up the pockets. Once I have my essentials packed, I don't have to touch them again because I just put extra stuff into the space between the sections. These secure with cinch straps and I've never had anything fall out.
The pack has some great features that even civilians like me appreciate. There's a small pouch on the bladder section that houses an integrated waterproof pack cover: one side is high-visibility orange, and the other is desert camo with the Camelbak logo. There are convenient pouches for storing the waist strap when not in use. The pack is also compatible with the US Military's MOLLE system; for you and me, that just means we can use the Velcro and nylon loops to store extra stuff. I only ever carry a knife back there because I don't trust things not to fall off when I can't see or feel them.
Realistically there's only one downside to this pack, and it's one that different hikers will take different ways – it's heavy. At five pounds, it's a comfortable two pounds above what I would call the norm for daypacks. The extra weight never bothered me when I was hiking, but I'm more mule than speedy mountain goat. Weight only bothers me when I'm biking, so I just shuck off the sections that I don't need; the ability to do that right there is probably reason enough to buy the pack.
To top it off, let's talk a little bit about why anyone buys a Camelbak – the hydration side. The Transformer comes with Camelbak's impressive 102 oz (3.1 L) Low-Profile OMEGA Water Beast reservoir. This kept me going for hours, and it's definitely the best bladder I've ever used. It has an interior baffle to muffle the sloshing, and the cap is designed to stop turning when it's sealed (my old bladder would break wrists trying to open and close it). The gullible part of me thinks that the water out of this bladder tastes better: there could be something to this theory, since it's treated to prevent bacteria growth. The bladder has quick releases at both ends of the insulated hose. Naturally, there's a covered "Big Bite" valve to seal the deal.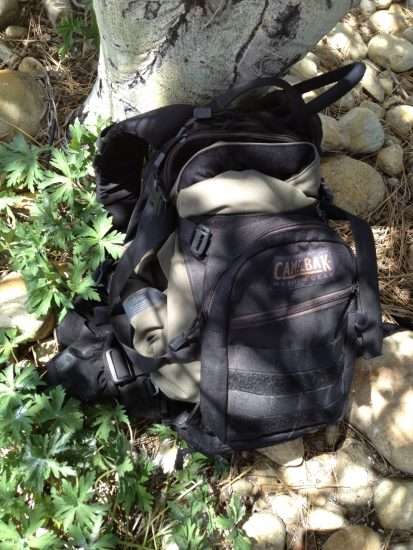 The Good
Well-constructed, very sturdy
Excellent reservoir included
Very versatile
Smart design with just the right amount of pockets
The Bad
Bottom Line: Camelbak Transformer Hydration Pack
It's really a great pack that's on the heavy side. Construction is solid, and if it weren't for dust, mine would look brand-new — even after eight months of use. If you can shell out the money, you'll end up with a pack that might just outlive you, and it'll carry all the gear you need to keep on living, too.
Buy Now: Available on Amazon.com