Headed out for a long run, but not sure what you'll encounter?  Load up CamelBak's Ultra LR Vest with all the gear you might need – and while you're at it, throw an extra water bottle or two in there for good measure.
CamelBak Ultra LR Vest Features
Weight (empty): 1.15 lb (0.54 kg)
Fluid capacity: 70 oz
Cargo capacity: 200 cu in (3.28 L)
Torso Length: 16.5 in (42 cm)
Fabric: 70 denier diamond box ripstop with Durable Water Repellent (DWR) coating
Antidote lumbar reservoir
Air channel back panel
Dual front water bottle pockets
Vertically adjustable sternum straps
Roomy cargo pockets on belt
Safety whistle
MSRP $130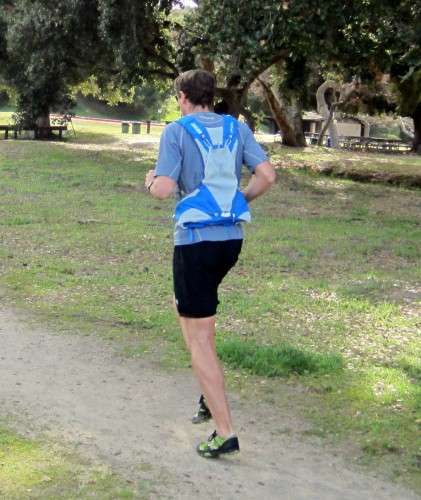 CamelBak Ultra LR Vest Review
Ultrarunners are accustomed to dealing with things on the go; accordingly, we like all of our important stuff to be within easy reach.  CamelBak's Ultra LR keeps a lot of necessities close by, and allows you to carry additional fluids if you want to stretch your adventure out a couple more hours.
LR stands for lumbar reservoir, which distributes the fluid weight horizontally across the lower back instead of vertically along the spine for improved ergonomics.  This design is a huge selling point for runners who get sore between the shoulder blades when carrying vertical fluid packs.
The Antidote reservoir has a new Quick Link system to detach the tube at the base for easier storage and cleaning.  It also features a Big Bite valve for high-volume flow, a secure lock/unlock latch, a wide-mouth opening that seals easily with a quarter-turn, and an insulated drink tube with anti-microbial coating.
Although lumbar reservoirs ride very comfortably, there are two noticeable drawbacks: 1) the flank areas are difficult to reach when cleaning or drying, and 2) it's hard to drain the last 5-10 oz of fluid, because the tube opening sits slightly above the lowest point of the reservoir.
Of course, you can always carry extra water in the front pockets, each of which can accommodate a standard 20-oz bottle.  I found carrying bottles here to be too bouncy for my liking, so my preference is to use these pockets for gear like a camera, cell phone, or map.  The pockets cinch with a bungee drawstring to keep your cargo secure regardless of the size.
In addition to the vest pockets, the Ultra LR has enormous triangular belt pockets on either side.  There's plenty of space to stow all the gels or energy bars you need, or give you a place to stuff your headlamp, gloves, arm warmers and hat when the sun comes up.  You can even scrunch a lightweight jacket into one of the side pockets, or store bulkier items such as midweight jackets in the mesh netting on the backside of the vest.
The Ultra LR rides quite comfortably, thanks to fabric construction, design elements and plenty of adjustment points.  The lightweight mesh of the Ultra LR feels soft against the back, and air channel construction (thicker on either side, thinner in the middle) allows air to circulate between the fluid area and your body.  All of the straps are adjustable to provide a customized fit regardless of your body proportions.
Good Ultra LR
Ergonomic fluid distribution across lumbar area
Durable reservoir
High-flow tube and bite valve
Plenty of cargo space, most of it easily accessible
Good comfort with lots of adjustability
Bad Ultra LR
Lumbar reservoir can be tricky to drain, clean or dry — leaves you with extra, inaccessible water in the bladder
Fluid bottles bounce too much in vest pockets
Price point is high for similar packs in this category
Bottom Line: CamelBak Ultra LR Vest
If you have a lot of miles to cover and need a ton of fluid and gear to get you there, CamelBak's Ultra LR is well-built to carry it all.
Buy Now: Find Camelbak Running Vests at Backcountry.com