A good, lightweight jacket is a gem to have. Packable and breathable wind protection provides just the right protection on early-morning trail runs or bike rides, but can then be stashed away as temperatures rise. My current favorite training/aerobic jacket is the OR Avido Jacket, but they don't make it anymore, so it's time to find something else that works just as well, but is not a collector's item.
Enter the Cloudveil BPM lightweight, breathable shell. It's minimalist, but it looks functional enough and is built well, but how does it perform when put to the test?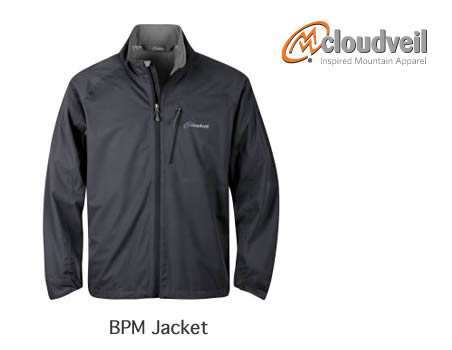 About the Cloudveil BPM Jacket
Build as an aerobic training (running/cycling) or a stashable shell for unsettled weather in the backcountry. Built using a proprietary nylon knit fabric, the BPM is the stretchiest jacket on the rack and offers superior range of motion while maintaining a high level of waterproofing thanks to the DWR finish.
Other details include asymmetrical cuffs and minimalistic pockets for a streamlined look that helps keep this shell under 10 oz. More details include:
Nylon knit 4-way stretch shell with taped seams
Transporter™ brushed tricot collar
YKK® Reverso Zips
Chest Pocket
Asymmetrical cuffs with half elastic
Zippered stash pocket on back
Reflective tonal logos
Colors: Black or Blue
MSRP: $180
Cloudveil BPM Jacket Review
Cloudveil produces some of the finest outerwear on the market today and the versatile BPM Jacket keeps that heritage going. Slip this on and you'll be treated to one of the comfiest lightweight shells on the market. The nylon weave fabric yields a 4-way stretch that never feels restrictive.
Let me clarify something out the chute… Cloudveil lists the BPM as having an athletic fit, but I'd beg to differ.  I opted for the size Large on the test jacket, but should have gone with a Medium, but this jacket features as straight of a cut as any standard-fit jacket. Most "athletic" cut garments I've worn are tapered and fitted (hence the "athletic" moniker).  Just keep that in mind when selecting your size.
I used the BPM for springtime trail running in cool, windy and rainy weather. As stated above, I love the feel of this jacket… it just feels soft next to the skin. The material does a great job at expelling moisture, but it could stand to use some mesh vents in the armpits or in back to act as a relief valve. After a 30 minute trail run, it would be damp to the touch on the inside back, but would dissipate within 15 minutes or so afterward.
The minimalistic design has a single chest pocket and a rear stash pocket, so get used to fishing for non-existent handwarmer pockets. As ubiquitous as the iPod is, most manufacturers are slapping MP3 ports and such on all their jackets. Thankfully, Cloudveil didn't do that with this jacket because in my opinion those gimmicks aren't intended to serve the core users, but only to appease to the trendy masses.
I dig the asymmetrical cuffs because they keep your wrist covered much better than straight designs–especially on a mountain bike. But, the only negative comes when trying to see your watch because it's well-covered. You have to slide the sleeve down with the opposite hand to see the watch face.
Good BPM
Breathes well
Stretchy fabric is comfortable
Laminated lining feels soft to touch
Angled sleeve cuffs keep wrists covered
Very lightweight
One-pull drawcord
Bad BPM
Stretchy fabric does grab on things
Angled cuffs make it hard to see your watch
Could use handwarmer pockets (tough to do and keep weight down)
Fit is not athletic as stated
Expensive, but high-quality
The Bottom Line: Cloudveil BPM Jacket
I'm impressed with this jacket… primarily the fabric. It really blows away the competition for its stretchiness and comfort while remaining highly-water resistant and breathable. Try it on and make sure you get the right size as this one runs large, in my opinion.
Buy Now: Find Running Jackets at REI