Unless you've been living out in the woods (if you have, you're doing it right) you've probably heard of Columbia's new Omni-Heat technology.  It's a 33% reflective dot pattern against a 66% breathable membrane that Columbia touts as the warmest thing since the inside of a Hot Pocket.  This technology, along with three others in Columbia's 'Omni' family, is featured in the Triteca jacket.
Columbia Triteca Softshell Features:
Omni-Wind Block ultrabreathable windproof
Omni-Heat thermal reflective
Omni-Wick EVAP advanced evaporation
Bonded softshell
2-way comfort stretch
Hybrid for stretch and breathability
Attached, adjustable storm hood
Vented hand pockets
Waterproof zippers
Drawcord adjustable hem
Zip-closed hand pockets
Contoured sleeve cuffs
Backpack compatible
Abrasion resistant chin guard
Drop tail
Center back length: 29"
MSRP: $220
Columbia Triteca Softshell Jacket Review
Columbia's Triteca softshell is equipped with the full suite of Omni (Omni-Heat, Omni-Wind, Omni-Wick Evap, and Omni-Shield DWR and stain proofing). All this technology works together to make a very capable softshell for the right activities.
Omni-Wick EVAP is strategically placed on areas prone to sweat: obvious ones like the armpits, sides, and back across the shoulder blades, but also the sleeve cuffs, where moisture tends to accumulate.  Columbia's animation of how this technology works had me scratching my head, but when I got out and tested the product I was highly impressed with how it performed. Omni-Wick EVAP provided ventilation in key areas while doing a tremendous job of wicking sweat.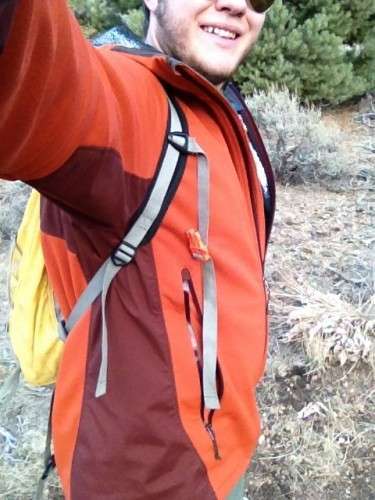 Omni-Wind covers every other spot of the coat and all of the core spots on the torso.  It's a great wind blocker and it breathes reasonably well – not as well as lighter wind blockers, but it's intended to be slightly warmer anyway.  The jacket features large pockets that are placed extra high to clear waistbelts and are lined with very fine mesh; this allows the wearer to customize airflow into the jacket when Omni-Heat starts heating things up.
Omni-Shield keeps the jacket dry in light rain, and it managed to mitigate the effects of some tea I spilled on the Triteca as well.
Now, the big kahuna:  Omni-Heat.  The big question with this technology is pretty simple – does it work?  Yes, it does.  I'll confess that I was something of a nonbeliever when I heard the premise behind Omni-Heat, even though it's a concept that has been applied successfully in everything from space blankets to sky scrapers.  The reflective dot pattern in Omni-Heat reflects the heat put off by your own body and keeps it inside the jacket, whereas traditional insulation requires bulky trapped air to stay warm.  This allows outerwear to be sleeker while still retaining warmth.  I'll be going into more detail on Omni-Heat in upcoming reviews.
What I'm getting at is that all of these technologies work together to create a highly specialized jacket that excels in some activities and falls short in others.  Omni-Heat keeps the core toasty warm without adding bulk while Omni-Wick EVAP permits tremendous airflow in key areas.  So, we have a technology keeping parts of your body really warm, and another technology allowing parts of your body to stay cool.  This means that the Triteca excels in moderate to highly aerobic activities in cold weather.  It's not a jacket that you should buy to wear around town during the week – the vents on the sides are much too chilly for that.
By trading versatility, the Triteca delivers awesome performance in key activities – I must say that this is the best coat I've ever backpacked in cold weather with.  For example, I did a quick overnighter last week and I hit the snowline at around 9000 feet, and from there I was working hard to clear a trail.  The Omni-Wick EVAP eliminated the sweat that I was working up, while Omni-Heat managed to keep my core at the perfect temperature.  The Triteca would also be great for Nordic skiing, snowshoeing, and any other moderate to highly aerobic activity in cold weather.
I thoroughly appreciated the plethora of little details built into the Triteca.  The 'abrasion-resistant chin guard' is generously sized and very soft.  The Triteca's hood is helmet compatible, but the adjustment system is a little confusing at first.  Columbia managed to pack in the single best no-snag sealed zipper that I've ever used, so that's definitely a good thing.  Columbia also designed the Triteca to have a superb range of motion – my arms and shoulders didn't feel restricted at all.
The only real flaw in the jacket is the fabric's tendency to snag – it's very soft to the touch and rather quiet compared to other wind blocking fabrics, but boy does it snag.  I intentionally abrade fabrics on rocks, thorns, and bark to see how well they hold up, but the Triteca snags easily enough by itself.  This will be more of a problem in the spring when thorns and other ill-willed fabric snaggers start growing again.
Good Columbia Triteca:
Omni-Heat – it really works!
Omni-Wick Evap does an excellent job regulating moisture and temperature
Sealed zipper is superior to most competition
Soft, quiet fabric
High pockets for backpacking
Excellent range-of-motion
Bad Columbia Triteca:
Poor fabric durability
Omni-Heat could breathe a little better
Bottom Line: Columbia Triteca Softshell:
The Triteca delivers top-notch performance in specialized cold weather activities: Omni-Heat excels at keeping the arms and core warm, while Omni-Wick EVAP works hard to eliminate moisture.  It's the best jacket that I've ever backpacked with, and the only substantive flaw is how easily the fabric snags.  Taken as a package, this is probably one of the best softshells on the market if you need something for moderate to highly aerobic activities in cold weather.
Buy now: Available at Altrec.com