I wrote a little about END Footwear after OR Summer Market last August. These guys are the first footwear company 100% committed to sustainable, "green", socially-responsible, earth-friendly, etc. manufacturing throughout their entire line. But, unlike many other "green" products in the market, they actually do look stylish and are also long-lasting, durable products.
The story doesn't end there. The whole shoe manufacturing process for END was re-tooled from the ground-up versus other brands. Waste is re-used and unnecessary steps and components are removed from the shoe's construction. As a result, I'm told that the number of hands required to produce a single pair of shoes has been reduced from an average of 300 for typical shoes down to about 150 for END's shoes.
Lets look at a few shoes from the spring running line that's available now from select retailers, Zappos.com and REI.com.
END WOW and LOL Water-friendly Running Shoes
Not just a running shoe with a few port-holes in it, these are completely built from the ground-up to be water-friendly runners. With enough mesh and holes to sink the Titanic, these lightweight and comfortable shoes would be heaven-sent not only in acquatic situations, but also on hot summer days when you want your feet to breathe. With a respectable $80 MSRP, these shoes are affordable. Oh yeah… the WOW is the men's and LOL is women's (in case the colors didn't give that away.)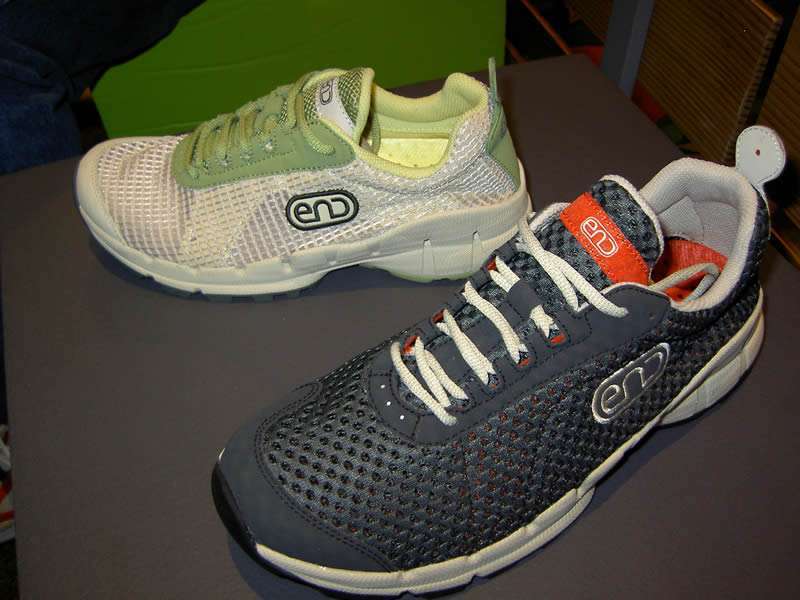 END OTG and YMMV Running Shoes
These are dedicated road running shoes that are built for speed, comfort and stability. The OTG (grey/orange) is posted for extra pronation support while the YMMV (white/red/black) offers straight cushioning. These shoes look smart and offer breathability second to none (a heaven-send for hot-footers like myself).  The designs differ slightly, but, like most END shoes, they share the same treads and many key components (there's the simplification and sustainability story).  MSRP is an astounding $90 for the OTG and $85 for the YMMV.
Buy Now: Search for END Shoes at REI.com