GCI Outdoor was founded in 1996 by a savvy engineer, Dan Grace. His first idea was to create an outdoor chair that adjusted to the typically uneven terrain found outdoors. He was tired of trying to sit in a chair that was made for a perfectly flat surface–because, if any of you have checked the outdoors lately, nothing outside of your kitchen table is perfectly flat.
So, out of this endeavor, GCI Outdoor was formed and the successful "Everywhere Chair" was introduced to the market. Since that time, the "Chair Guys" have been tinkering with new outdoor chair designs that are more portable, more user-friendly and more durable.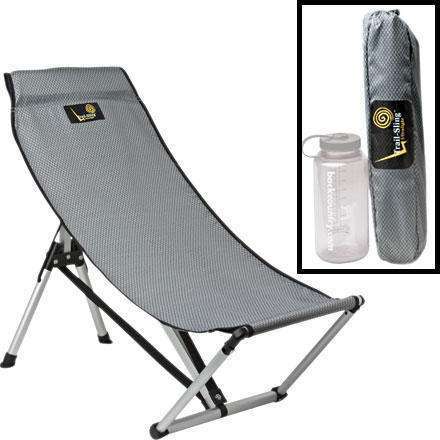 Trail-Sling Ultralight Details
The new GCI Outdoor Trail-Sling Ultralight chair is the smallest and lightest backpacking lounge chair on the market today. Made with a lightweight, yet durable powder-coated aluminum frame with nylon fittings, the Trail-Sling can handle up to 275 lbs., yet weighs only 30 oz. Folded down, the Trail-Sling fits into a small bag and is easily slid into water bottle holsters or inside a backpack. Heck, it's small enough that it could be carried inside something as small as a handbag. Not that I carry a handbag, ahem, it's a "man bag", of course!
All moveable aluminum poles are shock-corded to ensure they stay with the chair and don't get lost. The seat itself is durable 150 D nylon that will be durable enough for a lifetime of use.
Trail-Sling Performance
The first time I saw the Trail-Sling was at Outdoor Retailer Summer Market 2005. Instantly, I saw it as a nice place to lounge and rest my weary feet. Well, halfway to the butt/seat impact, Joe from GCI Outdoor caught my attention with a "don't plop down on the Trail-Sling!". I quickly slowed my butt velocity just in time for a nice touchdown on the Trail-Sling. He made sure I sat down properly and enjoyed the true benefits of the Trail-Sling, but made sure I was aware that the Trail-Sling is no "plopper". Though you do have to be gentle while taking a seat in the Trail-Sling (if you plop down on it, your tailbone will let you know), once situated, it's hard to find a better seat in the outdoors.
I got the Trail-Sling just in time for a weekend backpacking trip to Lake Martha in Big Cottonwood Canyon, UT. Because of the small size of the Trail-Sling, it was easy to place it inside the side water bottle holsters at the base of my EMS Ascent backpack. The Trail-Sling folds down and stores inside the included bag to 8 inches in length by about 3 inches in diameter–a small exchange for comfort on the trail.
I'm a firm believer in hauling a seat on every backpacking trip I go on. Since I was young, I always carried a lightweight camp chair on my backpacking trips. I was typically the envy of everyone in the group, but I was able to ward them off enough to enjoy a relaxing seat after hoofing it on a trail all day. I like how compact and lightweight the Trail-Sling is… there would be no hesitation to bring it along.
I didn't bother testing out the chair at home before heading out on the trip, so my first setup of the Trail-Sling happened in the real-world. It did take me a little while to figure out just the right sequence for putting it together, but you can't fault the directions! I'm like most guys and I don't like to follow directions unless I'm completely lost. Well, I got to that point because I couldn't figure out how to get the headrest into the crossbars. After actually reading the directions, everything went together in a snap and I was lounging like a pro in no time.
I appreciated the laid back seating of the Trail-Sling for relaxation, but it didn't quite lend itself as well to cooking. Leaning forward in the seat, the back of the chair tended to get airborne, unless you sat just right. Once I figured out the sweet spot for leaning forward and checking on dinner, it worked just fine, but it isn't as convenient as other camp chairs for cooking purposes.
Bottom Line: GCI Trail-Sling
The $34.99 GCI Outdoor Trail-Sling Ultralight chair is a great find for anyone looking for an ultra-compact lounge chair. I think it's one of the best options for heading into the backcountry where sitting on the Trail-Sling sure beats sitting on the ground or a rock. Definitely read the directions to put it together properly and don't just plop down on it–your tailbone will thank you. Overall, the Trail-Sling provides a comfortable seat in the woods with very little weight penalty. It is the most compact outdoor chair on the market with full back support. Get one for your next backpacking trip!
UPDATE!!!
It looks like GCI no longer makes this product. As was pointed out from a commenter below, the Alite Monarch Butterfly chair appears to be the best option for a lightweight, packable backpacking chair. It's available from REI for $59. Here's a photo of it:
It is more of a rocker, but appears to that it is a) easier to assemble/disassemble than the Trail Sling and b) much safer on the tailbone!
Your Options: Visit REI to Buy the Alite Monarch Butterfly or Search for Camping Chairs