Remember the first pack you ever threw over your shoulder at the start of a hike, long or short?  If your experience was anything like mine the pack was far too big but somehow you made it "fit" as you started off down the trail.
My experiences in outdoor stores have been a mixed bag when it comes to getting a backpack fit.  Sometimes it's a twenty-something working his way through school that has one 30 minute clinic under his belt on how to fit packs.  Other times it's a seasoned backpacker with that perfect anatomy that most any pack will fit.
Being 6'4″ I've often resorted to making a pack work for countless backpacking, climbing and skiing adventures, never really feeling like I'm getting the perfect fit. It seems that the science of backpack fit is purely…science.
Then I saw this video while on the Gregory Blog and it seemed so simple.  I suppose it should considering the man behind the video is founder Wayne Gregory of Gregory Packs.
Wayne has been in the business of backpacks for 40 years, 31 of them at Gregory Packs. And unlike the seasoned backpacker, Wayne has been on the trail as well as at the heart of the science of backpacking so people like you and I will have a pack that fits.
According to the Gregory Blog :
Wayne realized early on that one size does not fit all, particularly when it comes to carrying weight on your back. To be comfortable, he knew a backpack not only had to fit its wearer's torso length, but the shoulder harnesses and waist belts needed to fit different waist and chest sizes, as well as different hip and shoulder angles.
The video puts all those years into plain English. That should be required watching for all shop employees.

Gregory Z-55 Backpack pictured above
Gregory Targhee
One of the packs I'm hoping to test this coming winter is the Gregory Targhee. Coming in at 1900-2000 cu in (31-35L for those like me who are metric minded) this pack seems the right size for day trips into the backcountry – be they skiing or hiking.
Access points include a top zipper to the main comparment, a side pocket for probe/shovel handle (or skins) and a front pocket for your shovel blade and other odds and ends.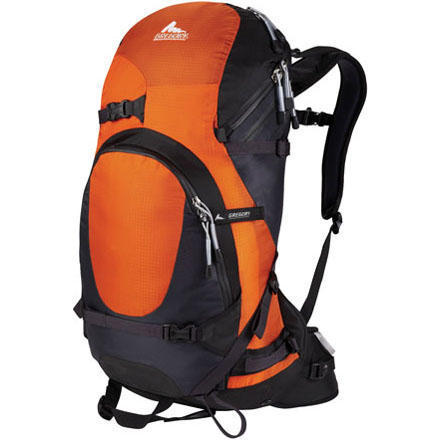 It's built with an integrated carry system as part of the suspension, allowing for good holding skis whether carrying them vertical, diagonal or A-frame style.
When I checked out this pack at Outdoor Retailer the lightweight yet abrasion resistant material caught my attention.I wonder how it'll really hold up to a season of touring and mountaineering with ski edges rubbing up against the pack. I'll let you know.
Buy Now: Check out the Gregory Targhee Backpack at Backcountry.com
— Video via GregoryGoesThere.com