Way back in the 1900's, Ibex began producing and selling clothing made from naturally-awesome merino wool. Merino wool from Australia and New Zealand remains the finest in the industry and that's all Ibex uses — including the blend used to make the new Ibex Merino Tencel Tee. Billed as a summer tee, this one was put to good use for trail running, travel and around town.
Ibex Merino Tencel Short Sleeve Tee Features:
Reinforced side seams and collar to maintain shape
Wool sourced from Australia
45% Merino Wool, 45% Tencel, 10% Nylon
Tag-free design
Machine wash cold and line dry
MSRP: $85
New go-to Merino tee
Some 10+ years ago, I got my first Merino wool shirts. And, while they now have a couple of small holes here-and-there, they have held up to the wear and tear of hundreds of uses and washes. If I had to choose one shirt to wear any given day, it has always been a Merino shirt. Now, Ibex has recently introduced their Merino/Tencel blend and it just might be my go-to tee shirt for the next 10 years.
Merino wool is always blended with other fibers. And, that blend is what makes each one different. Why blend it? While Merino fibers are soft, warm and anti-microbial, it's not very durable unless blended. Ibex has  chosen to weave this one with  45% Merino, 45% Tencel and 10% nylon. That combination blends these natural fibers with fantastic results. Tencel is typically made from eucalyptus or beech tree pulp that's made into fibers, which is then carefully blended with Merino and nylon. The result is a super-soft fabric that defies all the misconceptions associated with wool clothing and it remains durable for years to come.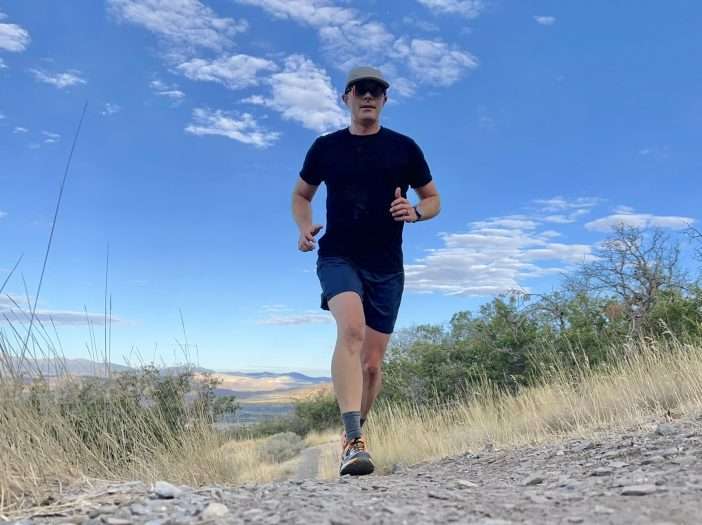 Every shirt that comes through for review will get the trail running and travel treatment. On several trail runs, the Ibex Merino Tencel Tee has proven to be comfortable and stink-free for days. I can wear it for a run, let it dry and keep wearing it for a couple more days without washing.
For trail running, specifically, there are better shirts. It does the job, but this particular knit isn't as breathable as a traditional running shirt with mesh panels. At speed, little air passes through it. This is great for retaining warmth on cool days, but not so good on warm days. The first picture above showcases just how much sweat it traps because of the minimal air pass-through. When saturated, it does sag slightly (as all Merino shirts do), but it's not too bad.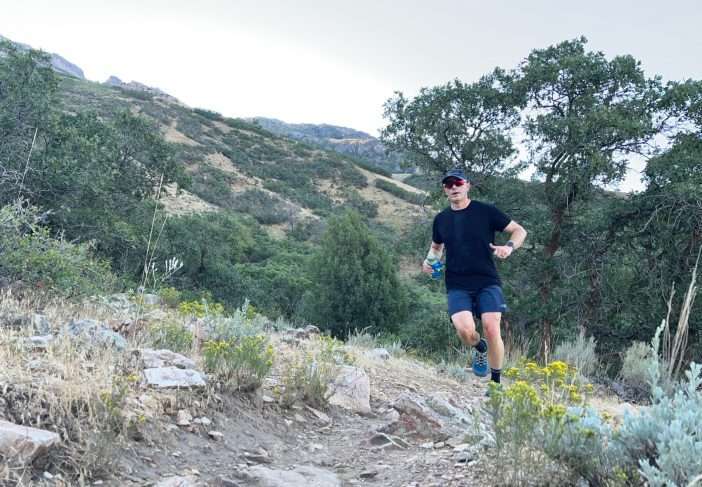 Overall cut and fit is excellent. I can wear it all day long at home, at the office or on a night out. The solid black color is always a great, timeless choice. Care instructions do say to To be honest, nothing gets special treatment in our home of six. It would take a miracle to wash or dry anything separately around here and it has survived the dryer so far (we don't use high on anything).
Fit: I'm 5'11" and 173 lbs., wearing the size large, and it fits great for trail or casual use.
The Good
Stink free for days
Such an awesome travel shirt
Regular fit works for casual or active use
Good length for coverage
So comfortable
The Bad
Not as breathable for warm days or high-output activities
Tends to attract lots of lint and hair
The Bottom Line: Ibex Merino Tencel SS Tee
I'm a sucker for a great Merino tee shirt and the Ibex Merino Tencel Tee is one that will last a long time. Yes, these shirts cost a lot, but they will last a long time and remain comfortable throughout its lifespan. With superb anti-microbial qualities, it's an awesome travel shirt.
Buy Now: Visit Ibex.com