Warm, springlike weather has crept its way into early-March, bringing with it a desire to be out on the trails. While I'd love to be making bottomless powder turns still, I'm not complaining one bit as the trails are thawing and I'm getting out there.
With the slew of trail runners I've got to test this Spring, I'm stoked to have a few brands that I've never worn before. The all-new La Sportiva Wildcat is just such a shoe–a new shoe from a previously-untested brand. With all the experience La Sportiva has under their belt, these shoes already have a leg up. Lets see how they fared.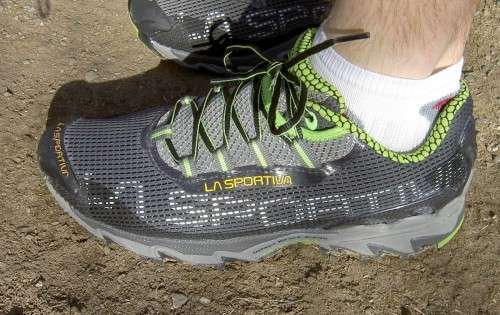 About the La Sportiva Wildcat Trail Running Shoes
La Sportiva doesn't just build trail running shoes, they like to call them Mountain Running® shoes. The entire lineup of mountain runners features innovative features and exclusive technology that has propelled La Sportiva to the forefront of the trail racing scene. To find out more about the La Sportiva Mountain Running team, check out MountainRunningTeam.com.
Back to the Wildcat. These shoes are built on the versatile Lynx last that features the FriXion sole and transkinetic heel stabilizer with enough cushioning for the long haul. The uppers start with a full mesh design that's actually backed by a thicker, yet-breathable sockliner. Here's what La Sportiva says about the Wildcat:
Built on the FriXion® X-Axis rubber outsole the Wildcat digs into any surface for excellent traction and added cushion. The single density midsole provides excellent cushioning and is coupled with a plush LaSpEVA 2.4 mm lasting board. A great all around trail runner for people looking for great stability and cushion.
More Wildcat features:
Weight: 11.96 oz (pair)
Last: Tempo-fit, medium-wide
Sole: FriXion® AT/ Impact Brake System™ X-Axis™
MSRP: $100
La Sportiva Wildcat Trail Running Shoes Review
I first saw the La Sportiva Wildcat trail running shoes (La Sportiva calls them mountain running®) at Outdoor Retailer in January. The design looked solid and I was anxious to get them out on the trails.
Shoe construction has changed the way trail running shoes are built and the Wildcats are a great example of those advancements.  The combination of materials used and how they are melded together is top-notch.  Even the subtle support and fabric protection provided by the rubber-dipped (black areas) mesh uppers shows how the designers were committed to working with the mesh by giving it the right qualities.
Slipping these shoes on, my feet made an instant connection with the whole package. Oftentimes new shoes take awhile to feel like they are "yours", but these shoes felt instantly connected to my feet. I felt stable and cushioned and my flat feet are typically hard to please.
Because the weather was switching back and forth between Winter and Spring, I ran these equally on both pavement and trail. While there are better-cushioned road shoes, these definitely hold their own. And, heading out on the trails, the Wildcats felt absolutely at home.
The Wildcats have excellent trail manners with just the right amount of stability and traction on rough, loose and rocky as well as wet, soft and tacky trails. Not once did I feel like the tread pattern was lacking. Climbs were solid and I never slipped-out on descents.
I like the trail feel of these shoes.  You don't get the armor-plated forefoot protection of other shoes, but because of that, you don't get numb to the nuances of the trail either.  I felt just enough trail feedback to adjust pressure and stride as needed.
I ran both Superfeet and SOLE footbeds throughout the review period. Both worked equally well with the Wildcats.
The only negatives I've found with this shoe are pretty minor. I tend to take the first shoe off by holding down the heel with the toe of the other shoe.  This process has started to peel away the thin EVA foam from the back of the heelcup. I also noticed that the tread pattern does tend to hold a little more mud than others.  And, in spite of the meshy uppers, the sockliner keeps your feet from receiving the kind of air movement you might expect from this design.
Good Wildcat
Trail or road cushioning
Lateral stability and support
Evenly-tensioned lacing system
Excellent overall fit out-of-the-box
Sockliner wicks away moisture and has a soft feel
Scree-guard tongue system keeps out debris
Great traction
Bad Wildcat
EVA foam is pulling away from plastic/carbon heelcage
Tread design holds mud a little more than other designs
In spite of mesh uppers, they don't breathe as well as you'd think
The Bottom Line on the La Sportiva Wildcat Trail Running Shoes
From the get-go, I've been very impressed with these shoes. Very supportive… very well cushioned and excellent traction. Not as breathable as they may seem, but by no means are these sweat lockers. These are definitely some of the top trail shoes I've worn with the versatility to wear them both on and off-road.
Buy Now: Available at Backcountry.com