What do eggplants and technical mountain fleece have in common?  Just one thing – a company called Melanzana.  This sweet little company has been cranking out unique yet functional gear from their Leadville, CO home for twenty years now.  Their gear is definitely special and today we're talking about their Micro Grid Hoodie.
Melanzana Micro Grid Hoodie Features:
Full coverage drawcord hood
Breathable Polartec Micro Grid fleece construction
Vented Kangaroo pocket
Made by hand in Leadville, CO
MSRP: $69.00
The Micro Grid could be the best fleece you've never heard of
I started off the review with an odd comparison between eggplants and mountain gear.  It turns out that Melanzana is actually Italian for eggplant – when the company started up in 1994, they wanted to poke fun at the exotic brand names of the day.  The name Melanzana stuck and, as they say, it does roll off the tongue nicely.  There's more to the company than just a unique name, though: Melanzana is made up of around a dozen employees who stitch together every single article of clothing that leaves their Leadville factory.  Melanzana's only fabric supplier is Polartec who, as you probably know, produce all of their fabric in the US at Malden Mills.  They're deeply rooted in their Colorado community and are big proponents of local races like the Leadville 100.  All this is to say: if you own a piece of Melanzana gear, you're a small part of a really neat little community.
Now for the hoodie itself.  Melanzana's design philosophy borders on minimalism with a carefully selected slate of features. The foundation of the hoodie is its Polartec Micro Grid fleece.  It's a very light fleece and, as the name implies, it's arranged into grids which help the fleece breathe well.  Indeed, for an insulating layer it does breathe pretty darn well in activity but, on the other hand, it also lets wind through easily.  It's this exceptional breathability (by fleece standards) that makes the hoodie capable of aerobic sports like mountain biking in cold weather.
Besides the fabric, the most unique part of the jacket is its hood design.  Melanzana's hood wraps all the way around the face and can cinch tight around the eyes, leaving virtually no skin exposed.  Its simple drawcord is no-frills and the shock cord is simply tied into a knot at the end, so there's virtually nothing to break or go wrong.  It eliminates the need for a neck gaiter and traps body heat much more efficiently, too.  I used it on some very cold snowshoeing trips and it also came in handy on the ski hill.  No doubt this would violate Melanzana's minimalist design approach, but it would be awesome if the neck and chin area had a double layer or some sort of windproofing.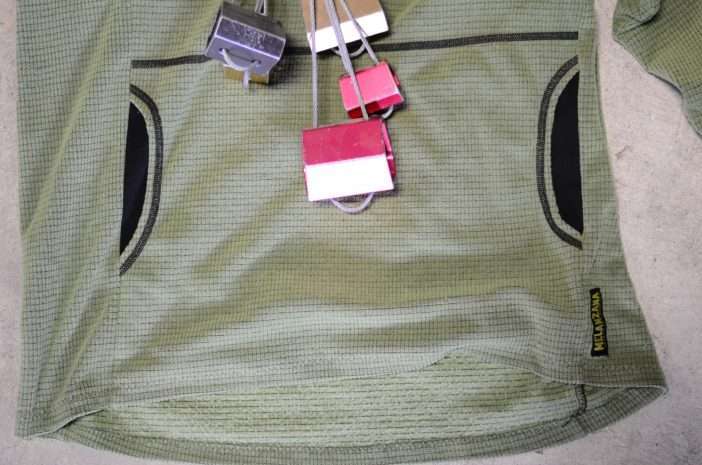 Melanzana's quality construction was evident throughout my testing period.  I've used this jacket to climb, bike, hike, dance and all kinds of random outdoor adventures.  The stitching is bomber and it's evident that it was created in a meticulous American factory.  Big kudos to Melanzana for producing a piece of long-lasting gear.
The Good
Unique hood design is simple and highly functional
Power grid Polartec fleece breathes well for aerobic activities
100% Made in America – from the fabric to the construction
Generous kangaroo pocket offers an extra bit of ventilation
The Bad
Breathable fleece also lets wind cut through – go figure
No hem adjustment
Don't overestimate its warmth – it's a very light fleece built for activity
The Bottom Line
The Micro Grid Hoodie has successfully worked its way to the top shelf of my gear closet — I love this thing and it comes on just about every adventure anymore.  Its breathable fabric makes it tremendously versatile and its low weight makes it perfect for an active lifestyle.  And, of course, I love its Colorado roots – in all, a hands-down winner from Melanzana.
Buy Now: Available at Melanzana.com