35 degrees with snow flurries?  70 degrees and sunny?  Perhaps both?  With a good pair of convertible pants, it's not a problem; just pack lightly and know that you're covered in all circumstances.
Merrell Bison Convertible Pants Features
100% nylon
50+ UPF fabric
Merrell® Opti-Wick™ moisture management technology
Ankle zips for easy on/off over shoes or boots
Vislon metallic-finish zip-secure cargo pockets, jeans-style front pockets, riveted back patch pockets
Metallic-finish vislon zipper fly
Weight 390g (13.8 oz)
11" short inseam (men's size 34 regular)
MSRP $75
Merrell Bison Convertible Pant Review
Merrell didn't invent convertible pants, of course; the style has been a staple of backpackers and hiking aficionados for decades.  The trick is finding a pair that is rugged enough to take a beating, versatile enough to deal with temperature extremes, and comfortable enough to wear day after day.  As luck would have it, I had an ideal opportunity to test all three of these elements on an excursion to Yosemite this April.
The first day was a travel day, which gave me a good feel for the fit and comfort of the pants.  Even before that, however, I had worn them quite often around the house or for weekend errands; the features and accents are subtle enough that they don't scream "HIKING PANTS!!" during everyday use.  The nylon fabric feels very comfortable against the skin, and none of the seams or zipper lines cause friction or irritation during long periods of wear.
Fit around the waist is a little tricky, as the cut seems slightly larger than standard sizing, and there's no waistband adjustment for fine tuning.  There are loops to add a belt – and Merrell has a very sharp one called the Mosier that fits it perfectly, but at an additional cost.  It would be great to see a simple built-in nylon belt included with these pants in the future.
Day 1 of hiking was a 6-hour affair that took us out of the rim of Yosemite Valley, through shin-deep snow starting around 6000'.  Temperatures never got above 40 degrees, but the Bisons kept me nicely insulated the whole time.  Snow contact that would make normal pants soggy and cold was nicely managed by the moisture-wicking and quick-drying properties of Merrell's Opti-Wick fabric.
On day 2, the sun decided to come out, producing temps in the 70s (Gotta love Yosemite!) as we took on the famous Mist Trail.  The Bison's zipper mechanisms are completely hassle-free, and the remaining "tooth line" after conversion to shorts remains covered by fabric to prevent discomfort, even with the most challenging activities.  The 11" inseam is longer than I typically prefer for standard hiking shorts, but in this case the convenience of traveling lightly was enough to compensate for an extra inch or two of length.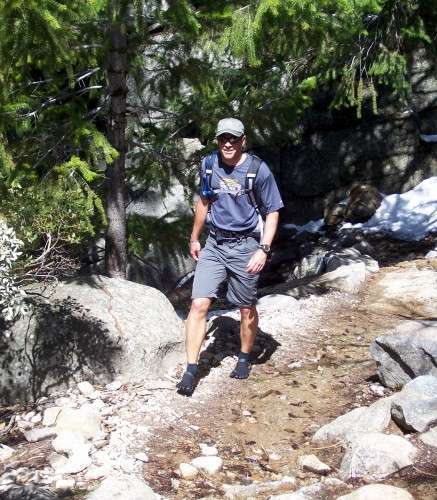 Temperature regulation is equally effective in warm conditions as in near-freezing conditions.  The fabric has 50+ UPF protection, with nice breathability to allow air movement for cooling.  Its overall lightweight construction and moisture management properties ensure comfort on the hot days as well as the cold ones.
Good Bison
Extremely comfortable
Fashionable styling
Good temperature regulation in the heat or cold
Sturdy, efficient zipper construction
Bad Bison
No waist adjustment
Long shorts inseam–good for some, a little long for my tastes
Bottom Line: Merrell Bison Convertible Pants
If you travel lightly and don't want to worry about wardrobe changes, Merrell's Bison pants offer a nice combination of comfort and performance for a wide range of conditions.
Buy Now: Shop at Merrell.com