High-tech and high-value don't always have to be mutually exclusive; every now and then an affordably-priced product comes along that does a simple job exceedingly well, over and over again. Mountain Hardwear's Refueler short is one of those every now and then happenings.
Mountain Hardwear Refueler Shorts Features:
Available in three inseam lengths: 5", 7", 9"
Three color options: Titanium, Navy, Black
Main panels: Wildwood Stretch Plainweave fabric
Chitosan antimicrobial finish on inner liner
Velcro side pocket
Inside security pocket
Flatlock seam construction
Soft drawcord at waist
UPF 25
Weight 3.5oz / 99g
MSRP $35.00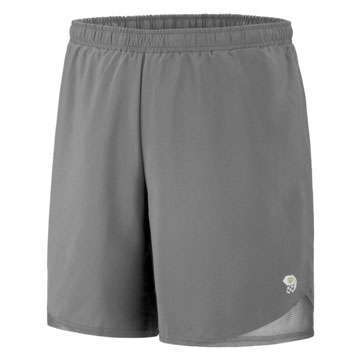 Mountain Hardwear Refueler Shorts Review
If there's one thing better than value, it's value with options. Mountain Hardwear's Refueler shorts are available in three different colors, and three different lengths to satisfy runners of all inseam persuasions. My preference is generally the 7" length, which gives my 6'2" frame plenty of coverage without feeling like I'm filming a rap video.
When you first take these shorts out of the packaging, it feels like there's almost nothing there; at a mere 99g, the Refueler is less than half the weight of some other trail shorts in my closet. Both the main panel fabric and interior liner are incredibly thin, and wick moisture well enough so that the shorts don't feel bulky by the end of a 20-miler. Thanks to their lightness, these shorts would be great for the dog days of summer, but they've also provided ample insulation on some of our foggy 45-degree mornings on the Monterey Peninsula. Durability (i.e. tear-resistance) might be an issue if you end up bushwhacking off trail, but I haven't had any problems with everyday trail use.
The main panels are a stretch fabric that moves very well with your legs, and have rapid wicking and drying properties to move moisture away from your skin and prevent chafing. The flatlock panel construction is very smooth and didn't cause any irritation on longer outings. Likewise, I haven't had any discomfort from the waistband, even when wearing the Refuelers with a waist-mounted bottle carrier.
Storage is adequate for the basics, with an internal key pocket and a side compartment that's big enough for a gel or perhaps a folded-up trail map. One minor gripe is that the side pocket closes with two small Velcro tabs, which are a little bit tricky to access with one hand while maintaining stride. Then again, the Velcro is pretty effective at keeping stuff from tumbling out of the pockets.
Honestly, there's not a lot to complain about here, especially considering that the Refueler is so affordably priced. For about a hundred bucks, you could get three different varieties – or the same variety in three different colors – and be almost completely equipped for a full season of running adventures.
Good Refueler
Variable lengths
Super lightweight
Very comfortable
Efficient moisture wicking
Bad Refueler
Thin fabric might be vulnerable off-trail
Cumbersome side pocket access
Bottom Line: Mountain Hardwear Refueler Shorts
If you're looking for a very solid, very basic short to meet the majority of your trail running needs, you'll be hard pressed to find a better value than Mountain Hardwear's Refueler shorts.
Buy Now: Mountain Hardwear Shorts at Backcountry.com