Fast boiling stoves have been around for quite some time. Integrated canister models have been getting lighter and faster for years now, but one of the longest standing challenges to stove efficiency is wind. Wind sucks away heat, leading to longer boiling times and more fuel consumed. Mountain Safety Research has, in their typical quietly innovative fashion, have developed a stunning new stove that aims to solve the problem.
MSR Windburner Features:
Lid with Drinking and Straining Ports
Insulated Cozy with Handle
1.0L Pot with Heat Exchanger
Secure Connection with Stove
Ultra-Efficient Radiant Burner
Pressure Regulator for Consistent Performance
Full-Size Bowl: 16 oz. / .47L
Folding Canister Stand
432 g / 15.25 oz
2.5 minutes
Made in USA of US and Foreign Parts
Price: $129.00
You can huff, you can puff, and it's still gonna boil
MSR's Windburner arrives in a neatly packaged canister that can hold all of the cooking essentials. The cup, which is insulated and has a small fabric handle, can accommodate the burner, a small canister and the canister stand. The entire package comes in at 15.25 oz, which is just short of a pound, and when you add a 4 oz canister the entire systems weighs just 3 oz over a pound. That's fairly light and the speed of the stove is such that enough water for multiple people (perhaps three or four comfortably) can be quickly boiled, so on the whole the stove is relatively light. Lighter units do exist, but none of them can match the Windburner's real selling points.
As we've implied, the Windburner's primary charm is that it can quickly boil water in all sorts of weather. While wind has delayed cooking times for me on more occasions than I can count, the Windburner is designed to cook quickly no matter what. There are basically two design features that permit this level of performance: the structure of the stove itself and the interface of the stove and the pot.
The stove itself is quite unique in that it has an integrated wind foil, which maintains the tricky balance of blocking out wind while still permitting ample airflow for the burner. MSR constructed this out of a thin, perforated sheet of aluminum that wraps all the way around the base of the burner. The result is 360′ protection from wind.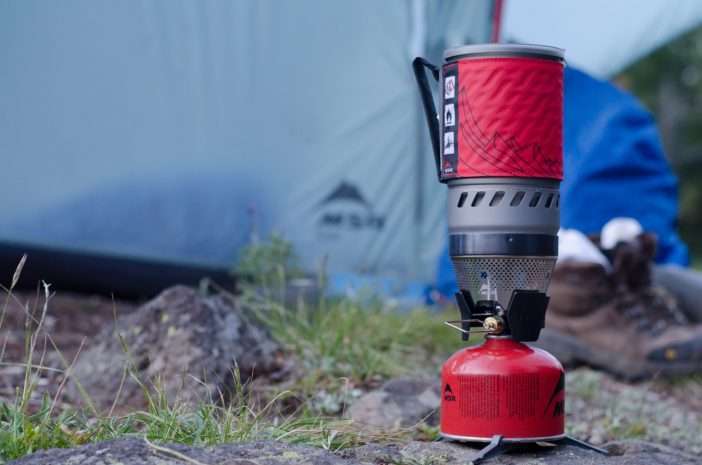 The second feature is responsible for the Windburner's rapid cooking times – MSR claims 2.5 minutes for a half liter of water, which directly matches what I observed in my testing. Rather than having a traditional open-flame burner, MSR designed something that they're calling the Radiant burner, which is designed to disperse heat more evenly across the base of the pot, using a red-hot mesh frame rather than relying on exposed flames. This corresponds to an incredibly efficient heat exchanger at the bottom of the pot, that can handle the impressive temperatures generated by the burner. You'll notice in the pictures that there's a red glow emanating from the slats in the pot; it's a nice thing to see on a cold morning when you're waiting for water. Those slats are important, since they allow the Radiant burner to draw in air to permit combustion.
As I mentioned, MSR's 2.5 minute estimate for a half liter of water matched up neatly with my own testing. On one trip, I'd forgotten to bring matches and ran over to a nearby campsite to borrow some. I lit the stove and ran back, thinking that I'd have plenty of time before the water boiled. When I returned, the stove was violently boiling and I looked down at my watch – almost exactly 2.5 minutes for a half liter. The time increases slightly more than linearly for higher volumes: I found that a full liter took around six minute or slightly more, depending on conditions.
A perk of the Windburner's design is that boiling times are scarcely affected by the wind. A half liter of water will take 2.5 minutes in still weather or in a gale, and that's a wonderful trait. I boiled water in wind gusts up to 30 miles an hour (with, admittedly, fairly low sustained winds) and the stove was unfazed.
I have only two quibbles with the Windburner, one trivial and one more substantial. The first is simply that the included stand for the fuel canister seems to flimsy – mine hasn't broken yet, but a friend who works at Mountain Gear in Spokane reports that quite a few customers have been bringing them in with complaints. Secondly, and more substantially, the stove lacks any built-in ignition system. Other canister stoves include built-in lighters, making it a cinch to get the stove going in wet or windy weather. It seems like this is an oversight on MSR's part: for a stove that's designed for windy weather, it seems odd not to have any windproof ignition system.
Moreover, I found that handheld Piezo ignitors are insufficient to get the Radiant burner going, so instead I used matches or a lighter – both of these are susceptible to wind. It may be the case that magnesium strikers will work if you throw a big enough spark, but I was unable to test that. I'd love to see a future model come with a built-in lighter, but it never became a serious issue as IsoPro fuel is quite easy to ignite.
Cooking and eating out of the Windburner is aided by the fact that it comes with an integrated cup and lid, making it a cinch to make hot drinks or to portion our water for various things. It's difficult to keep water a simmer, so plan on getting your water hot and then using it fast. MSR took care to include a long handle for the fuel valve, which is great since it gives your hands a little extra clearance if the stove starts to bubble over.
The Good
Light and packable
Insane boiling times, true to MSR's advertising
Stove could care less about wind of any sort
Long handle to the fuel valve is excellent, especially since some companies neglect this
The Bad
Flimsy fuel canister stand
No built-in ignitor
Tough to simmer water
The Bottom Line: MSR Windburner
The Windburner is a stove that makes a lot of sense. Wind has long been an enemy for hungry folks trying to melt ice or cook dinner, and MSR's design thoroughly solves the wind problem. It's not an absolutely perfect stove and I'd love to see an ignition system that's equally windproof, but the Windburner many charms have effectively won me over.
Buy Now: Available from REI