Sometimes the last thing you want to do at the end of a long trail day is breathe into a plastic valve for 10 minutes.  Enter NEMO's Cosmo Air Lite pads, which make it easy to inflate a firm pad without getting lightheaded.
NEMO Cosmo Air Lite Features:
Weight 1 lb 7 oz (640 g)
Temperature range: 35 to 45 F
Fabric: 20D PU Polyester Ripstop
Shape: rectangular
Raised pillow baffle
Length: 76"
Width: 25"
Thickness: 4 in
Air insulation
Packed size: 9.5" long x 4" diameter
Price $160
Cosmo Air Lite Makes Inflation a Breeze
A good sleeping pad is one of those things I appreciate more and more as I get older, especially in regards to the variable equation of comfort, functionality, and convenience.  It's always encouraging to find pads that balance those three variables nicely, and NEMO Equipment has done an admirable job of it with their Cosmo Air Lite sleeping pads.
I've been using the 25L model, which is best suited for my 6'2" frame, but the Cosmo Air Lite also comes in a shorter, thinner, and lighter 20R version (1lb 1 oz, 72" long, 20" wide, $140).  Our testing included tent camping and car camping, but perhaps the most revealing trial came during a week-long missions trip in Mexico, where the Cosmo Air Lite was the only thing between me and a concrete floor.  In all of those settings, the pad has been easy to use, and provides a level of comfort that makes it easy to sleep after a long day.
The Cosmo Air Lite is easy to take along on any trip, thanks to its light weight and small pack size.  It can be folded at various widths to accommodate available space in your pack; I typically stuck with folding it in thirds, which is the way it comes packaged and fits best into its stuff sack.  Folding in thirds also seemed to work best for evacuating the air, and made it easy to squeeze every last pocket of air out while rolling it up.  The size can be further compressed with a cinch strap that is included with the stuff sack.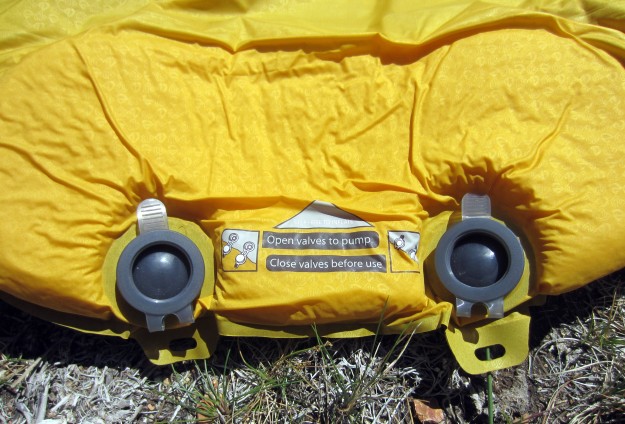 However, the true innovation of this pad isn't in the breaking down, but in setting up.  Cosmo Air Lite pads have an integrated foot pump that uses dual 1-way valves to draw in air while you are pumping, similar to the way you inflate a bicycle tire with a hand pump.  You put the valves in the open position, and they pull in the air that is then pushed into the pad when you press your foot down.  The recoil on the valves is fairly slow, so you have to be patient when pumping, but there's no air escaping back through the valves, making the process quite efficient; most times, we can go from completely flat to fully inflated within 2-3 minutes.
One consideration with the foot pump is that if you don't have room to stand – such as inside a tent, or in a car camping situation when you don't want to go out in the cold – you have to use a CPR-like motion to inflate the pad.  Although this is a bit awkward to practice at first, it's still way easier and less exhausting than blowing up a pad with your mouth.  The foot pump system is also an improvement over self-inflating pads, because you can force more air in to create a firmer sleep surface than you can with any self-inflater.
Once inflated, the Cosmo Air Lite provides nice comfort and insulation within the specified temperature range of 35-45 degrees F – and if you're in colder conditions, there's a more insulated version that goes down to 10 degrees.  Having a full 4 inches of height ensures that you won't contact the ground at pressure points, and horizontal I-beam baffles help support body contours without curling up around you.  A large pillow baffle at the head gives you a couple inches of height if you don't have a pillow, or helps keep the pillow from sliding off the end if you do have one.
The Good
Nice combination of lightweight, comfortable, and functional
Foot pump is more convenient than blowing, and more effective than self-inflating
Easy to compress and pack
The Bad
Awkward to learn the CPR-style in enclosed areas
Slow recoil on 1-way valves
Not available in mummy-bag shape if that's your preference
Bottom Line: NEMO Cosmo Air 25L Sleeping Pad
From a practical standpoint, the Cosmo Air Lite 25L is easy to appreciate, and pretty much nails the sweet spot between convenience and comfort.
Buy Now: Available at Backcountry.com