I don't make it out backpacking as often as I used to. Once the kids are a little older, I'll get back after it, but for now a few times a year is all I'll get. Since my camping days are limited, I want to enjoy it to the fullest, but one of the things that often gets in the way of that enjoyment is a bad night's sleep.
Often times the root cause of a tossing and turning, dead arm, stick poking you in the butt kind of sleep is the poor quality of sleeping pad I'm using. Though they are light, thin foam pads or lightweight, self-inflating pads don't typically provide the kind of comfort that lets you sleep like a baby. At Outdoor Retailer, I saw two new air-core sleeping pads that look to change people's perceptions on comfort, light weight and compactness of sleeping pads.
Therm-a-Rest NeoAir Sleeping Pad
Part of their new Fast & Light series, the Therm-a-Rest NeoAir sleeping pad is both amazingly-light and amazingly-comfortable at the same time.  Typical air mattresses suffer from too much bounciness, but the NeoAir combats that with it's Triangular Core Matrix, which provides stability like an internal truss. It also maximizes the number of air cells and reduces convective cooling (typically found on air pads with large air chambers).
On the insulation side, the NeoAir achieves a 2.5 R-value by utilizing an inner Reflective Barrier that effectively reflects heat back to the user's body and cold back down to the ground. There is no down insulation inside the NeoAir, so the 2.5-inch mattress can be pumped up directly without worries of wetting the insulation.
Not only is the NeoAir lightweight (Regular-length weighs 14 oz.) and comfortable, it's also compact enough to compress down to the size of a 1-liter bottle. It is also compatible with all Therm-a-Rest Trekker chairs.
I tried out the NeoAir in combination with the Therm-a-Rest Ventra Down Comforter on top of a rather bumpy ground simulation. I didn't feel anything poking through the mat and into my back. It was very comfortable.
Available April 2009, the Therm-a-rest NeoAir will be available in four sizes that will range in price from $119 to $169.
Exped DownMat Pump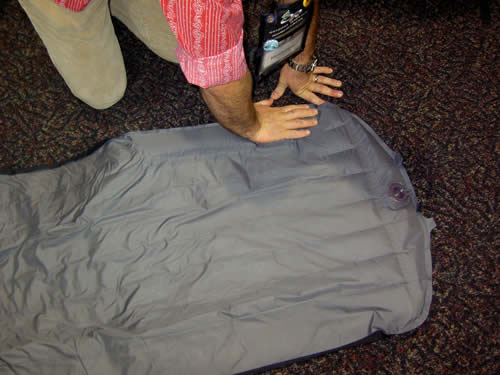 Exped has built air-core sleeping pads for years and 2009 will offer a new advancement in their award-winning DownMat lineup–a built-in hand pump (shown in action above). Lets cover a few details on the DownMat before covering the new hand pump.
Built into every DownMat is built with 700-fill, Nocar-treated goose down insluation for extra comfort and insulative properties. Available in two thicknesses (2.75 and 3.5 inches), the Exped DownMat is super-comfortable and durable with its abrasion-resistant and anti-slip material.
So, what's new for 2009 is the built-in hand pump chamber. Just push down with one hand or two on the chamber and the pad will slowly inflate. You're not going to win any speed contests, but it's much better than blowing it up with your mouth–and, you don't get any moisture inside the pad, which can eventually break down the down insulation.
The Exped DownMat Pump will be available in 5 sizes Spring 2009 and is priced at $135-$180 based on size.