Outdoor Products is known as a value brand and is carried at many big-box retailers.  They offer a mix of quality and economy in their products, and I picked up their Gama 8.0 pack to toss around this month. The pack is in the extended day/overnighter range and it holds 2,390 cubic inches.  The Gama 8.0 offers an urban look coupling smart design for the outdoors.
Outdoor Products Gama 8.0 Features:
Lightweight aluminum internal stay to stabilize large loads
Suspended mesh back panel for maximum airflow
Deluxe back padding with molded texture for added comfort
Extra padded, ergonomically designed waist belt comfortably supports heavy loads
Articulated, Yoke-style shoulder straps with sliding sternum adjusters
Fits most 2 liter reservoirs (hydration reservoir not included)
Vertical and bottom compression straps
Large capacity main compartment with zipper closure
Backpacker Organizer located in front pocket
Roomy, front stash-pouch to store quick access gear
Left and right accessory pockets with zipper closure
Bottom D-rings, perfect for attaching sleeping bag and other bulky items
Volume: 2,390 cu in (39.1 liter)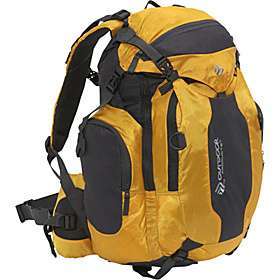 Outdoor Products Gama 8.0 Pack Review
The pack's design is pretty straightforward but with some quirks.  There's a main compartment containing a pouch for a hydration bladder, a smaller one with several pockets for snacks and small items, and then an outside pouch for quick access.  The buckles are arranged in kind of a funny pattern – there are five total: two on the sides, two on the front and one straight down that attaches inside the quick-access pouch.  I thought this last one was a strange idea as I found the strap getting in the way, and it made the pouch a little less secure.  Honestly I got pretty confused by the strap layout because it's so easy to mix up buckles when this pack isn't filled up into shape.
I've used this pack pretty hard and I tossed it a couple challenges to see how it would hold up; for the most part it did well but there are some major issues.  Let's start with the biggest issue, which is quality control.  On my fourth day of using the pack, a ripped seam developed on one of the side zippered pouches.  It's not a big deal right there, but with bad quality control that same poor stitching could just as easily be on a more crucial part of the pack.  This, more than anything, is the problem with comparable value brands.
Secondly, the yoke style straps feel very comfy at first, but when I took it for a hike I found out that they're actually too soft.  It's just like a bike seat – you want some firmness to give you support, with softness to make it comfortable.  These straps are just to soft, and they compact down into your shoulders and settle there.  After just two miles with a moderately loaded pack, the shoulder straps were already giving me grief.
I have to mention that the zippers on the pack are fairly small and over time, breaking zippers will probably become an issue.  Also, the pack has a hydration bladder port on both the left and right side, but the way they are constructed make it really tough to squeeze a bite valve through, especially if the bladder you're using has an on/off valve.  They're simply too small and not stretchy enough.
The pack does have some great features, though.  The one I appreciated the most is the design of the back panel: The single aluminum rod does a decent job of stabilizing loads, and the back padding was comfortable while the mesh was breathable.  It did lay a little flat compared to more expensive packs I've used, but on the whole it felt good on my back.  It was awesome to be able to take off my pack and not have the usual excess of moisture on my back.  Incidentally, the waist belt is wide and comfy, but it might look a tad dorky due to its size.
The fabric holds up to snags really well.  As a matter of fact, I chucked the pack into a wild rose bush and drug it around for a while to see how it did, and I must say that the fabric passed with flying colors.
The straps are all sown back onto themselves into triangles, making it very easy to pull them with gloves on.  I was a little disappointed that there were no front-to-back compression straps.
The pack has an urban look that some might appreciate.  Looks have never concerned me much, especially when it's something behind my back where I can't see.  However, some might be bothered that the Gama 8.0 doesn't look 'outdoorsy' enough.  And it must be said, the wing-like waist belt would look a little odd in an urban setting, so it's a bit of a mixed message.
When actually using the Gama 8.0, I felt like I was using a more expensive pack from a more expensive brand. With a listed weight of 3.29 pounds, the Gama 8.0 is pleasantly light for its price range.  I didn't notice a lot of the pack's issues while I was actually  using it (except for those shoulder straps), but when it's in the mountains it felt like it was at home.
The main compartment is quite roomy and its shape works really well for how I roll up my clothes when backpacking.  The D-rings are thoughtfully placed.  Also, I always take pleasure in seeing how much I can squeeze beneath the top flap before buckling it and compressing it down; the confusing buckle layout I mentioned earlier gives more versatility and compression than other designs.Eh
The Good 
Fairly light
Thoughtful design
Excellent back panel design
Very robust fabric
The Bad
Quality control issues
Soft shoulder straps get uncomfortable over time
Wimpy zippers
Bottom Line: Outdoor Products Gama 8.0 pack
All in all, the Gama 8.0 a good value pack.  I would recommend this to people who don't hike too intensely and aren't as concerned about durability over many years.  It's reasonable light, reasonably roomy, reasonably comfortable, and is overall a very reasonably priced pack for budget shoppers.
Buy Now: Visit Amazon.com