When Outdoor Research sets out to craft a technical hardshell, they don't mess around.  The Axiom alpine stormshell is loaded up with Gore-Tex® Active and a trim fit for some April showers around the Pacific Northwest.  This jacket won the 2012 Outside Gear of the Year award and it's definitely got a lot going for it, but there's nothing like a few weeks of testing to bring out a jacket's true colors.
Outdoor Research Axiom Features:
Movement-Mirroring Stretch
Fully Adjustable Hood Fits Over Helmet
Single-Seperating Front Zipper
Internal Front-Zip Stormflap
Zippered Napoleon Pocket
Two Zippered Hand Pockets
Hand Pockets Set Above Hip Belt or Harness
Left Hand Pocket Doubles as Stuff Sack
Articulated Elbows
Hook/Loop Cuff Closure
Drawcord Hem
Avg. Weight (oz./g): 13.5 / 382 (size Large, tested)
MSRP: $375
Axiom is one bomber hardshell
Outdoor Research brings a whole lot of brand chutzpah and expertise to designing technical clothing, and the Axiom really benefits from it.  All of the seams are taped and the stitching is very fine – not a single lose thread even after quite a bit of intentional abuse.  I really like the handle of this shell – the membrane has broken in to be very soft and quiet, but it doesn't sacrifice any strength to achieve that feel.  I intentionally abraded the fabric on rocks, bark and branches (to compliment normal use) and it's not showing any sign of snagging or potential failure.
Outdoor Research saw fit to include two mesh-lined hand pockets (the left of which doubles as a stuff sack for the jacket), a chest pocket and sealed zippers all around.  Interestingly, other reviewers have said that the pockets are too low for backpack waistbands, but I disagree with that.  I used this jacket with three separate packs and I could comfortably access the pockets on all but the one with the cushiest waistband.  The don't look like they're placed high (compare the pockets on the Rab Myriad) but they do just fine when you actually get out and use the jacket.  I have mixed feelings about the mesh lining on the pockets since that opens up an avenue for water to get inside the coat; the mesh design saves weight and technically adds some venting, but with a fabric like Gore Active I'd rather keep my pockets watertight.
For that matter, Gore-Tex Active Shell is definitely something to marvel at.  I have a hard time convincing my father, an intrepid outdoorsman of a different day, that a fabric can be really waterproof and breathable – Gore Active, along with eVent, Dry.Q, Neoshell and the field of other backless laminates have finally realized this.  You've heard me rave about these technologies in the Mammut Shirko and Jason with the Arc'teryx Beta FL, so I won't beat a dead horse by going on about how awesome these fabrics are.  Suffice it to say, because the Outdoor Research Axiom being reviewed here has Gore Active (just one of a competitive field), it's miles ahead of jackets that lack a similar fabric.  You pay through the nose but the fabric won't disappoint you.
The fit of the Axiom is moderate, leaning toward athletic.  I would like if it had a longer drop tail for protection in foul weather, but that's really the only thing I would change.  Otherwise, OR has been very thoughtful in designing the Axiom for a full range-of-motion.  The Axiom has articulated elbows and is stretchy enough for most activities, so it would be great for climbing.  As good as it is, the Axiom can't touch the Rab Myriad for sheer range-of-motion, but it's still quite good for its class.  The jacket clocks in at 13.5oz, which puts it on the chunkier end of Gore Active jackets – Gore requires all jackets using this fabric to be sub 14oz.
OR nailed all of the little features that we look for in a good hardshell – there's a rather minimal chin guard that serves the purpose while cutting weight, a great zipper garage that doesn't get folded up, and sealed zippers that pull, engage and disengage easily.  I have a little bit of a gripe with the Velcro cuff closures – the velcro strip on the actual sleeve isn't long enough to tighten down the cuffs all the way, leaving you with an annoying length of fabric flapping around.  Also, the Active-Shell material breathes well enough to negate the need for pit zips and I didn't miss them – pit zips add weight and hassle, and they're not necessary with this fabric.
In practice, I loved the jacket's soft handle, great breathability, excellent zippers and overall high-quality feel.  It's great for activities that involve a lot of stretching and sweating, and it's good that the pockets are high enough for backpack waistbands or climbing harnesses.  The collar is comfortable, but my particular jacket has a sharp corner of Gore fabric that likes to poke into my upper lip.  The helmet-compatible hood serves the purpose, but its single adjustment is kind of rudimentary when compared to other systems – in practice, the way the plastic hub is sewn to the hood proved to be difficult to adjust with just one hand.  It works, but there are definitely better designs out there.
The Axiom definitely scores points on sheer performance: the fabric shrugs off rain and sleet with the best of them.  I like to mountain bike in this type of jacket to really test out breathability, and I can say that I pushed the Gore fabric to its limits.  In the end, I'm pretty happy with how it breathes – sweat doesn't bead up on the inside of the shell except in ridiculous conditions, and I didn't experience the membrane wetting out too quickly like others can.  Admittedly I expected this sort of 100% performance from the Gore-Tex, but it's still worthwhile to note that the Axiom lived up to expectations.  My only gripe with the fabric is that the outer layer OR chose shows dirt and doesn't wash cleanly.  I ran through a grove of trees and came away liberally spattered with grime, quite a bit of which stayed with the jacket after a wash.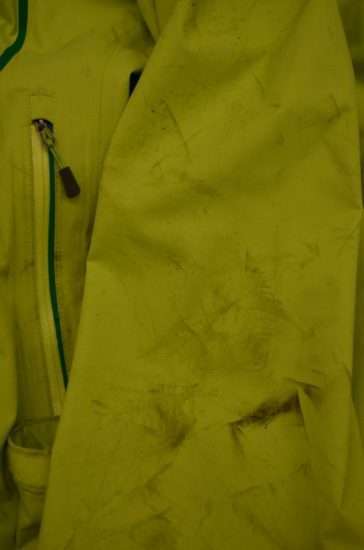 The Good:
Outdoor Research has above-par build quality

Gore Active fabric is a strong competitor in a highly competitive field
Sealed zips all pull easily
Jacket stows into its own pocket
Soft handle, good range-of-motion both make for a comfortable product
Stretches just enough to further increase comfort
The Bad:
13.5oz total weight is closer to chunky than svelte
Velcro cuffs are poorly designed
Drop tail should be longer for added coverage
Hood adjustment is rudimentary
The Bottom Line: OR Axiom Jacket
The Axiom is a very fine hardshell coming from a very highly regarded company — if you put the names Gore-Tex and Outdoor Research on one product, you have a recipe for both a great product and slim wallet.  I like the jacket's raw performance, but a few of the details (those pesky cuffs and squirrely hood adjustment) could use some attention when OR reviews the Axiom's design.  If you can drop $375, you'll get a top-quality hardshell that will handle anything you can throw at it.
Buy Now: Available at REI.com