Twice per year, Salt Lake City becomes the center of all things gear. Winter Market 2012 seemed to be bursting at the seams with new products and expanded product lines. Take Salomon, for example… they are now using OR to showcase their backcountry-friendly skis, boots and the new Guardian 16 bindings. A handful of other merchants were participating in new and expanded ways.
As always, I'm tasked with finding the best-in-show. Lots of great gear, but I've whittled it down to these.
The North Face FlashDry
With all the new latest waterproof/breathable fabrics on the market, there's one thing that remains constant — water droplets. With all laminated fabrics from Gore-Tex, eVent, Polartec and the like, the most efficient way to transfer perspiration through them is in vapor form. Well, changing perspiration droplets into vapor takes time and that time is what makes you wet from the inside-out.
To combat this, The North Face has developed their new FlashDry™ technology and will be releasing it on nearly 100 items for Fall 2012. FlashDry will be a core part of several key new products as well as being added to many of their top-performing items.
A quick bit from The North Face on FlashDry:
The porous particles of FlashDry® work with your body to regulate temperature by accelerating moisture removal and dramatically improving dry time. Individually, articles with FlashDry™ outperform anything available on the market, but when worn together in a layering system with a baselayer, mid-layer and jacket, the dry time is even faster than when wearing alone.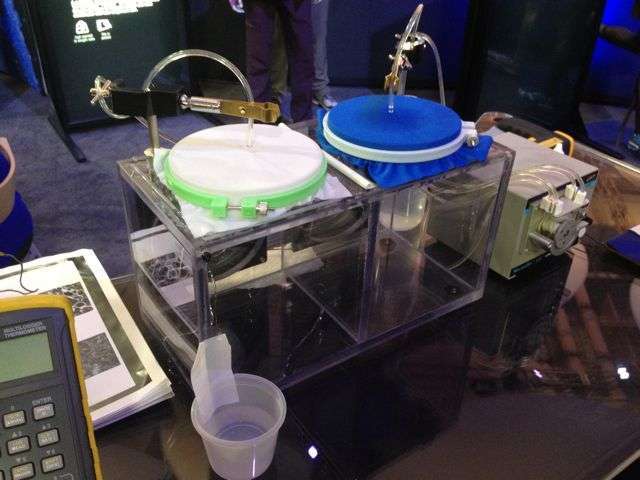 The technical demo of the fabric was what wow'd me. Two fabric swatches (one with FlashDry and one without), a constant drip and a puddle under one and nothing under the other. The FlashDry fabric dried so quickly that the water never even had time to fully-saturate the fabric while the regular fabric soaked it up and allowed the water to puddle below. Amazing.
Look for FlashDry in a wide variety of products from base layers to hard-shells this Fall.
Patagonia Light Flyer Jacket
I'm always a fan of lightweight, breathable shells. For my activities of choice, I'm always leaning towards the breathable side of waterproof/breathable. With that in mind, Patagonia will introduce their 9.1 oz Light Flyer Jacket.
Intended as a weatherproof/breathable running shell, Gore Active will allow this jacket to battle anything Mother Nature dishes out while breathing like a champ. Breathability is aided by unique upper-arm vents to allow gobs of airflow. And when the unexpected becomes chilly and cold, the asymmetric cuffs feature built-in mittens to allow you to stay out longer.
Look for the Patagonia Light Flyer Jacket this Fall at a reasonable $279.
Garmont Cosmos Touring Boots
Lots of great new backcountry ski boots were on display, but the one that captured my attention and wrapped my foot in absolute comfort was the new Garmont Cosmos. Billed as the lightest 4-buckle boot on the market at 1450 grams, the Cosmos doesn't just go for lightweight, it adds a dose of versatility and comfort to the mix.
While the competition does have some great boots, I have to give the nod to the Cosmos for its amazing comfort, supreme walkability with a full 65-degree cuff rotation and overall simplicity of the design. Constructed of 100% Gryllamid, it balances weight reduction with stiffness to make a winning design.
It doesn't attempt to "out gadget" the competition, instead it provides a no-nonsense design that will withstand years of use and abuse in the backcountry. I loved the stiffness and walkability the most as it goes from a mountaineering boot to a vert-devouring machine in a jiffy. At $699, it's not the cheapest in its class, but it is on par with the competition.
Black Diamond Covert Avalung Pack
Black Diamond has emerged from the Avalung recall with a vengeance. New materials and design changes highlight the lifesaving device and have it being built into an entirely-new backcountry ski pack lineup. The hero of the group is the Covert pack that sports a complete re-design.
Starting with the backside, the Covert now features floating shoulder straps to flow better with your natural skiing movements. Add on top of that new pivoting waistbelt and you've got what BD is calling their "Active Suspension Platform". The covert now has a sleek new design and includes niceties such as a versatile helmet holder and soft-lined goggle pocket.
Columbia UltraChange Jacket
Gone are the Bugaboo's of yesteryear, Columbia has some seriously-impressive stuff coming down the pipe. Tops on that list is the UltraChange Jacket. Ditching the bulky and heavy zip-in design, this two-piece shell keeps the system together with a few strategically-placed loops.
Built with strategic combinations of Omni-Wick Evap and Omni-Heat fabrics, the UltraChange impressed me with its fit and comfort in a way no other jacket has. The suppleness of the outer shell and the way the entire package felt like "one" while still remaining independent was truly unique.
Sierra Designs DriDown
From a young age in Seattle, I was told that down bags were a no-no in a wet climate, so I never experienced the wonderfulness of a down sleeping bag until moving to Utah. Now, that advice can be thrown out the window… Sierra Designs DriDown treats down feathers with a hydrophobic polymer treatment that keeps it dry 7-times longer than untreated down with 98% loft retention and 33% faster dry time. The demo says it all as these identical containers were allowing water to enter into the down feather side. One is soaked and the other side has retained its loft and is nearly dry.
DriDown will initially be available in sleeping bags this June at your local REI. Then, a series of DriDown jackets will be released in the Fall.