The market for high performance baselayers is pretty crowded these days, with a bewildering assortment of pure fabrics and blends with various treatments or paint-on silver dots. The options are endless, but time and again Patagonia's Capilene baselayers come back as a top pick. I've been testing their midweight top and bottom Capilene layers throughout high-alpine forays in the Sierra and down to ski treks through muggy PNW valleys and am now intimately familiar with the ins and outs of these base layers.
Patagonia Midweight Capilene Base Layer Features:
Polartec® Power Grid™ fabric has a smooth face for easy layering; fabric's brushed grid pattern next to skin provides superior warmth, breathability and moisture-wicking performance
(Top): Rib-knit crew at collar with internal neck tape for comfort; locker loop for hang-drying
(Top): Offset shoulder seams eliminate chafing under pack straps
(Top): Full underarm gusset for range of motion and chafe-free comfort
(Top): Elastic thumb loops for secure hand coverage
(Bottom): Elastic waistband is brushed for next-to-skin softness
(Bottom): Gusseted crotch for comfort and unimpeded mobility
(Bottom): Functional fly
Flatlock seams to minimize chafing; drop tail for more coverage
4.4-oz (150-g) Polartec® Power Grid™ 100% polyester (93% recycled) double knit with Polygiene® permanent odor control. Fabric is bluesign® approved
189 g (6.7 oz)
Made in El Salvador.
MSRP: $59 each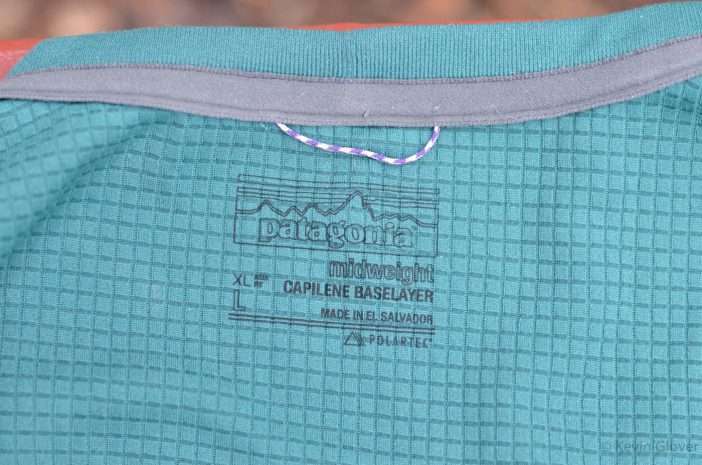 The nose knows
At the heart of these Capilene layers is Polartec's Power Grid fabric. The outside of the fabric is smooth and soft, which makes it a great choice as a base layer because upper lays slide easily over the fabric. I've found that this is especially helpful when things are a little wet – the Polartec still acts like it's coated with teflon. The opposite side of the fabric has a gridded pattern. Supposedly this increases warmth, breathability and wicking; I'm not sold on it making the fabric warmer, but I do think that it adds noticeable to breathability and wicking. The little channels in the grid pattern act like conduits for moisture, letting them escape where a traditional solid weave wouldn't offer any path. The real upshot of this, I noticed, is that it leaves the layers with a large range of comfortable temperatures. For example, I would be fine wearing these in the summertime on an alpine climb; similarly, they were indispensable on some 5'F days in the Sierra. It all depends on layering, but these are versatile tops and bottoms.
Perhaps even more helpful, albeit less noticeable, is the Polygiene odor control. Polygiene is a pretty interesting new technology. I didn't think about this until reading through their website, but as a biologist it makes good sense. Sweat is naturally odorless, but when we sweat into fabric we're providing moisture to bacteria that naturally reside in fabric, just like they reside on your skin and your kitchen table and on alpine rock – they're truly ubiquitous. However, once you've given the bacteria the moisture (and perhaps some nutrients) that they need by sweating into a garment, then the fabric itself can become a sort of matrix for bacteria to grow in. It's not dissimilar to plaque on your teeth – that's formed by bacteria living and growing in a matrix of their own making. What Polygiene does, then, is to coat the fabric with a natural silver salt (AgCl) at the last stage of manufacturing. It's long been known that certain metals inhibit bacterial growth, and if you've ever seen one of those newer public toilets with a zinc-coated handle (usually green), then you've seen this technology at work before. Polygiene claims that the treatment is permanent, and I'm not enough of a chemist to evaluate that claim but so far their products have had consistent success.
In any case, I can confirm that the baselayers do a great job at staying stink-free. I went weeks and weeks without washing these things, with ski tours and runs and snowshoes all adding to the sweat and grime inside of the fabric. I can't really say that they ever developed any significant stink. This is especially impressive to me because they're made out of polyester, and I've usually found polyester to be a really stinky fabric. This is something of a revelation to me – turns out that I don't have to stink to high heaven when I'm guiding clients up Mt. Baker in the summertime. Maybe that'll increase the amount of tips that I get.
Anyway, beyond the fabric, Patagonia has done a great job at making some darn comfortable layers. Starting from the bottom, the pleated crotch and wide waist band make sure that nothing gets pinched or feels tight. They disappear when you're wearing them in a system, and that's also true for the top layer. The top layer is really comfortable and doesn't have any neck tag, meaning that it's super smooth around your neck. There's a small loop to hang up the shirt, and Patagonia also included thumb loops made out of a stretchy fabric sewn inside of the sleep. I'm never a big fan of thumb loops as they always seem to cut into my skin, but Patagonia's attempt is as good as anyone's since they choice a wider, soft band of fabric. Most of all, I appreciated their offset seams which never wear painfully underneath a pack.
To close, I want to make a few comments on the environmental aspect of these products. First of all, these polyester layers are made out of recycled plastic, often from bottles or even old polyester garments. This is a very important thing to consider, especially considering the impact that polyester and other petroleum-derived fabrics have on the environment. Another thing to consider is the quality of manufacturing that goes into these products. If you're like me and sometimes worry about the places where my products are made, Patagonia is one of the few companies who recognizes that concern. You can trace where these baselayers originated from; in particular, Patagonia says that the sewing company that produces the bottoms '… is one of the few factories we work with to have a designated manager of social responsibility and to provide benefits beyond what the law requires, like free child care, worker training and health screenings." It's not as good as bringing manufacturing back to the states, but it's an important step.
The Good
Recycled Polartec Power Grid polyester performs like a champ
Both top and bottom layers are very comfortable with or without a pack
Polygiene odor control works well
Price isn't exorbitant – definitely better than many merino layers!
Great range of comfortable temperatures
The Bad
Polygiene hasn't quite proved its longevity yet
Some will find the thumb loops uncomfortable
The Bottom Line: Patagonia Capilene Base Layers
There's nothing quite like a good product that's responsibly produced. I'm very happy with the baselayers and would recommend them to friends and family, but Patagonia's efforts toward environmental stewardship really clinch the deal. They're a product that you can buy with total peace of mind – but, Patagonia would want me to remind you, only buy them if you absolutely need a new product!
Buy Now: Available at Patagonia.com