The Daily Henley and the Birdshot button-up are just two products in Patagonia's extensive lineup of organic cotton garments. The two shirts are representative of an entire line that Patagonia created in protest to the extravagantly harmful methods of conventional cotton farming. Yes, organic cotton costs more, but the impact on the environment is far less negative. We'll dig into all of this in our thorough review.
Daily Henley Features:
Soft organic cotton jersey knit in heather solids and stripes
4-button placket
Straight hem
4.7-oz 100% organic cotton jersey
175 g (6.2 oz)
Slim fit
Made in Vietnam
MSRP: $45
Birdshot Button-up Shirt Features:
Made of a lightweight, breathable brushed organic cotton/polyester blend
Traditional short-sleeved button-down shirt
Two chest patch-pockets with button-through closures
Contrast self-fabric lining on yoke
Shirttail hem
3.8-oz 70% organic cotton/30% polyester brushed twill
189 g (6.7 oz)
Made in China
MSRP: $59
Shirts you can feel good about
Before I take up the actual shirts, let me lay out a few statistics on organic versus conventional cotton. Patagonia first took up the question of organic cotton in the 1990's. They discovered that, among other things, cotton was perhaps the largest single consumer of agricultural chemicals including pesticides and fertilizers. According to the Patagonia website, cotton accounted for 10% of all agricultural chemical applications yet only occupied 1% of agricultural land. The negative effects of these fertilizers, especially in such concentrated geographic areas, is widely known – nitrification in local waters, loss of biodiversity and other environmental concerns plague cotton production. Patagonia's answer was, well, organic cotton. They say that the yields are good, the quality is great, but the price is high.
Looking at the costs of their organic cotton products, I'd have to say that that fact is reflected in the MSRP of the clothing. However, as is always the case with these higher priced items, consumers have the opportunity to make a statement with their dollars. In the case of Patagonia's organic cotton goods, the statement essentially reads, "I care about the environment."
As I mentioned in the introduction, I'm covering two of Patagonia's organic cotton shirts, the Daily Henley and the Birdshot button-up. We'll cover each in turn.
The Daily Henley
Henley's are cool right now, and I'm reminded of that when I visit Seattle and walk around downtown. Seattleites have always been quite forward with their fashion choices, and it's evident that the men wearing henleys about the city are enjoying the chance to give their chest hair a bit of sun. So yeah, I've enjoyed my own bit of 'cool' with the Daily Henley. It's a pleasant change from the never-ending sea of plaid button-ups that I already own.
This Henley features a four-button placket that extends a solid five and a half inches down from the hem of the shirt. It's a simple closure system and the buttons push easily through their corresponding slits and, once they're there, they don't slip out. The bottom of the placket is reinforced to ensure longevity. I enjoyed having such a generous placket, primarily because most of the West has been burning up in 80-90'F heat.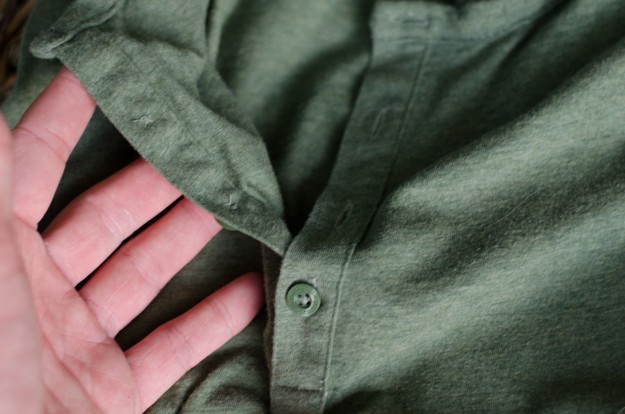 The Henley comes out at the bottom with a straight hem. It's a simple style choice and one that is, I think, at home on a simple shirt like this one. The base fabric, 100% organic cotton, is superb. It's comfortable next-to-skin and, somewhat to my surprise, has been very odor-resistant despite the lack of any special treatment. It was soft from the factory, but it's improved slightly in the two wash cycles that it's been through. The fit is moderate and lose; the size Large that I'm testing fits just slightly big on me, which makes perfect sense because I'm usually between a medium and a large.
Birdshot Button-Up
The Birdshot is the more sophisticated of the two pieces by a wide margin. With a sleek button-down collar and twin chest pockets, you can scrape through semi-formal events with the Birdshot's slightly fitted aesthetic. The fit is advertised as 'slim,' so keep that in mind as you're ordering. The Size Large that I tested ran just slightly big on my 185lb, 5'11" frame.
One of the neat touches on the Birdshot is that the plaid pattern is precisely aligned along the button track and the pockets. That's not always the case for plaid shirts coming from outdoor companies who outsource huge production runs like Patagonia does, but nonetheless, they did it. The result is a very crisp, cohesive look.
Patagonia chose a 70/30 cotton/polyester blend for the Birdshot's fabric. This makes it an ideal travel shirt and, appropriately, I've over two dozen hours driving across the West in this shirt. I was always very pleased – it tends to resist wrinkles and the polyester in the fabric helps evaporate away the little bits of water that tend to esc
ape my wide mouth Nalgene while puttering over Montana's remarkably bumpy highways.
Rounding things out at the bottom of the shirt is a simple shirttail hem, which adds an element of style and, should you happen to commute by bike like I do, keeps things PG-13 for any drivers behind you.
The Good
From an ecological standpoint, the world would be better off if more countries sourced organic
The fabric is comfortable next-to-skin, hard wearing and resists wrinkles
Quality of construction on both pieces is top-notch
The Bad
Quite pricey – $45 for a simple henley that's made in Asia
Fit can be a bother. People on Patagonia's website report issues with sizing.
The Bottom Line: Patagonia Daily and Birdshot
It's tempting to say something along the lines of, 'if you care about the environment, you'll buy organic cotton.' I won't say that. I will say, however, that it's better to have one or two really great shirts that were produced responsibly than it is to have a dozen shirts that were produced using harmful practices. Both shirts are comfortable and I expect them to last for many years.
Buy Now: Daily Henley | Birdshot Button-up