Many ultrarunners find that headlamps alone are insufficient to navigate dark technical trails.  Lightweight, compact versions typically don't produce enough brightness for confident footing, and heavy-duty lighting systems are too, um … heavy, and cumbersome to wear while trying to maintain your speed across one tricky patch after another.
Petzl's MYO series headlamps are designed to achieve the perfect balance between size, performance and durability – which makes them particularly suited to nighttime trail running.
Petzl MYO RXP Specs:
Bulb type: High-output LED
Beam type: Flood or spot
Brightness (high setting): 140 lumens, with boost mode of 160 lumens
Weight: 175g/6.2 oz
Dimensions: Lamp: 2" x 1.5" x 1.5" / Battery pack: 2.75" x 2" x 0.6"
Maximum beam distance: 77m in high setting, 97m in boost mode
Brightness levels: 10
Strobe: yes
Battery type: 3 AA or LR6 alkaline batteries, compatible with lithium and rechargeable batteries
Battery life (high setting, at 70 degrees): 50 hours
Water resistance: IPX-4
MSRP: $99.95
Petzl MYO RXP Review
The RXP is Petzl's first headlamp to offer programmable output levels for customized brightness.  You can toggle from a wide beam for confident footing, to a focused beam for locating objects in the distance.  Its overall design is fairly lightweight and sits comfortably on your head, with an additional top strap if needed for security.  Light distribution is very even, and on the brighter settings, you'll easily see every little bump in the trail.
Operation and programming are done via the main power button and the boost button atop the front casing.  As with some of Petzl's compact lamps, these buttons are fairly small, and difficult to operate with gloved hands – and since you're probably running in the dark, probably in the winter … you'll probably be wearing gloves most of the time you're using this lamp.  Petzl solved a similar problem with the ergonomically-improved Tikka XP2; it would be nice to see a similar adaptation to the RXP someday.
Pressing the power button scrolls you through four preset settings: three brightness levels, and a blinking SOS mode.  Default brightness settings are level 10 (140 lumens), level 6 (51), and level 4 (25), but the candle power can be configured in any way you'd like.  Programming the RXP is a little tricky at first, partly due to subtle differences between levels; unless you're in a pitch-dark room, it's hard to tell whether you're in level 6 (51 lumens) or level 7 (59).  The user guide is easy to follow, and it shouldn't take more than a few attempts to get your preferred settings dialed in.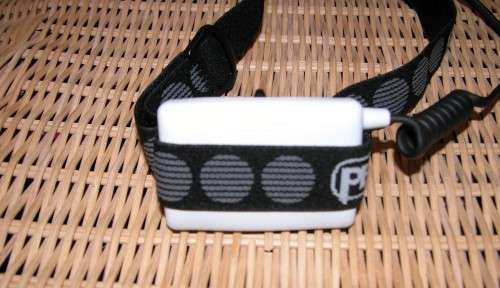 Each brightness setting burns more battery power, with the first 8 levels regulated to shine at a steady brightness before switching to a dimmer reserve mode to get you to your next battery change or recharge.   Duration of regulated burning varies from 1 hour (level 8 brightness) to 35 hours (level 1), and seems somewhat low in the midranges:  levels 5-8 are regulated for 4,3,2, and 1 hour respectively.  For short duration running, this isn't a problem – but if you want the RXP to light your way through the night, you have to make due with level 4 (25 lumens) or lower.   Whatever level you choose, the battery indicator tells you when the batteries are low (70% discharged) or spent (90%).
Good MYO RXP
Brightness more than adequate to allow sure footing on technical trails
Lightweight and comfortable for everyday or long-duration use
Customized brightness levels for variety of applications.
Super-long battery life (>60 hrs) on low brightness settings
Compatible with rechargeable batteries
Bad MYO RXP
Rapid burn time for brightness settings above level 4 (25 lumens)
Small top buttons difficult to handle with gloves
Bottom Line: Petzl Myo RXP Headlamp
The MYO RXP is a great option if you often tackle technical terrain in the darkness, but don't want to haul a cumbersome system with you out the door every morning.  Be sure to use rechargeable batteries, or your post-purchase costs could get out of hand.
Buy Now: Search for Petzl Headlamps at Backcountry.com