I've got a thing for watches and have had so many different altimeter watches, heart rate watches and training watches that I've developed quite the discerning eye and taste for them. I know my way around nearly every watch on the market.
I'm never satisfied with a run-of-the-mill watch that just tells the time and date, It takes much more than that to get me jazzed about a watch. I'm talking about watches that can nearly guess your next move, can track your entire ski day or, in this case, one that can help you make smarter workout decisions. The Polar FT60 has been my training partner for a couple of months now and I'm amazed how far heart rate monitors have come… this one is definitely one of the most useful workout tools I've used.
About the Polar FT60 Training Watch
With a sea full of heart rate watches, the original and market-leader can't sit still while innovation happens around them. Suunto and Polar are  neck-and-neck in the training watch market–each with their versions of training watches. Both happen to be Finnish companies and both have a long history of producing some of the most advanced watches on the market.
The FT 60 raises the bar on training watches by simplifying measurements that were previously left only for Ph. D's. Detailed workout analysis is now available on your wrist. And with the ability to personalize your workouts and track your performance based on your characteristics and fitness level, the FT60 can truly be your personal fitness coach.
Watch the Polar FT60 overview video on YouTube.
Features of the Polar FT 60 G1:
WearLink heart rate transmitter
Automatic age-based target zones
30m water resistant
G1 GPS armband
Compatible with optional S1 Footpod
Target zones
Historical workout summaries (100 files)
Polar OwnCal tracks calories burned (Workout, Total, Weekly, Fat %)
Polar Fitness Test with OwnIndex measures VO2 Max
Polar STAR Training Program
Alarm
Dual Time
Compatible with PolarPersonalTrainer.com
Colors: Pink or Black (Women's), Black/Silver/White or Black/Silver/Red (Men's)
MSRP: $239.95 (Watch and HR) / $139.95 for G1 GPS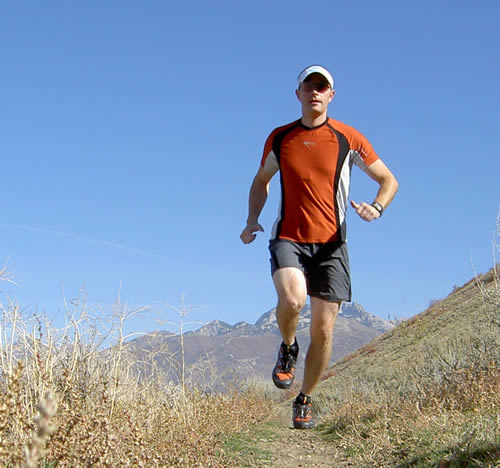 Polar FT60 Training Watch Review
Out of the box, I noticed two things: 1) This watch is very stylish and clean looking, and 2) It had an intuitive setup wizard that guided me through the initial setup process for goof-proof setup. The initial setup wizard is refreshing in a world of uber-complicated training watches.This process takes you through your key stats (ladies… don't lie about your age and weight), workout goals, fitness level and basic setup.
Like anything, the most important step is always the setup and preparation. With the FT60, you get everything configured right off the bat so you can get on with your workouts in a jiffy.
The large dot-matrix display is awesome and can display a ton of data and graphs. Unlike many designs, the entire screen uses the same display style. Some try and mix-and-match dot-matrix with LED-style and it just looks awkward. All controls are super-simple to understand and buttons are clearly marked during each function. I've never once referenced the manual to use all the functions–that's how clear and logical everything is on this watch.
After some quick tightness adjustments on the WearLink heart rate transmitter, I was ready to head out. The WearLink transmitter design is a 360-degree soft band for unparalleled comfort and transmission quality. Wearing this heart rate band becomes second-nature and works well under a hydration pack.
The G1 GPS pod is comfortable to wear and is easy to use. A single button turns it on and if the watch is configured for GPS mode, the signal is picked-up in about 15 seconds. Like any GPS device, you're always limited by the quality of the view of the sky. While trail running through mixed trees, I found it to lock onto the satellites very well, but while on a mountain bike in mixed trees, it tended to lose the signal much more often. Comfort of the G1 is excellent and can be easily adjusted on-the-fly. You can choose to wear it on your arm or waistbelt. Tossing it in your pack may or may not work–it all depends on the distance from your wrist.
Working out is where the FT60 shines. Training mode is easy to start and you'll immediately have access to your heart rate, elapsed time, calories burned and speed and distance at the touch of a button. I wish it had an auto-scroll function to scan through all of the above, but as it stands, you'll have to tap the button to switch views. While trail running or mountain biking, this was sometimes difficult since the buttons weren't as tactile as I'd like.
At the end of your workout, the stored memory will give you a one-line summary of your performance.  Did you overtrain? Did you improve performance? Did you improve fitness? Did you not work hard enough? The one-line workout summary will tell you–that alone is awesome! The rest of the summary data is to be expected with min/max heart rate, time in each heart rate zone, min/max speed, distance, calories burned (total and fat%) and elapsed time. Workouts are automatically grouped by week for a weekly summary.
The STAR training program offers the additional ability to have a guided workout routine with alarms (audible and on-screen) to keep you on track. It's like having your own personal trainer on your wrist that can cater the workout to your height, weight, age and fitness level.
I used the FT60 for indoor workouts, trail running, hiking, road cycling and mountain biking and was able to track my performance effectively and easily. I loved seeing the calories burned and was often-times surprised at how much I did burn during my workouts. In the past, every heart rate watch I've used has quickly lost its luster, but the FT60 continues to deliver–so much so that I haven't exercised without it.
The Good
Stylish and comfortable enough for daily wear
Separate GPS device reduces bulk
Lightweight
Very intuitive design
Initial setup wizard is great
Ability to connect HRM, GPS or Footpod
Smart training programs analyze your workouts
Simple review of previous workouts and performance
Comfortable HRM
Tracks VO2 max over time
The Bad
Buttons can be hard to press while running or biking
No auto-scan feature to see rotating activity data (you have to push a button to view different data points mid-activity)
No lap tracking
G1 GPS tends to lose signal in the trees
Can be cumbersome to wear multiple devices, but you don't wear the GPS on every workout
The Bottom Line: Polar FT60
With catered workout measurement and on-the-fly training, the Polar FT60 has been an awesome workout partner that has truly helped me maximize my workouts. If you are looking for a heart rate monitor and training watch that actually delivers, the FT60 is hard to beat. Ditch "Hans the Trainer" and switch to the Polar FT60 to measure your workout performance.
Buy Now: Find Polar Watches at REI.com