The story goes that two brothers from Minnesota traveled far and wide, constantly looking down at the feet of the people in the distant countries they voyaged to in a search for a sandal that could stand above the rest. They eventually found it (in a non-disclosed country), brought it back to the states and began marketing their own take on it – that's how Bokos sandals were born. Or something like that. It's time to share how these world-inspired sandals perform.
Bokos Sandals Features:
Available in sizes 8-12
Unique, one piece design
Superior durability and breathability
Non-porous rubber material
Anti-odor and stain resistant
Available in six Men's and Women's colors
MSRP: $18
Travel-inspired sandals
The Bokos design is targeted at a crowd of folks who are active in the outdoors. The idea was to create a flip flop that could deal with all the angst of feet that have spent all day in hiking boots or what have you – thus, they're anti-odor and easy to slip on. My activities are mountaineering, backpacking, rock climbing and cycling. The Bokos can't actually be worn for any of those activities (though they are decently light camp sandals) so it's more like they stay at home, waiting by the door like a loyal golden retriever.
I've had roughly five weeks with the Bokos and they've performed well thus far. It's a one-piece design which should offer more durability over the long haul, although five weeks is hardly enough time to get an idea of this. Odor control is excellent — despite the completely offensive stink that my feet generate in climbing shoes, the Bokos have been able to endure close quarters with my noxious feet and emerge unscathed. A bonus to the simple design is that the sandals are very easy to clean — there is no webbing or mesh that takes time to dry out, so a simple hose-down or quick scrub with a utility brush is enough to make the sandals like new.
The insole of the sandal is a plain design that you can't really feel against your feet, but I'm inclined to think that a slightly more noticeable pattern could yield a pleasant massaging effect since these sandals are aimed at the tired feet of adventurers. On the bottom, the subtle tread provides grip on the shower floor and that sort of thing, but don't count on taking these slip-ons on any serious terrain.
I was pleased with the way these sandals fit my wide, size 10.5 feet. I have very wide feet so I went up to size 11. While they don't have an especially narrow base, the one-piece strap was able to accommodate my feet in such a way that there were no significant pressure points while walking. No doubt your mileage will vary, but people with wide feet needn't fear the Bokos. A bonus to the single large strap is that it requires virtually no break in, even for odd feet like mine — it was immediately comfortable and secure. There is perhaps the slightest hint of arch support, but don't expect much if your arches give you trouble.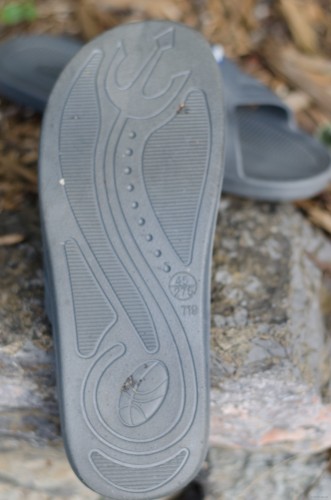 Good Bokos:
Simple design is easy to clean
Anti-odor is effective
Strap can accommodate wide feet
Cheap! Just $18
Bad Bokos:
An option for wide feet would be preferred
Some feet may disagree with the large single straps
The Bottom Line: Bokos Sandals
It's difficult to go wrong with a sandal this simple and cheap, and I like that they're the brainchild of a pair of brothers from Minnesota. I also love that you can call the company and, odds are, you'll talk to Matt, who is one of the company's founders. Bokos are certainly fighting in a competitive market, and perhaps it's their lack of stand-out features that makes them worth looking at — without being flashy, they're simple sandals that you can forget about.  Isn't that what we want from sandals?
Buy Now: Available from Bokos.com