Technical is as technical does – when the terrain gets tricky, the right equipment is just as necessary as jelly is to a PB&J.  On the other hand, you can't be lugging around pounds and pounds worth of equipment.  When it comes to poles, MSR has the perfect solution in their Flight 3 ultralight winter poles.
MSR Flight 3 Winter Poles Features:
SureLock positive-locking length adjustment
7000-series aluminum
Breakaway, glove-friendly strap
Hydrophobic foam grip
Collapsed length: 22.4 inches
Weight: 15.9 oz (stated, per pair)
MSRP: $129
Flight 3 Winter Poles are Light and Packable
I initially received a pair of Flight 3's as winter poles for mountaineering, snowshoeing and skiing.  These have a tremendous amount of snow sport potential and the robust design makes it up to the challenge of something as rigorous as, say, ski mountaineering.  For one thing, the poles are exceptionally light; at 15.9oz per pair, that's roughly 5-6 oz lighter than MSR's Deploy TR-3 winter poles.  You can go just a touch lighter with the two-section model, the Flight 2, but I really appreciated the smaller pack size of the Flight 3's.
Besides being quite light, the Flight 3's are impressively strong; they are crafted out of 7000-series aluminum which can be hardened to the highest strengths of any aluminum alloy.  The locking mechanism is a simple, spring-loaded tab that pops into place and helps cut down on unwanted lateral looseness.  It's pretty easy to operate with gloves on, but it does require using both hands to adjust the length of the pole.  Also, props to MSR for figuring out a way to make adjustment even easier – the lower section can easily be collapsed due to the specially slanted surface of the peg; you don't need to manually push the peg in. The range of adjustment is quite wide indeed, all the way from the 43.3 inch minimum up to 55.1 inches maximum.
I spent quite a bit of time snowshoeing with the poles and they performed well in some very trying cold, wet conditions.  The robust locking design can be easily broken free of ice should it freeze up; additionally, the hydrophobic foam on the handle doesn't soak  up moisture and won't freeze to your glove on very cold days.  In theory, the grip is supposed to have enough of a lip to lift up snowshoe bails with, but I could never quite snag the ones on my MSR Lightning Axis snowshoes.  One of my favorite testing trips was a frigid resort day at northern Idaho's Schweitzer mountain; the poles felt confident and sturdy, no matter how hard I pushed them in some twisty tight tree skiing.
Rounding out the poles, on one end is the breakaway winter strap that's purpose-built for gloved hands; MSR included an extra toggle to adjust the webbing's friction lock.  What's more, the strap is built to break off should your pole become caught when you're moving fast, saving your arms and wrists from damage.  MSR included their own snow baskets that are made out of two stiffnesses of plastic for both strength and pliability, but I've noticed some white, weak-looking patches appearing at flex points on the stiffer plastic.  We'll see how they hold up with extended use.
The Good:
Very light weight and they pack down small
SureLock system is simple and effective
Hydrophobic grip is a nice touch
Very sturdy with minimal lateral slop
The Bad:
Handle lip could be more pronounced
Basket is already getting stress marks from flexing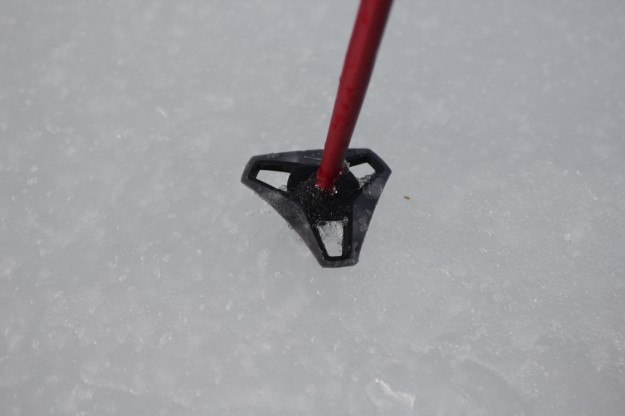 The Bottom Line
Sturdy, light, very technical poles that will serve their purpose well.  I've thoroughly enjoyed them during this two month testing period, but it's the type of product that I'll use for many, many seasons to come.
Buy now: Available from Backcountry.com