The "mountain lifestyle" does span across all aspects of our lives. So, when we are not actively engaged in our outdoor adventures of choice, we want to continue the mountain vibe. And, nothing is more of a buzzkill than a pair of Old Navy jeans. To relieve that, there are several mountain brands that don't kill the vibe — and Mountain Khakis is tops on that list. With the new Camber 104 pants, I've rocked the party — even though I don't really rock parties.
Mountain Khakis Camber 104 Pants Features:
Waistband lined with velvet tape for added comfort
Classic Mountain Khakis branding
Diamond-shaped gusset in crotch
Quick draw phone pocket with zippered security pocket
Articulated knees
Reinforced, triple-stitched seams
"Mudflap" reinforced heel cuffs
Fabric: 6.5oz 65% cotton, 33% nylon, 2% spandex canvas weave
Colors: Desert Khaki (tested) or Firma
MSRP: $79.95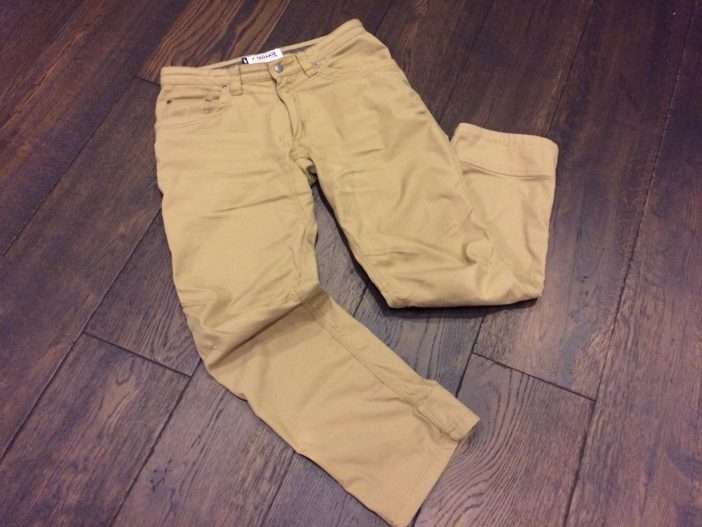 Rock that mountain lifestyle wherever you go
I'm reluctant to take off a full Castelli bike kit or a head-to-toe Patagonia ski get-up and slip into a pair of Old Navy jeans and t-shirt. To me, that simply does not compute. If you're of that same mindset, then you've found mountain brands that you resonate with — Mountain Khakis, Toad & Co., Khul or Carhartt to name a few.
Mountain Khakis has evolved over the years from just durable pants (hence the name) to a full spectrum of apparel for outdoorsy folks. While Mountain Khakis has branched out beyond pants, it's clear that pants remain a huge focus of the company. And, after pulling on the Camber 104's one leg at a time, it's immediately clear that pants are indeed at the heart of the Mountain Khakis brand.
As expected, Mountain Khakis infuses mountain style with urban versatility quite well here. They are made from a slightly-stretchy cotton/spandex blend. That mixture is quite nice at delivering all-day comfort, breathability and good looks.
Let's talk durability. The Mountain Khakis Original Mountain Pant is iconic and known to be bombproof. That said, they are also thick, heavy and not so breathable. While they have their purpose, I much prefer the lighter and more comfortable Camber 104's. They breathe and offer enough durability for my mixed, but mostly urban adventures.
I can rock the 104's to the office with a t-shirt or go a little more dressy and hit up the belt and a button-down shirt. On a recent trip to New York City, I loved how well they travel — staying wrinkle-free — and how comfortable they were walking the streets of Manhattan. And, in a fashion-conscious city such as New York, they don't feel too "mountain-y" either.
Further, the pockets are super comfy and feature reinforcements at the bottom so keys and such don't poke your thighs or work their way through. Little things like that certainly add to the quality and feel of the 104's. And, the single leg pocket features an easy slide-in for mobile phones or you can go extra secure and use the zippered side — player's choice. I'll say that the angle and location of the zipper makes for wicked-easy opening and closing.
I will add that the zipper fly cover does tend to bunch inwards a little, exposing the zipper. At a quick glance, it appears that my barn door is open, but let me assure you it is not. Perhaps a little extra fabric width would remedy that? And, I can't tell for sure, but it does seem that the dryer does shrink these a little more than I'd expect — not just the first time.
Fit: I'm typically a 33 or 34 waist and 32″ inseam. The 33's were wicked-tight and the 34's were much more comfortable — not only in the waist but in the thigh and leg as well.
The Good
Subtle stretch allows comfortable movement
Gusseted crotch gives extra room
Reinforced leg cuffs
Doubled pocket bottoms isolate sharp objects
Single leg pocket for mobile phones is cha-ching
Sits comfortably on hips
Very stain-resistant
The Bad
Could have more color options
Zipper fly cover tends to cinch inward, exposing the zipper (no, the barn door is not open)
They do tend to shrink in the dryer more than I'd expect
Bottom Line: Mountain Khakis Camber 104
If you must wear pants, why not opt for something that fits your lifestyle. A ubiquitous pair of jeans doesn't say much, but a fine pair of Camber 104's says you'd rather be in the mountains, but are living the urban dream without looking out of place.
Buy Now: Available at MooseJaw.com
In Summary
Mountain Khakis has delivered a classic-fitting and great-wearing pair of pants in the new Camber 104 Hybrids. I find myself wearing these very often. They travel well and hold up to abuse quite well.