When it comes to choosing a pair of pants for an adventure, I'm always a stickler – they can't be too restricting, they ought to shed water to some degree, I'd like it if they'd breathe well – there are all sort of considerations.  Few pants can handle the whole gammut of possible adventures, but the Baato from Sherpa Adventure Gear sure comes close.
Sherpa Adventure Gear Baato Hybrid Pants Features:
Nylon canvas has a soft hand that wicks moisture
4-way stretch nylon with a DWR finish
Gusset for mobility and comfort
Articulated knees for greater mobility
Regular: 32″ inseam / Tall: 34″ inseam
Fabrics are combined to allow stretch across key areas and a durable canvas for higher abrasion and DWR
Total weight: 11.38oz
MSRP: $70
Pants for every mountain occasion
Before I jump right into the pants, I want to spend a little bit of time talking about Sherpa Adventure Gear as a brand.  Sherpa was founded with the idea of keeping the Sherpa community and mindset as central to its clothing as possible – the majority of their products are made in Kathmandu and a portion of each sale goes to educate Sherpa children.  This is, in truth, one of very few outdoor brands that are still authentic; that is, they're true to the ideals that they were founded on.  I hate to reference a promotional video, but in truth this little three minute spot really sums up what Sherpa is about.  Have no fear, my appreciation for the Sherpa brand isn't going to taint this review, but I do think it's important to keep where a piece of gear comes from in mind.
Now for the pants themselves.  First of all, I'm happy to say that I've spent plenty of timing wearing the Baato's.  Our normal testing period at Feed the Habit is around one month, but I've been able to thrash these suckers for a full year since I received them.   This is because Sherpa, like many smaller companies, sends us products well in advance of them actually being available to consumers.  The upshot is that I know these pants inside and out.
As the 'hybrid' in the name implies, the Baatos are built with a combination of fabrics.  There's a water-repellant stretch nylon at the seat and knee of the pants, but the majority of the fabric is a wonderfully stretchy nylon/spandex weave.  This combination makes the Baato's an ideal pant for bouldering and climbing when a little extra weather is anticipated.  Sherpa chose to include a zippered pocket on the rear seat so that any valuables or snacks will stay safe and sound while climbing.  The pants breathe pretty well for aerobic activities, though there's no chance I'd head out for a jog in them.  They can hold their own on a hot summer's day of climbing, though the darkish grey fabric does add a few degrees of heat.
Sherpa Adventure Gear stitches an Infinite Knot onto each one of its products, but they also make sure all of their normal stitching is great too.  The SAG factory in Nepal has excellent standards of craftsmanship and all of the stitching is neat and tidy through the Baato's.  I've climbed, hiked, scrambled and played soccer in the Baato's and they only have one sign of wear – a slight tear on the butt, which quickly frayed up and hasn't grown at all despite six months of ongoing use since then.   My only quibble with the Baato's is a bit of a silly one – they definitely look like a dedicated climbing pant.  They're not exactly what I'd call svelte, but that's the price you pay for comfort and performance like this.
Good Baato
Zippered pocket is a great touch
Stretch nylon coupled with gusset makes for top-notch range of motion
DWR-treated panels are nice when a little extra protection is needed
Excellent craftsmanship overall
Bad Baato
Don't have the best style around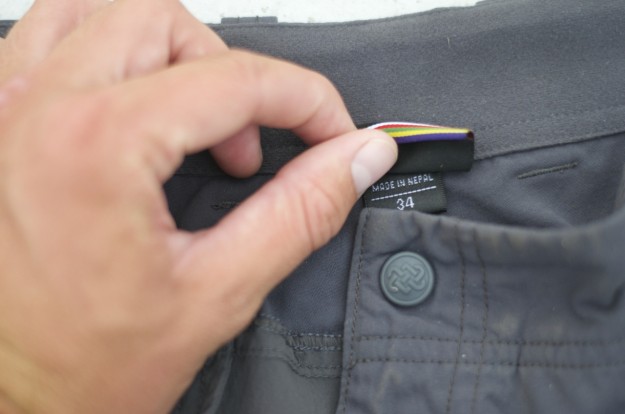 The Bottom Line
As I said at the beginning of the review, these really are wonderfully versatile pants.  I've worn them all over Nevada and Washington and they've been very faithful companions for the last year.  I appreciate that the one whole I put in on the seat hasn't grown at all, and I'm definitely a fan of Sherpa's mission.  They do look a little techy up close, but the main thing is that they're a great performer for climbers and scramblers.
More Info: Sherpa Adventure Gear