The ever-popular flip-flops have become the official footwear of summer. For some, they are the official year-round footwear because they live in warm climates or they don't mind having cold or wet feet. Either way, flip-flop sandals are easy to slide on and allow you to quickly change to bare feet for a walk in the grass (my personal favorite reason).
There are some downsides to flip-flops though. Doctors have warned of the negative aspects of wearing flip-flops for extended periods of time. The primary concern podiatrists is the lack of proper support provided by most flip flops. Because of this, the foot isn't in a natural and balanced position, thus increasing the risk of ankle injuries, nerve damage, muscle strains and knee/hip/back problems.
Luckily, SOLE (manufacturer of high-quality orthotic inserts) has come to the rescue with the new SOLE Platinum Sandal that's been built with the happiness of your feet in mind.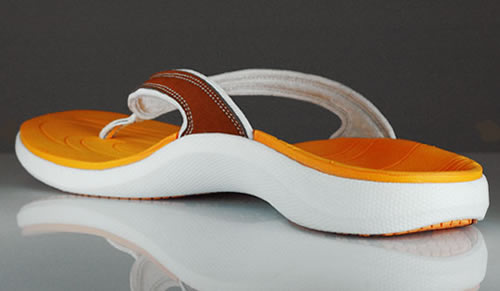 About SOLE Platinum Orthotic Sandals
I caught up with Claire Thompson from SOLE while at Outdoor Retailer in August. She filled me in on a few interesting tidbits about the Platinum Sandals. Tops on that list was her experience crashing the American Podiatric Medical Association's annual conference in Hawaii last July. She showed up with a few hundred of the sandals, confident that she'd win over the approval of some skeptical podiatrists.
In the end, the Platinum Sandals were the hit of the show with the entire inventory sold at the show. And, even more impressive than that was a pending APMA Seal of Acceptance that should be official shortly (look for an official release in the coming months).
Here are more details:
Ergonomic strap shape with cushioned liner
Wear-moldable footbed
EVA midsole with metatarsal, toe ridge and arch supports
Natural/Synthetic 2-part outsole
MSRP: $79.95
Sole Platinum Sandals Review
I got the Platinum's just prior to a trip to Seattle with the family. I was stoked to get to try them out while traveling and at the beach. I slipped them on and instantly found comfort in the supportive features of the sandals. I'm a huge fan of flip-flops but have typically only been able to wear Teva Mush Sandals because they mold to my feet and provide good cushioning for my super-flat feet.
The squishy, Wear Moldable™ top layer offers just the right amount of supportive cushioning on top of the orthotic midsole with it's arch support, metatarsal button, toe ridge and deep heel cup.
As a testament to the comfort of these sandals, I had an unintentional run at Salt Lake International Airport going from the long-term parking area to the terminal. I hate waiting for the shuttle bus, so I swung my backpack on, then proceeded to run across at least a mile of pavement. Something like that with regular flip-flops would have put my knees, ankles and arches (or the lack thereof) in a world of hurt, but once at the terminal with the family, my feet and joints didn't know the wiser.
Wearability elsewhere has been outstanding. I've put some serious miles on these sandals and they seem to be holding up great.
The comfort of these sandals can't be beat, but I did find a couple of issues with them. The front of the sandals are pretty thin, thus putting your toes closer to the ground and more susceptible to injury. I had a couple of close calls where thicker sandals would have provided extra height or protection from objects. I think the straps stretched out a little more than they should have, so strap felt a little lose over time. And, the soft top material can be easily damaged.
Good Platinum
Amazing comfort from a flip flop
APMA Seal of Acceptance (approved… announcement pending)
All-day wearability
A variety of colors are available
Bad Platinum
Low profile can put toes in danger
Strap stretched out a tad
Soft top-layer damages easily
The Bottom Line on the SOLE Platinum Sandals
If you enjoy wearing flip flops year-round or just in the warmer months, the SOLE Platinum Sandals are some of the most comfy you'll find. With the seal of approval from the APMA coming soon and obvious orthotic benefits, you'll be able to wear these flops all day without damaging your feet.
Learn More: Visit SoleSandals.com