The winter can be a difficult time for the trendy outdoorsman. On the one hand, they have an entire collection of specialized shoes and boots that are designed for all of the rigor of the mountains. But who wants to wear their hardshell boots to the pub? Even the humble waterproof hiking boot can become an object of scorn if it is worn in the wrong places. And so, if you are anything like me, you will inevitably bow to the pressure to get a formal (or at least stylish) boot that can hold up to wintertime abuse. Enter the Timberland Boot Company Waterproof Wodehouse Chukka.
Timberland Waterproof Wodehouse Chukka Features:
Premium full-grain leather, hand finished for a unique, well-worn and well-cared-for appearance
Molded leather midsole for a handcrafted look and great styling
Leather outsole with a rubber heel and forefoot insert for traction and flexibility
Waxed cotton laces
Note that minor differences may be present in the right and left shoes as part of the worn-in aesthetic
MSRP: $300
Style and function combine
Timberland Boot Company's reputation precedes them. Timberland Boot Company is known for their high-quality leather, coupled with meticulous craftsmanship throughout the boot. This is evident right out of the box through Timberland's choice of hand-finished leather, giving the boots a worn-in look straight away. The boots are lightweight but have a durable, hard-wearing feel no doubt thanks to the natural materials.
I usually wear a 10.5 but have wide, high-volume feet. Size 11 in these Chukkas fit me perfectly. The boots feel good on your feet, with a reasonably supple leather upper that still offers lots of protection. The sole of the boots feels stiff on my feet, not unlike a full-shank boot. This will wear in in time, but it lends a sturdy feeling to the boots out of the box. The rubber sole is attached directly to a molded, thick leather midsole that is responsible for most of the boot's structure. The midsole is welted onto the boot body, helping to keep water out and promising many years of use. A great thing about welted soles is that they can be replaced by a cobber when they wear out, helping to guarantee the boot's longevity. This is an important consideration when you're considering dropping a good chunk of change on footwear.
The rubber sole features a diamond pattern for traction. It's a fairly soft rubber that can hold its own on ice, but there's no making up for the traction offered by a lugged, outdoor-specific sole. There's also a heel patch that provides a little added cushion and grip when walking downhill or downstairs.
The boots are advertised as waterproof, and I've been thoroughly inspecting this claim throughout my testing. Water and leather aren't necessarily good bedfellows, of course, so take care to get a good leather protection product. In any case, I was impressed with how well the Timberlands sealed out water. The welted sole certainly has a lot to do with this, and the only possible area of vulnerability (aside from the tongue area) is the stitching. Stitched areas can be taken care of with just a touch of wax. Should you go puddle jumping in these? No. But don't be afraid to stride ahead into slush, snow and other wintertime menaces.
These Timberland Chukkas lace up with waxed cotton laces through two eyelets on each side. The upper eyelet has a metal grommet, while the lower runs the lace directly against the leather. The lace on my left shoe broke where it contacted the metal grommet, and so I wonder if Timberland could have done more to smooth over the areas that the laces contact in the grommet. The other lace shows some sign of wear, too, though it's also possible that I simply received a defective lace.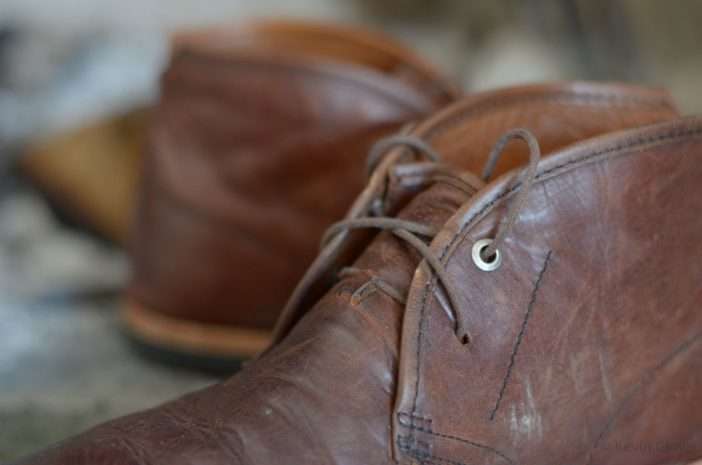 The Good 
Excellent leather choice with a nice, hand-finished look
Top-notch construction quality – feels like it was made in 1900!
Welted sole keeps out water, makes things easy on the cobbler
'Waterproof' claim holds up to the test
The Bad 
One lace broke where it rubs against the grommet
Sole pattern doesn't provide a great deal of traction
The Bottom Line: Timberland Wodehouse Chukka
These Chukkas, coming from a name as well-respected as Timberland Boot Company, had high expectations. I'm happy to say that they've lived up to them, both inside and out. They're comfortable, yet also stylish and functional. You definitely pay a premium for these boots, but they've got the chops to last a lifetime with care and cobbling.
Buy Now: Available from Timberland.com