Vasque is one of the few companies that manages to be both ubiquitous and top-quality; if you're hiking in a national park and take a peak at the feet of hikers you pass, you'll find a ton of Vasque boots, especially the Breezes and Bitterroots.  I've been enjoying the full-grain Bitterroots since early in the Spring and I definitely know the boots inside and out.
Vasque Bitterroot GTX Features:
Weight: 3lb. 8 oz. (1588g)
Outsole: Vasque Exclusive Vibram® Summit Sole
Last: Summit
Midsole: Molded PU/EVA/TPU
Membrane: Gore-Tex
MSRP: $199.95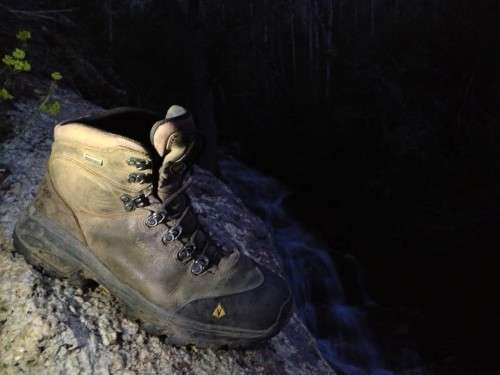 My Long-term Experience
The Bitterroot GTX is really built around classic styling, coupling a full-grain leather upper with Gore-Tex and an aggressive Vibram sole.  Vasque takes care to offer their boots in a variety of sizes and widths, which allows hikers like me to find a perfect fit.  My high-volume 10.5 width E feet found their perfect match with the corresponding Wide model of the Bitterroots – truly, I've never had an easier break-in period.  The boots felt as if I could spend hours in them after just two days of wearing them around.  As time went on, the Bitterroots revealed themselves to be exceptionally comfortable boots; I wore them under a pack that ranged from 40-60 pounds during a 75 miler that I led some Boy Scouts through, and I only developed two small blisters on my pinkie toes as my sock system started wearing out.
The Vibram sole that Vasque chose is probably one of the better molds that I've seen – the tread is widely spaced to lose mud and the rubber choice is definitely on the softer, grippier side.  The heel is clear and defined and breaks well during descents, even with a heavy pack on.  I was very very pleased with the performance of the Vibram overall, though as I'll discuss later, that softer rubber leads to earlier deterioration.
Vasque's overall design earns major brownie points from me too – when it comes to comfort, the Bitterroots are hard to beat.  A thick, cushy scree collar keeps you comfortable until the end of the day and the lacing design works pretty well.  I did notice that the third hook from the top is set high and far away from the heel – it if were set down a little further it would hold the heel more effectively.  The boots also have a particularly generous heel notch, which I appreciated during some of the long downhills from several New Mexico peaks.
The boots fall pretty squarely into the midweight category but they offer the support of a much heavier boot.  The Bitterroots are exceptionally supportive for their class, thanks to the three-part midsole  which is contoured for a natural stride.  The polyurethane midsole cushions shock as well as you could ask for (though perhaps not as well as the La Sportiva Omega's we tested) while the urethane plate provides support and stability.  The boot walks well under a heavy pack, just as you'd expect from a household name like Vasque.
The Gore lining keeps both water and heat in their respective places – this is definitely a warm boot, and should you happen to stop on the trail in the sun you'll soon be appreciating how hot a cow must feel on a summer's day.  The boot submerges well thanks to its tall leather gusset, which rises almost all the way to the cuff of the boot.
I have two main issues with the Bitterroot, so I'll lump them into the same paragraph.  First and foremost, the first eyelet (or the fourth lacing point from the top) absolutely destroys laces.  I've gone through four individual laces since April and there's not a thing I can do about it – the eyelet just tears up shoe laces.  Secondly, I'm not certain that the boots will hold up well over time.  The Vibram is pretty tacky and trades durability for grip; after four month of serious hiking I'm starting to see significant wear on the outsoles.  Additionally, there are several places where rubber is coming away from the leather of the boot.  Shoe-Goo is doubtless the answer, but I feel pretty odd putting that stuff onto a pair of $180 boot that are only four months old.
The Good:
Outstanding comfort and remarkably quick break-in time
Vibram sole sheds mud, grips well
Vasque offers a variety of sizing options for all types of feet – thanks Vasque!
Gore-Tex has maintained waterproof-ness over time
The Bad:
Lacing design destroys shoe laces
Third hook from top of lacing design could be moved closer to the ankle
After 4 months of abuse, they show more wear than I'd like
The Bottom Line
The Bitterroots are modeled off of the classic styling and design that we all know and love, but with modern high-tech construction to make a remarkably comfortable boot – if you're wearing a good sock combination, you can almost kiss hot spots good bye.  I'm concerned that the boots and soles won't hold up very well over time, though I will admit that I've put tons of time into these boots in the last four months.  All in all I'd say Vasque has a winning design for a highly supportive boot in the midweight category.
Buy now: Available from Backcountry.com