Oh, Canada! The home and native land of Westcomb outerwear, purveyors of quality outerwear since 2005.  The clever minds of the designers and clever fingers of the BC-based company have been turning out exceptionally innovative and functional gear all season and now we get to look at their lightweight, very athletic Crest Hoody.
Westcomb Crest Hoody Features:
Athletic hood
1Napoleon pocket
YKK 2-way VISLON zip
Low-profile molded cuff tabs
Raglan sleeves
Pertex Equilibrium fabric
Laminated zippers
Laminated cuff and hem
Weight: 5oz
MSRP: $140.00
Go light, look cool in the Crest
In a world crowded with minimalist softshells, the Crest hoody stands out as one that's, well, especially minimalist.  Everything about the hoody screams "I carefully thought about including this useful, though heavy, feature and then decided not to."  There are no hem adjustments, hood adjustments, sealed zipper or inline battery-powered cooling fans to add heft.  In place of these things, we have a modest recompense: raw, unadulterated performance for the ultralight athlete.
The Crest Hoody is on of those rare products the success of which is equally due to the design and the fabric used – there are lots of jackets that are only 'good' because they employ a really fantastic fabric.  The Crest happens to employ a fantastic fabric and be designed and built with excellence.  So, with that in mind, it's time to talk about the Pertex Equilibrium fabric.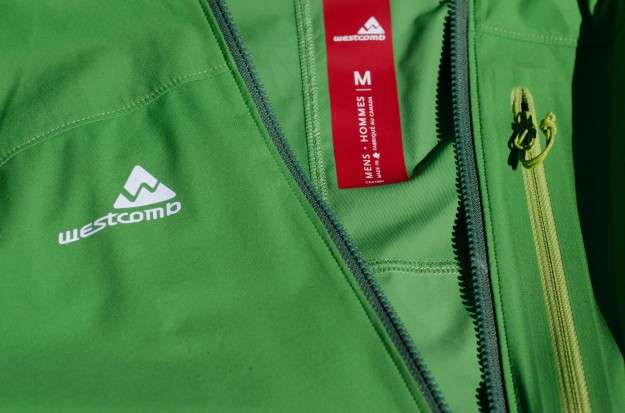 Equilibrium is a complex little weave that is wind resistant with a high capacity for moisture transfer.  It's actually pretty cool stuff – simply put, the fabric's denier and density change throughout the depth of the fabric rather than being uniform.  Natural properties of water cause it to transpire more quickly through this gradient and, as a result, it handles sweat really well.  It should be noted that most of my testing has been in cooler Spring temps — I didn't sweat whole-hog like I would in the summer, but I still work up a pretty good sweat when I run in the Spring.  The Pertex did a great job managing my sweat — in fact, with a light breeze the fabric wicks sweat so quickly that you can actually see patches (such as the inner elbow) of moisture evaporating.
While the Pertex isn't built to be particularly water resistant, Westcomb treated the Crest with a particularly bomber DWR that's held up really well in spring squalls.  I've enjoyed running through several rain storms and a nasty (but mercifully short) hailstorm in the high desert.  In short, the Crest has been pushed to the limit of what I'd expect a softshell to handle and it passes the test – it can handle around an hour of rain before really wetting out.  Naturally, this is accelerated under any pack straps.
Beyond the moisture-handling properties of the fabric, it's built with a decent amount of inherent stretch.  It should be noted, though, that this doesn't make it an ideal climbing jacket – the stretch is optimized for linear motion like running or cycling rather than lateral climbing moves.  It would work, but it wouldn't excel like a climbing-specific jacket might.
The fit of the jacket is a large part of the Crest's overall appeal.  The squad of Canadian design caribous that Westcomb employs did a fantastic job nailing the fit of the jacket on the human body – it's athletic but not oppressively tight in any one area.  The hem and hood are elasticized to self-adjust to your body's shape, and the drop tail provides just the right amount of coverage while nicely keeping the jacket from riding up.  The hood is a bit of a mixed result – on one hand, there are no annoying toggles or pulls to slap you in the face while running, but the simple elasticized opening tends to act like a perfect windsock if the jacket is mostly zipped up.
Westcomb's choice of a locking YKK two-way zipper was sound in several respects; it adds extra ventilation options but it stays well put during a jog.  Naturally, the Napoleon pocket is a great touch and I appreciate that they stuck with simple utility cord to create a minimalist, lightweight zipper toggle.  The jacket only has one substantial flaw, and unfortunately it's a consequence of the Equilibrium's technical weave — it pills like nobody's business.  That doesn't affect the performance, but it's definitely unsightly.
The Good
Ultralight build with great fit
Pertex Equilibrium fabric performs very well under aerobic conditions
Strong DWR fends off light showers
Westcomb design translates into excellent fit and overall function
The Bad
Fabric pills too easily
Hood acts like a windsock
The Bottom Line
The Crest is one of those products that wins you over due simply to its uncompromising functionality — it's just cut so well and the Equilibrium fabric really convinced me.  At $160, it's a good way to get into quality, Canadian-built outerwear.
Buy now: Available from REI.com