Yeah, I'm truly a mountain biker at heart. But, I do enjoy a nice early-morning road ride up the canyon while the air is crisp and the morning light makes everything seem postcard-perfect. There's something about being able to start a ride from my garage that is particularly nice.
If I want to put on the miles and vert, I turn to my roadie. With several excellent road rides in my backyard, I mix up my mountain biking with a day or two per week on the skinny tires. I'm not a road "purist", you might say because I don't shave my legs and I use my mountain shoes and Crank Brothers Smarty pedals, but I climb faster than many and have just as much fun. This summer, I've been riding a new road bike, the Kona Zing. Here's how it has performed.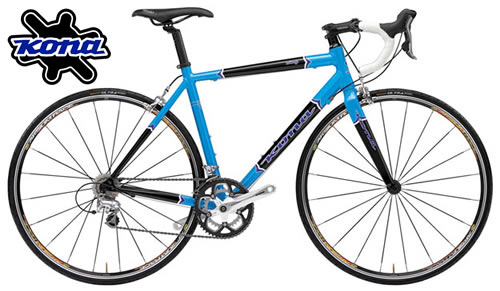 About the 2008 Kona Zing Road Bike
Kona is definitely more widely-known in the mountain bike world. Their mountain bikes have been ridden by both XC champions and freeride hucksters alike. With an absolute dedication to pumping out quality bikes, that same dedication can be found in their small, but potent lineup of road bikes.
The Kona Zing is the entry-level road bike for Kona (topped by the Kona Zing Deluxe and Kona King Zing). But, entry-level for Kona is a pretty good parts spec compared to the entry-level roadies from other manufacturers. With a aluminum butted frame, solid Mavic Aksium wheelset, Shimano 105/Ultegra drivetrain and a Kona Carbon fork, the Zing is no slouch. here are a few more highlights.
Frame: 7005 Kona Butted Tubes
Fork: Kona Carbon Race
Drivetrain: Shimano 105 cockpit, front derailleur and cassette (12-25) with Ultegra rear derailleur
Cranks: FSA Gossamer Compact (34 and 50T chainrings)
Brakes: Tektro R-720
Wheels: Mavic Aksium
Tires: Continental Ultrasport
Color: blue/black
Sizes: 49, 53, 56, 58, 61 cm
MSRP: $1199
Kona Zing Road Bike Review
With a few hundred miles and at least 30,000 vertical feet climbed on the Zing, I've got a good bead on its performance. While it's not all about suspension designs and linkages, the Zing is simple, affordable and perfect for recreational road cyclists.
When I first took the Zing for a spin around the park, I immediately felt the smoothness of the carbon fork. My previous road bike was a GT aluminum frame with a chromoly fork. Believe me… carbon forks are important and there's a reason why people rave about them.  Small road vibrations and even large bumps are smoothed out considerably by the Kona Carbon Race fork.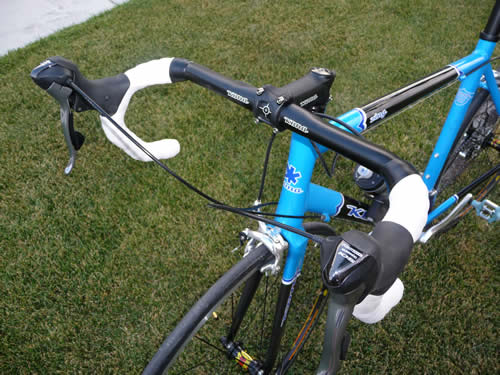 Though the frameset is aluminum, it appears to be well built to handle small bump compliance. The wheel and frame combo provides just enough to take the edge off–not quite as much as a carbon frame would, but much better than other aluminum frames I've ridden. Everything is still snappy while sprinting or on standing climbs.
I've also been impressed with the performance of the Shimano 105 drivetrain. Shifts are smooth and natural and the 105 Dual Control levers are simple and easy to use. My previous road bike sported Shimano Sora shifters, which I hated, so the 105's represent a huge step forward in ergonomics and precision. I've been told that Shimano 105 drivetrain is great for most riders unless you race. Well, I'm not planning on riding competitively and have found them to be outstanding performers.
Every other component has performed flawlessly and the overall package represents a great value if you're looking for a mid-level road bike without taking out a 2nd mortgage.
On long rides, I've appreciated the revised hood design of the brake levers as well as the flat top of the ergonomic bars. There are plenty of hand positions to mix things up and I've found hand numbness to be kept at a minimum. The only thing I need to change is the seat. The included seat offers little comfort and should be pitched.
The Good 
Kona carbon fork smooths things out
Shimano 105 drivetrain offers outstanding performance for the money
Flat top bars add comfort
Mavic Aksium wheelset
Solid value at $1199 MSRP
You won't find too many on the road — I like that
The Bad
Selle Italia X2 Man SE saddle is pretty uncomfortable
A carbon fiber seatpost would do wonders on this bike
Very, very faint pinging sound in the rear wheel while climbing that I haven't been able to isolate
The Bottom Line: Kona Zing
For the money, the Kona Zing is solid. No, it's not a carbon frame, but the combination of the Kona carbon fork and Mavic Aksium wheels provide enough small bump compliance to make the Zing a great overall performer. Standing sprints are excellent and responsive and long climbs are cool and collected. The Shimano 105/Ultegra drivetrain is all I need and helps keep the price down.
Buy Now: Visit Konaworld.com to Find a Local Dealer