After several years of testing and development in conjunction with the Cannondale Pro Cycling team, the all-new 2014 Synapse was released. It was first raced in the 2013 Spring Classics — including the fabled Paris-Roubaix — and has since been a smashing success for Cannondale. I got one for a week and now I know why so many people are raving over this new platform.
2014 Cannondale Synapse Hi-Mod 2 SRAM Red Features:
Synapse Endurance Race Geometry means slightly taller head tube, longer wheelbase and slacker head angle
SAVE PLUS Micro-Suspension System combines optimized rear stays, fork, seat tube and seatpost
BallisTec Hi-MOD carbon construction for a light, strong and stiff frame
Power Pyramid BB30A bottom bracket
Clearance for up to 28c tires
SRAM Red 22 shifters, derailleurs, cranks, cassette (11-28t) and brakes
Cannondale SISL2 compact crankset
Mavic Ksyrium Elite S WTS wheelset
FSA Wing Pro bars
Mavic Yksion 25c tires
Colors: Black or Team Green (tested)
Weight: 15.2 lbs as tested (two cages, but no pedals)
MSRP: $5960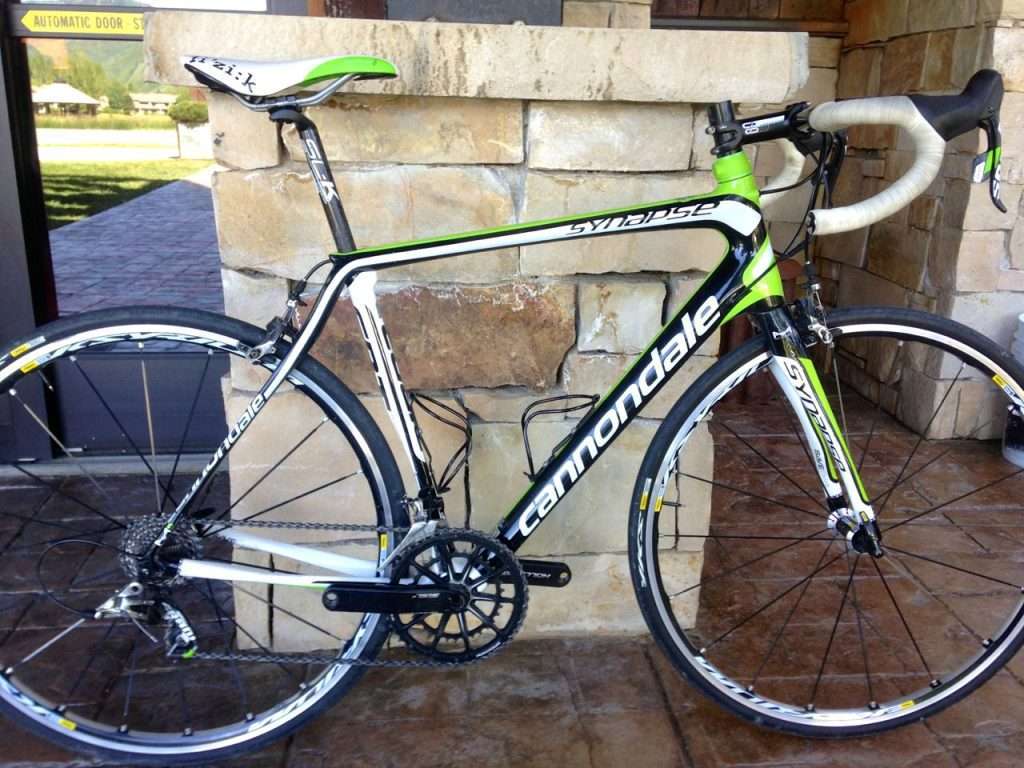 The New Synapse is a Wonderbike
Seriously, the Synapse is something of a wonder. Just a year ago, I posted an overview of the current "endurance" bikes that would be used during the 2013 Classics. Not on the list was the new Synapse (because it wasn't yet available). Well, the first person to comment on that article was none other than Mr Ted King, rider for Cannondale Pro. Regarding the list, Ted said:
OOoooooor, sit tight and get the new Cannondale Synapse! You won't be let down.
So, wait I did. Over a year later, I finally got ahold of a Synapse Hi-Mod 2 for a week of concentrated testing. After all that waiting, it took me all of 50 ft to realize just how awesome this bike really is.
The SRAM Red-equipped Hi-Mod 2 Synapse features about everything you could ask for in a $6000 bike. The full spectrum of components are a fantastic package. I do wish, however, that they could have snuck in a set of carbon bars, but the flat tops on the FSA bars do add some extra comfort.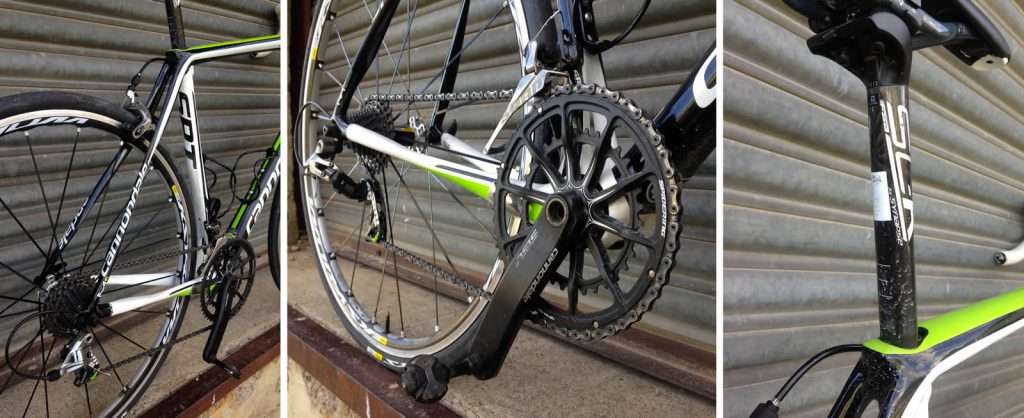 The Guts of the Synapse
We've all heard the term "endurance" bike and typically tab it as a great bike for guys who don't know any better. I've heard the term "gentleman's bike" and others over the years. Historically, many of these bikes were indeed slower and less optimal for someone who likes to push the envelope both uphill and down.
Cannondale engineered the new Synapse with the goal of offering World Tour performance but with enough comfort to make long rides less taxing on the body. The result is a complete system of specifically tuned and shaped seatstays, chainstays, ultra-thin seatpost and optimized fork. Even the seat tube is split at the bottom bracket to maximize stiffness while improving ride quality.
The head tube is tall (186mm on a 56cm frame), offering excellent fit for those of us not named Sagan or Nibali. Dropping the stem, I was able to achieve a good fit with an excellent balance between power and comfort.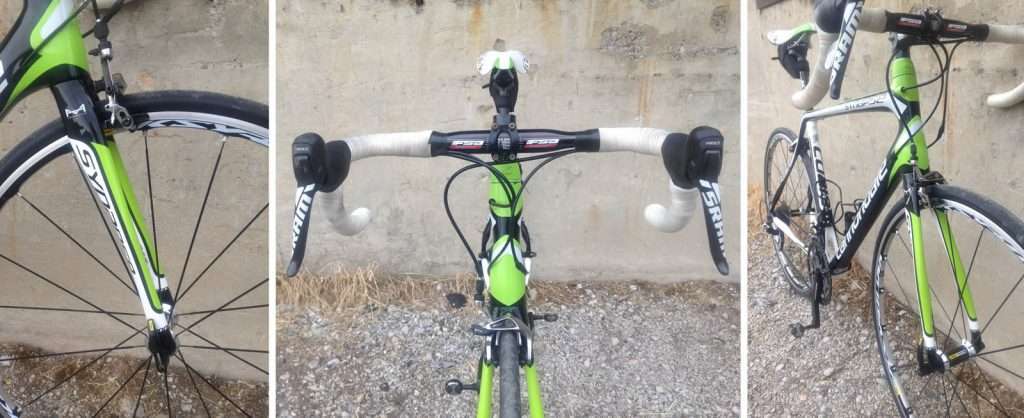 Unbelievably Smooth and Fast
Over the course of a week, I was able to ride the Synapse Hi-Mod 2 on most of my typical test rides. As you'd expect, it included plenty of climbing, but I also sought out some of the rougher roads I know to further test the bike.
When it comes to climbing, there's no question in my mind that this bike is efficient. Power is instantly transferred to the wheels with no perceptible energy loss. It responds out of the saddle quite nicely as well — not something that can be said of other endurance bikes. Against the Trek Domane, I'd call the Synapse's sprinting abilities much more refined. That refinement is evidence that the steering has been well sorted — not floppy as other endurance bikes feel.
On longer climbs of greater than 1000 ft, the Synapse doesn't lose a bit. In the end, I was hovering among my top 5 all-time speeds and even kicked off a PR on one climb that ascends 500 ft in 1.4 miles. Let's just say that I'm sold on its ability to climb.
When it comes to descending, I found the ride quality to continue to shine. I'd call the feel while descending "planted". What's cool about the synapse is that the entire bike acts as a shock absorber, per se. It's a complete system that makes the rider and bike feel as one cohesive unit. I wasn't quite able to push it around corners like I can, say, the Scott Addict SL, but it's no slouch and the extra smoothness does inspire confidence.
On a few rides, I sought out some rough roads. Potholes, gravel and cracks galore. While the Synapse doesn't make those road irregularities disappear, it takes the edge off them in a way I've never experienced before. As part of my testing, I took on a set of railroad tracks at a much higher speed than I would ever do on any other bike. Yeah, I got bumped around, but I simply could not believe how well it just absorbed the blow.
I will say that the saddle does add to the comfort on rough stuff. The included Fi'zi:k Aliante, really smoothed out the chatter as compared to the short stint I had aboard a Bontrager Affinity RXL. The carbon rails made for a noticeably stiffer ride — so keep that in mind if you intend to change saddles.
Something else on ride quality. I noticed that I could stay in the drops for extended periods without fatigue. In fact, I could descend 1500-2000 ft in the drops and not have an ounce of discomfort. Most of the time I've got to switch back and forth from the tops to the drops to keep my body happy — not so with the synapse.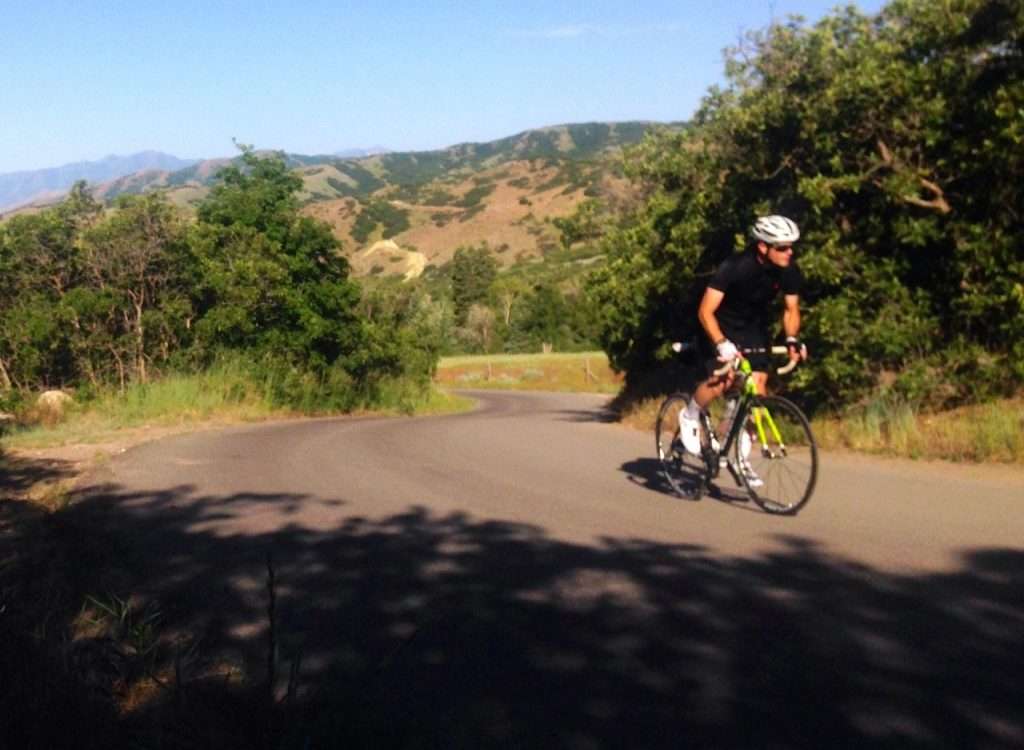 More About the Spec
It has been quite some time since I've ridden a set of Mavic wheels. The Ksyrium Elite hoops responded quickly, remained stiff under hard cornering and the hubs both rolled smoothly and had quick engagement. Cannondale says the tires are 28c, but mine were 25c, which felt perfect on this bike.
The SRAM Red groupset is my group of choice and everything worked flawlessly — in spite of this being a demo bike that has seen some use. Cannondale opted for their SISL2 crankset and spider in lieu of the SRAM Red 22 cranks. In the end, they offered excellent power transfer and the chainrings shifted just as well as SRAM versions.
I did actually use the built-in LED front light. It's a bit gimmicky and can be replaced with a standard spacer or removed completely to slam the stem. When the bike arrived, the green rubber of the light spacer was very dirty and dingy looking. It cleaned up nicely, but won't take long before it's in need of another proper cleaning.
Quibbles and Such
Honestly, the only real issues I had with the Synapse revolved around the seatpost. The integrated clamp is a nice feature, but the location of the bolt makes it really difficult to access — particularly with a torque wrench. I couldn't get my wrench to fit in there, so I did a bit of guessing to get to the suggested 7nm.
Additionally, the seatpost clamp system is horrible — no way around it. Most seatposts have bolts fore and aft or a single side bolt, but this one uses two side-by-side bolts which made it really difficult to dial in saddle angle. Again, this is something you should only have to fiddle with one time, but that one time you do will leave you frustrated.
The Good
Road-smoothing design is unreal
Standing sprints and climbs are comfortably
Steering is responsive
Descends like a beast
Still maintains efficiency with every pedal stroke
Tall head tube makes proper fit easy for the rest of us
SRAM Red 22 and Cannondale cranks offered smooth shifting
At only 15 lbs, this is a very light endurance race machine
The Bad
Front LED light idea is cool, but kind of gimmicky and attracts dirt
Proprietary seatpost leaves no alternatives (and the clamping mechanism leaves something to be desired)
Accessing the seatpost clamp is a little hard with a torque wrench
The Bottom Line
No question… Cannondale nailed it with the Synapse Wonderbike. I love the extra dose of "I can ride all day" comfort paired with the instant power of the chassis for what just might be the best execution of any bike in its class.
Buy Now: Available at REI
The Verdict
The Cannondale Synapse Hi-Mod is one of the most comfortable bikes you'll ride, but step on it and it's clear that it's no slouch. My time aboard the new Synapse was nothing short of a dream. With upright geometry, this is a crowd pleaser for the rest of us not capable of turning ourselves into pretzels.