The Basque region of Spain is home to both BH and Orbea. They are competitors, for sure, but they do have something in common — the mountainous terrain where they live and ride and a passion for cycling. The BH Quartz Disc is a fine example of that passion and has been impressive from the get-go.
2016 BH Quartz Disc Ultegra Features:
Optimized HCIM carbon compact frameset
Convertible internal routing can accommodate Di2
Shimano Ultegra drivetrain with hydraulic discs
Shimano Flat Mount disc mounts and 140mm rotors (can't accept 160mm)
Mavic Ksyrium Disc CL wheelset w/Ykison Elite 25c tires
Easton EC70 SL carbon handlebars
27.2mm seatpost for extra compliance
BB386 EVO bottom bracket
Weight: 18.2 lbs (size large, as tested)
Price: $3599
A Basque-style endurance weapon
Born in the Basque Country of Spain, BH has been in business for a long time (1909) and has been making bicycles for much of that time (since 1919). The Basque Country is picturesque with winding, coastal roads and narrow, steep climbs that roll deep into the mountains. This region of Spain is well-known for their love of cycling and their passion for everything on two wheels. That passion flows into every bike they make and the Quartz Disc is a fine example of that passion.
While It's not common to call an endurance bike a "weapon," it's certainly not unheard of. Take the Trek Domane SLR or the Bianchi Infinito CV — both are great examples of tour-proven endurance bikes. Now, while the BH Quartz Disc is not a tour-proven race bike (It's not even UCI-approved), it has quickly shown to be a weapon for everyday riders who want an excellent-handling disc-brake bike that's comfortable, fast and fun without breaking the bank. No, $3599 is not pocket-change, but considering the overall package, it's extremely competitive. Plus, if you're on an even tighter budget, the Shimano 105-equipped version will knock off another $800.
Admittedly, the frame isn't as sexy as the G7 or the Ultralight EVO. But, don't judge the Quartz Disc on the sloped tubes, endurance looks or overly colorful accents — judge it on its performance.
For starters, the Quartz Disc offers fantastic geometry for the vast majority of riders (me included), who can't handle an extreme saddle-to-bars drop of the pros or who cave in to peer pressure to "slam that stem." My large sample has a 180mm head tube coupled with a slightly shorter top tube than BH's race bikes, but all the other angles are within what you'd expect from a race bike, not necessarily a "comfort" bike. As a result, road manners are fantastic.
Road disc brakes shine
Again, road disc brakes are in full display here and BH says they are committed to them. However, the Quartz frameset may not indicate a headfirst mentality because it still features rear brake cable routing and a rear brake boss. The aero-optimized front fork is disc-only, so don't get any ideas of switching back to rim brakes (not that anyone in their right mind would want to after riding discs). I was also assured that the flat disc brake mounts and frame reinforcements were thoroughly engineered to take the extra forces and heat of discs — not just slapped on the existing frame.
The debate on rotor size continues and BH is confident enough to go with 140mm rotors (in fact, the frame won't accept anything larger). Personally, I like the smaller rotor size and find them to be perfectly-capable under even the steepest of descents. And, going 140mm reduces the likelihood of rotor rub. I will say that Shimano's flat mount standard isn't without its share of issues as I found it difficult to align, but once aligned I had zero issues with brake rub.
Stellar overall kit
The full Shimano groupset is primarily Ultegra-level with the exception of the 11-28T cassette, which is a 105 flavor. Importantly, the spec'd wheels are the very capable Mavic Ksyrium Disc CL's. Other than being narrow by today's standards, I had little to quibble about as they spin up nicely, roll well and have proven stiff and responsive. In fact, they are a much more comfortable ride than the Zipp 30 Course wheels I switched to mid-test.
At this price point, you'll typically see aluminum handlebars and even sometimes an aluminum seatpost. But, BH knows how to pack a ton of value and went with the Easton EC70SL up front and a house-brand EVO carbon seatpost. Again, a set of carbon bars (albeit mid-level) is a refreshing addition here and truly improves the road feel of this bike. You may find that the hoods are overly-wrapped from the factory, thus making for some awkwardly-huge hoods. No bother, just unwrap them and reduce the amount under the hood covers — so much better.
Shimano's Ultegra kit always works with Japanese reliability. I've had zero issues with its performance and have found it to be once again the standard at the price. I will say that no matter how hard I try I can't ever eliminate front derailleur cage rub in extreme gear combinations. It's always in the combos that you "shouldn't" ride, but I figure I've got 22 speeds, so I should be able to use all of them. SRAM's Yaw front derailleur virtually eliminates this problem.
Feels connected to the road
I've got to talk more about the performance of this bike. Honestly, I was expecting a comfortable but pedestrian-riding bike in the Quartz. In the end, this thing delivers on the comfort part, but surprises with amazing handling. From my first ride and throughout my tests, I couldn't get enough curvy descents. There's just something about bikes born out of the Basque Country of Spain — they are connected and planted yet lively.
Road chatter is decidedly muted by this bike. I'd chalk that up to the narrow seat stays and the sloping top tube that exposes a fair bit of the 27.2mm seatpost. When riding down the road, that whole package really delivers on the comfort front. And, the front-end isn't left out either as the compliance feels pretty well balanced there as well. 28mm tires would make this even better without sacrificing rolling resistance. That smoothness and predictable handling has led to some extra-fast descents on this bike — in fact, it was bested only by the Orbea Orca and Cannondale SuperSix.
I'm not going to pretend that I tested the lateral stiffness claims and such, but I will say that this bike can respond in a jiffy and never feels sloppy or unresponsive. The only thing holding it back from rocket territory is its 18lb. fighting weight and maybe a little bit of cushiness while seated. But, don't let that deter you — the Quartz is a well-balanced machine. Yeah, you'll notice the extra weight on long climbs, but you shouldn't go blaming the bike if you don't take that KOM you've been eyeing. Out-of-the-saddle climbs feel absolutely balanced and natural without any of the wonkiness you'll sometimes get with the front wheel flop you'll get with other "endurance" bikes.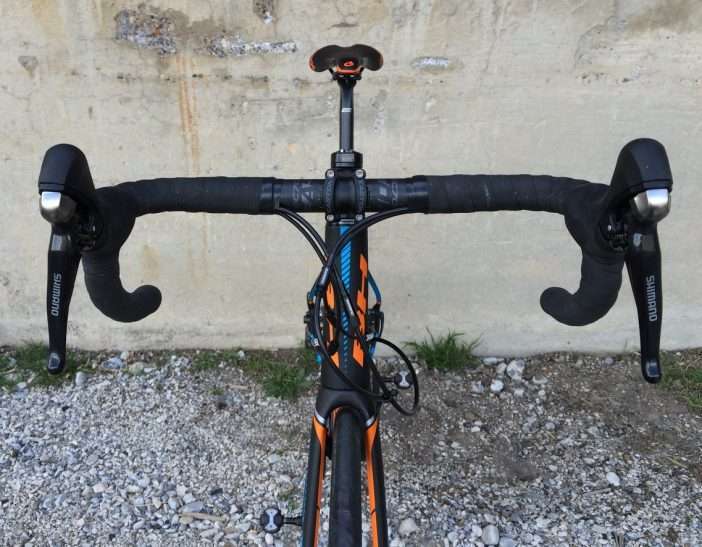 Aerodynamics are certainly a consideration here with optimized tube shapes and fork blades. As such, this bike can also play well cranking it out in the flats. Long, flat sections are comfortable and fuss-free as the Quartz feels like it can tackle anything — sprint lines, pace lines or no lines at all. Deeper-section wheels would make rolling terrain even better, so start saving up for a set of suitable hoops (Zipp 202 or Bontrager Aeolus 3) to take this bike up a notch.
And, another nice thing about the Quartz disc platform is it features ample tire clearance. It comes equipped with 25mm rubber out the gate and I've been told that up to 32mm tires can fit (Clement X-Plor MSO's, for example) should you wish to roll off the beaten path. The stock Mavic Ykison tires have done well in wet, dry and gravel roads, but if I was going to hit some killer Midwest gravel roads, I'd go with some 30-32mm tires.
The Good
Super-comfortable without any gimmicks
Significantly faster on descents than similar bikes (Scott Solace,
Perfect geometry for the majority of riders
So fun and responsive on twisty roads
Responds to out-of-the-saddle bursts
Excellent, no-fuss parts spec
Really appreciate the carbon bars at this price
Road discs offer amazing modulation and braking ease
Torsionally-stiff despite not having thru-axles
The Bad
Bar tape was wrapped under the hood covers, making it bulky and awkward (a re-tape fixed this)
You'll have to make an effort to find one locally
A little slow on long climbs
Still has rim brake routing through the top tube (new carbon molds are expensive)
Watch that toe overlap
I wasn't much of a fan of the stock saddle, but that's personal preference
The Bottom Line: BH Quartz Disc
Let me sum this up for you — this might be the best bang-for-the-buck I've ever swung a leg over. With excellent comfort and an everyman's geometry, you may be fooled into thinking it is merely a "gentleman's bike," but don't buy it — this is not your father's endurance machine. Handling is responsive and accurate without being twitchy at all. Long climbs will meet their match and winding descents will be certain to put a smile on your face.
Buy Now: Find Your Local BH Dealer
In Summary
The BH Quartz Disc Ultegra may be labeled an "endurance" bike, but don't think this is a snoozer. No sir. Behind the upright geometry is a responsive and comfortable bike that will deliver a smooth ride that will keep you smiling -- especially on curvy descents.