The BMC Unrestricted (or URS) arrived on the scene as somewhat of an outlier. The stubby stem, long reach and a frameset that's a clear mashup of a hardtail and road bike had us all thinking it was the centaur of the gravel bike world. Now, after a few hundred miles on the 2021 BMC URS 01 One, I'm liking how versatile and fun this mashup really is.
2021 BMC URS 01 One Features:
URS 01 Premium Carbon frame with Micro Travel Technology
ICS hides the cables from view and into the frame
Features a slack 70-deg head angle and 74-deg seat tube angle
D-shaped carbon seatpost (0-deg)
Added frame and fork protection bits
Available as 1x only
BMC ICS 01 zero-degree stem (80mm)
ENVE G23 gravel-specific carbon wheelset
WTB Raddler 700×40 tires
SRAM Red/XX1 Eagle AXS mullet drivetrain (10-50t cassette and 38t chainring)
SRAM Red brakes with 180mm front and 160mm rear rotors
Easton EC70 AX gravel drop bars (44cm)
WTB SL8 Titanium saddle
Tire clearance: 700×45 (650×47, if desired)
Weight: 17.6 lbs (large, actual)
MSRP: $9499
Initial URS 01 One setup
Purple. I hope, like me, that you like purple because the top-of-the-line BMC URS 01 One is straight-up purple. I dig it and in a sea of black frames, it's fun to have a little color. And, for 2021, the top-shelf setup goes all-in on the SRAM Red/XX1 AXS mullet build (read our review), matched up with the bomber ENVE G23 gravel carbon wheelset. I can't help but highlight the awesome Easton EC70 AX drop bars as well, because they have won me over on this build with their added comfort and control.
Off the shelf, your biggest question will be what spacers and stack do you want with your URS? While the URS does have a generous frame stack (603mm on size large), you can confidently increase the stack even more with the included spacers and still achieve a sleek look. My test bike included the solid 30mm spacer blocks. And I really wanted to drop it further, but that would require some serious work, so I just made do with the tall stack. In the end, as you'll see, it wasn't that much of a detriment, but I would still drop it another 15-20mm if it was my personal bike. Your BMC dealer will gladly help you get that all sorted out, and split spacers are available for adjustments without disconnecting hydraulic lines.
As the top-of-the-line URS 01 build, BMC left nothing to be desired and the entire package performed accordingly throughout the test period. The only exception was some initial creaking that sounded like it was coming from the bottom bracket, but ended up being the chain. Interestingly, that creaking went away after I thoroughly doused the chain with lube multiple times.
The wheels arrived with tubes, but the conversion was a breeze. I was able to initially seat the tires with a little soapy water using the Blackburn Chamber Tubeless Floor Pump. The next day, I added about 4 oz of Orange Seal Tubeless Sealant in each tire and I was off to the races. That tire, wheel and sealant combo is fantastic. For reference, I typically rode them at 36/38 psi front/rear for mixed road, gravel and singletrack rides.
Get rowdy with confidence
When you essentially mate BMC's Teamelite rear triangle to the Roadmachine front triangle, there's bound to be some magic. With the URS 01, that magic comes in the form of all-out rowdiness. As mentioned, that short stem, tall stack, wide bars and slack geometry comes together nicely when the trails get rough. I have found myself seeking out and enjoying singletrack trails much more on this bike than any other gravel bike I've ridden. Why? Well, it's just a blast to ride on the trails.
With the slack 70-degree head angle, you can expect the URS 01 to get into and out of technical situations without worry. Even though it excels in these situations, it doesn't feel floppy at any speed (on the road or trail). I've got to tip my hat to the new WTB Raddler 40c tires mated to the ultralight ENVE G23's, because that combination shines with predictable grip for both climbing and cornering without feeling too sluggish on the road. Both standing and seated climbs are rewarded with tenacious grip. I absolutely love how hard I can push the URS on technical singletrack or gravel climbs.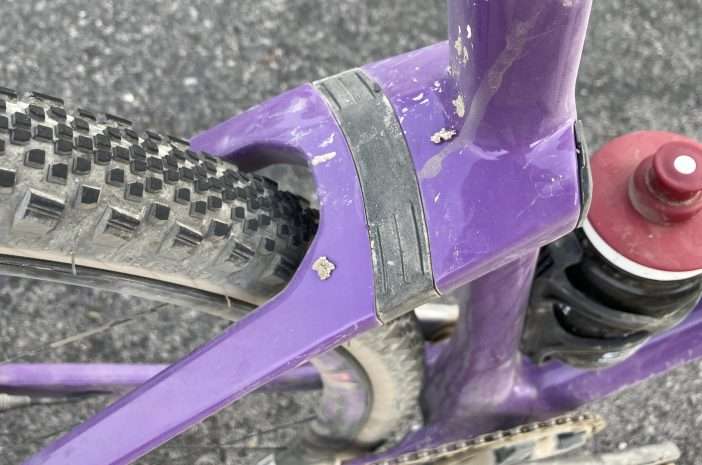 Part of the confidence story is the MTT elastomer suspension in the rear. It noticeably smooths out the terrain and keeps the rear wheel planted. Pushing hard on the saddle, you'll notice the elastomer squishing and, believe me, it can be felt on the trail. While the front end doesn't have any suspension to speak of, it doesn't feel overly harsh. The slack head tube likely plays into that, but the carbon layup in concert with the stellar Easton EC70 bars hits that perfect line between responsive and comfortable.
Further, at the end of long singletrack descents, I have felt just as fresh as I'd feel on a mountain bike. I can flow through curvy singletrack and attack rough terrain while still maintaining hand, arm and wrist comfort. That alone tells me this bike is in its element on XC mountain bike terrain.
Let's talk about regular old gravel. The URS 01 can do that too and ticks off the miles with comfort and speed. Again, the MTT rear mutes the drone of gravel and the entire package scoots along on all types of gravel terrain with confidence. Certainly, a lower stack would be desirable on long gravel races (for improved aerodynamics), but I ended up spending much more time in the drops as a result. That extra time in the drops helped me fall in love with the EC70 AX bars and the URS One. With this setup, I was able to maintain an efficient position for long periods.
BMC knows how to make amazing road bikes. My time on the Roadmachine 01 was fantastic and their full lineup of road bikes is consistently lauded by media, consumers and professionals alike. When rolling along on the pavement, the URS 01 responds like a well-mannered endurance bike. That short stem and slack head angle actually plays nicely and feels confident and planted at high speeds. Handling remains solid and the front end tracks nice and straight on any road climb. You do notice a little bit of sluggishness on long road climbs, but that's to be expected.
The performance of the drivetrain and components has remained outstanding. The wheels have taken some abuse (shh… don't tell BMC) and don't show any signs of it. Shifting has remained fast and reliable. And, braking has been on par with all my prior experiences with SRAM Red hydraulic brakes — meaning, grippy, responsive and powerful with just the right modulation. SRAM's eTap AXS shifting is the most intuitive in the industry, in my opinion. It also still works perfectly with thick, winter gloves on. All shifts have been fast and reliable. Obviously, with the 1×12 kit, you'll experience some wide gearing gaps, but it's nothing that's slowing me down in any way. That 10-50t cassette has all the options you'll ever need to spank any climb.
What about 650b?
After riding the BMC URS 01 for a few months, I began wondering just how well this bike would handle with 47x650b tires. I'm a fan of 650b's for gravel and, with the capabilities of the URS, I thought it very well could be a fantastic experience. I loaded up the Zipp 303 650b wheels and Specialized Pathfinder Pro 47mm tires to find out just how this bike handles. Honestly, my experience was a mixed bag.
Yes, you'll enjoy more confidence on technical descents and increased traction while cornering, but that was all negated on climbs. By changing the ride height and geometry just slightly, the front end had a desire to wander on technical climbs and even wheelie on the steepest of terrain. Climbs I spanked on the 700c wheels with WTB Riddler tires became problematic with the 650b wheels. The wandering caused me to lose momentum on a number of occasions. I remain a fan of the stubby wheels for gravel, but just not on this particular bike.
The Good
Loves to get rowdy on the trails
Full component spec is outstanding
ENVE G23's are wicked-light
The wheels and tires roll fast and grip like Velcro
Micro rear suspension adds noticeable comfort and traction
Love the built-in frame protection
Easton EC70 AX bars add comfort and confidence
Solid purple color looks snazzy
Internal cable routing is sleek and quiet
The Bad
Stack height adjustments may require brake hose disassembly and bleeding
Included WTB saddle isn't so great for road or gravel riding (I replaced it after one ride)
1x only does limit gear ratios
Reverse bolts on ICS stem are challenging to torque correctly
The Bottom Line: 2021 BMC URS 01 One
On paper, the BMC URS 01 One is a little bit of an outlier, but on the trails, it hits the rowdy gravel market squarely on the head. Don't fear the stubby stem and mashup frame if you're keen on getting aggressive on your gravel bike — BMC has done their homework here. I can confidently ride the URS 01 on XC-style singletrack with a huge grin on my face. Of course, it efficiently powers along on all types of gravel as well. The built-in micro suspension adds comfort, but doesn't detract from efficiency on all terrain. Oh yeah, it also handles quite adeptly on the road as well.
More Info: Visit BMC-Switzerland.com
In Summary
I've had more fun on singletrack aboard the BMC URS 01 One than any other gravel bike I've ridden. The combination of the comfortable and capable frame, wide Easton EC70 AX bars, awesome ENVE G23 wheels and grippy WTB Raddler tires delivers a bike capable of getting downright rowdy. This parts spec leaves nothing on the table and has performed as expected. With anything of this caliber comes a hefty price tag, no question. The URS 01 Two is a better value at $6499, so give that a look if that's more inline with your budget.