Ever since I rode, tested and loved the Pinarello Dogma F8 with SRAM eTap, I've had a thing for white road bikes. But, not many manufacturers are bold enough to offer white color ways on their high-end frames. What's interesting is white is by far the top color for vehicles, but not so much with road bikes (no, black remains the preferred color). It does take a bit of chutzpah to pull off a white road bike, but the Dogma F does it in style.
With that, in 2022 you can expect to see the Dogma F in beautiful Galaxy White and it's a stunner! Admittedly, Pinarello's curved, asymmetrical lines do invoke strong feelings one way or the other, but, for me, it's a love affair. Having only seen the new Dogma F in person just once (at the Big Gear Show in Deer Valley last summer), I can attest that it is a beauty and the Galaxy White color just plain puts it over the top. And, it's proof that you don't have to be the Best Young Rider to roll up on your next group ride with a white frame.
2022 Pinarello Dogma F in Galaxy White
Here is a look at the 2022 Dogma F in Galaxy White. (Glory Blue and Midnight Blue are also standard for 2022, but we're talking about white bikes here.) And, if you do have to ask about the price, well… this frame will set you back $6950, but represents the pinnacle of performance and likely the ultimate in white-colored road bikes for this year.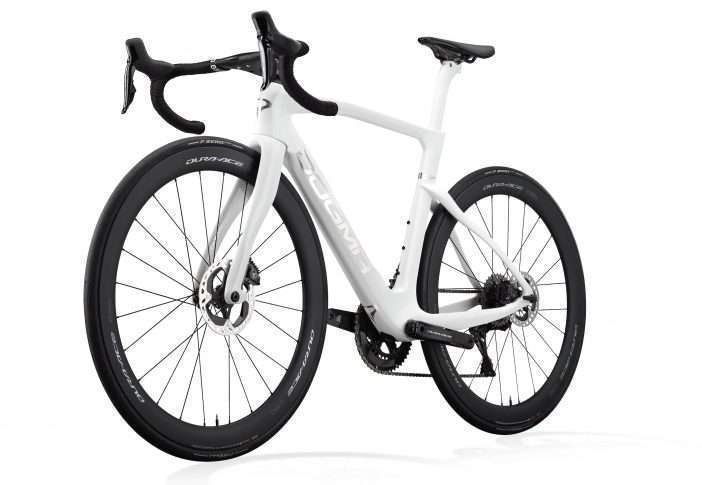 Now, should you wish to look at other white road bike frames in 2022, off-the-shelf options are pretty thin. Most manufacturers will offer custom colors, but in today's market, I'd think five times before going that route. Here are a few more options that should be available in your local shop or shipped to your door.
Other white road bikes in 2022
Specialized Tarmac SL7 Pro
Specialized does offer a few road bikes in mainly white color schemes. The problem appears that none of them are, were or will ever be available — that's a bit of an unknown since many bike frames are stuck somewhere in the supply chain. But, of all the white road bikes that Specialized offers, the $8200 Tarmac SL7 Pro with SRAM Force eTap AXS 1x is it. However, I'd sure like to see this bike with 2x for more versatility. Still, the Abalone/Spectraflair color scheme does get me pretty stoked.
Trek Domane SLR 9 – Trek Factory Racing
Trek's Domane SLR is available in white Trek Factory Racing colors throughout many price points and build levels. That white with blue logos is quite stunning but the logos could be a little busy for some. The top-end Domane SLR 9 with Shimano's new Dura-Ace R9250 Di2 has quite the wow-factor, but will set you back $12,249. That said, it not only is a beautiful white bike, but leaves very little to be desired in an all-around road and light gravel machine. It does clear 38c tires, after all, so you're welcome to get this one dirty.
Cannondale SuperSix EVO Carbon Ultegra
While not all white, the SuperSix EVO Ultegra is mostly white and could definitely be considered on this list. It is the 2021 model, but I'm busy checking to see if this particular color scheme will carry over for 2022. Among all the other white bikes on this list, is the most economical at $4500. Still, that spec is pretty outstanding with carbon wheels and cockpit.
Canyon Ultimate CF SLX 8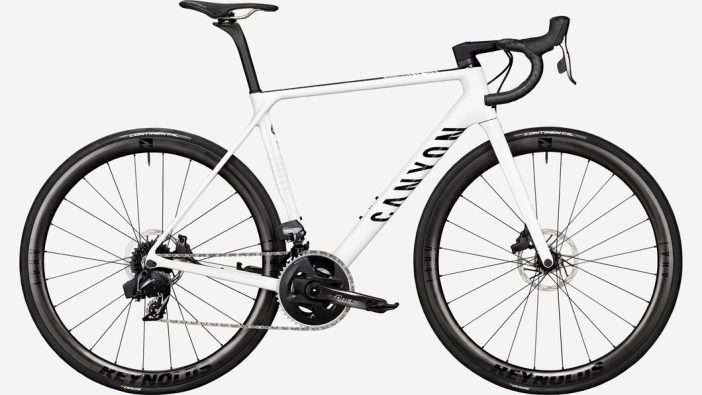 Canyon definitely hits the street with an outstanding overall value. At $5599, the Canyon Ultimate CF SLX 8 eTap is the best value on this list for what you're getting. Sporting a full SRAM Force eTap AXS groupset, carbon wheels and other bits, this white beauty just might be the white frame to beat in 2022 — if you can catch one in stock.
Which white road bikes did we miss? Which one is your favorite?